ACCA's commitment to open access is demonstrated by the apprenticeship opportunities on offer – from training programmes to levy funding options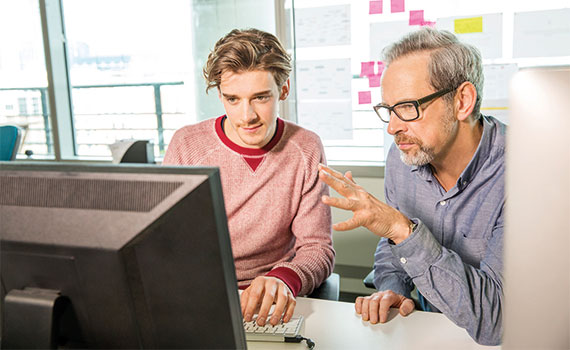 This article was first published in the April 2018 UK edition of Accounting and Business magazine.
Following last month's National Apprenticeship Week – the first since the new funding system was introduced – it is already clear that the landscape of vocational education in the UK has entered a new era. With more high- and degree-level apprenticeships than ever before, routes in to highly skilled, professional careers are becoming increasingly accessible.
Research from BPP suggests that employers in the financial services sector have made long-term plans for apprenticeships. Responses indicate that employers have apportioned their levy funding over a number of years, gradually increasing their spend to recruit more apprentices. While 40% of respondents were levy payers, an overwhelming 96% planned to spend their funding allowances in the coming years. Understandably, talent and recruitment processes will take time to evolve, and it is important that employers explore which route best suits their business needs.
However, for levy-payers that have not yet actioned plans on their spend, there is a new opportunity coming over the horizon. From this month, levy-paying employers can donate 10% of their funding to another business outside their payroll structure. Allocations could be made to bridge skills gaps that support vital business functions – for example, for those looking streamline processes with better reporting from clients or to support talent in innovative small businesses. The new allocation structure may also suit levy-payers who face the expiry of their 2017 funds in April 2019.
High-quality training
It is not too late for any business to make the most of the levy. For non-levy payers this comes at the minimal fee of 10% of the training and assessment costs. ACCA launched the Accounting Technician Apprenticeship (Level 4) in March 2017 under the new Trailblazer standards. And with the launch of the Professional Accountant Apprenticeship (Level 7) in November 2017, ACCA is encouraging all businesses to take advantage of the opportunity that apprenticeship funding presents to compete for new talent by offering high-quality funded training through the programmes.
ACCA's Accounting Technician Apprenticeship allows existing employees and new recruits flexible, funded access to the ACCA Qualification. There's a tailored version of this apprenticeship that meets the standards required for England, Scotland and Wales, so employers across the UK can access government funding to help them develop their team and grow their business.
The Professional Accountant Apprenticeship is yet another platform for the career launch and acceleration of top talent. The programme has been mapped to ACCA's professional qualification and the quotients it has identified as being essential to the evolving profession.
ACCA was founded on the principle of open access to the profession for anyone of ability, and in 2018 this maxim is alive in our commitment to apprenticeships as a parallel route into the profession. The funded programmes offer huge incentives for those employers wishing to upskill existing staff as well as recruit new local talent to not only support the UK's social mobility agenda but develop business leaders of the future.