Teamwork is a vital part of Rocky Lok FCCA's role as both CFO of KFC Hong Kong & Macau and as part of a globe-trotting, award-winning harmonica quintet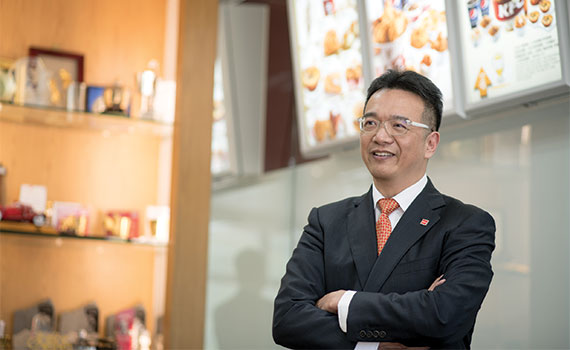 This article was first published in the April 2018 China edition of Accounting and Business magazine.
Rocky Lok is no ordinary finance chief. For starters, the CFO of KFC Hong Kong & Macau travels the world in a renowned harmonica quintet – a skill that has unexpected benefits to his business life.
'Music teaches me how to relax and stabilise and balance myself when I am in difficult times,' Lok says. 'The harmonica is an extension of the human body. You learn to "blow" and "draw"; it's like yoga, tai chi or qigong, where you learn to control your breath and interact with your peripherals.'
KFC Hong Kong & Macau is based in Nina Tower, named after the late Nina Wang, once the wealthiest woman in Asia and the widow of tycoon Teddy Wang who was kidnapped and disappeared in 1990.
Lok is happy to talk about the history of the tower, his enthusiasm for telling a story revealing a lively, approachable character who manages skillfully to shrug off the 'bean-counter' stereotype. (He jokes that Sylvester Stallone stole his name.) So it's no surprise to learn that he doesn't see himself as an old-school accountant.
'I'm not a very traditional accountant who talks about the technical story behind the numbers which only technical people understand,' he says. 'It is far better to interpret the figures in a human way, rather than hearing about "internal rates of return" or "quick ratios".'
Every month Lok gathers KFC's key managers into the meeting room. Around a long conference table and running the length of two walls are the KFC menu boards, which are updated regularly.
'There are 30-ish people sitting here listening to my hour of storytelling – how many and which stores are above the safety net, how many and which are below, which stores are over-spending on hours and what actions to take to rescue' he says.
Over the last couple of years, his smaller, weekly property meetings have benefited from the inclusion of big data. Using Google Street View, the team plugs in databases of the population then drills into a particular district, looking at, for example, schools and income levels to better visualise the demographics.
'It's almost like walking down the street,' Lok says. 'You can see everything.'
Knowing more about the residents and office workers in an area and whether there are any rival food chains nearby helps the team decide on and implement the store opening strategy.
Not magical
Currently there are 70-plus KFC outlets in Hong Kong and Macau. When Lok joined the firm in 2011 there were around 60 but that figure doesn't give away the big changes that have happened in the interim. Since then 32 outlets have been closed for a wide range of reasons: they were in the wrong area, the rent was too high, the sales were poor, the services were not satisfactory enough, they were losing customers. This, he says, is the toughest part of the job.
'It's not easy to tell your shareholders and franchisor that you are closing a store, but you have to absorb this tough part,' he says. 'Sometimes the rationale behind decisions is difficult to convey.'
Lok compares the business of running a restaurant chain with the job of a mother. 'The food industry is not magical; it's doing what a normal mother would do: buying food, cooking for her kids,' he says. 'The customer wants something as simple as delicious, healthy food, quick and efficient services, clean restaurants and toilets and not to pay too much.'
In 2013, Jardine Restaurant Group acquired the KFC franchise in Hong Kong and Macau, with Lok at the forefront. 'I joined when the last shareholders were trying to exit,' he says. 'My mission was to sell the company to a corporate buyer; I ended up selling myself as well.'
Being part of the Jardine family has led to KFC adopting a more optimistic, aggressive outlook. This approach is, Lok says, in contrast to the brand's experience with its previous shareholders, who lacked a long-term vision for the company. Now, KFC is having to prove itself to the new shareholders. 'Jardine has a very long-term vision, but it is very cautious.' he says.
This vision has already been tested during some tricky periods. In 2013 and 2014 the company was targeted by several social-media outlets that linked KFC with food safety measures around imported meat products and chemical residues in chicken from some of its suppliers, causing a significant sales drop. The brand was impacted but recovered after clarifying with the relevant authorities that KFC does not import beef, or by default it does not import from that part of the world or that the imported batches were not within the alleged scope.
'After three or four years our new shareholders are convinced we are competent and are asking what we can do to reclaim what we have lost,' Lok says. 'In the private equity era we lost the opportunity to buy property and open an adequate number of profitable stores; we had severely underpenetrated.'
Careful selection
The phenomenal increase in Hong Kong property prices means that buying properties is now unfeasible. This puts KFC at a relative disadvantage to its rival McDonald's, which Lok says owns around 30 stores in the territory. Instead, KFC's development strategy is to open stores in peripheral areas, away from the big urban conglomerates where rents are steep.
But this hasn't stopped KFC thinking big, says Lok. Last year it opened six new stores in Hong Kong, with some 10-plus planned for 2018. The big-picture plan is to double the store number in the coming years. 'This means I should be able to see this great mission accomplished before my retirement,' he says.
KFC has seen eight consecutive years of same-store sales growth, putting the Hong Kong and Macau operation at the top of the rank globally. The challenge now is to open more stores without too much cannibalising into its own portfolio. 'We all know the principle of diminishing returns; it's a dilution when you open more stores in your own market,' Lok says. 'You've got to find time to tell your story and what action needs to be taken to sustain the trend before it turns flat or backwards.'
Lok knows all about working hard in order to move forwards. He grew up on a public housing estate and lost his father when he was nine. 'When I was young we didn't even have slippers; we just ran around and played on the mountainside,' he recalls. 'It wasn't a luxurious life.'
Having set his heart on becoming a medical doctor, he attended King's College, a government-funded boys' secondary school, which he credits with turning his life around. It was there that he took up the harmonica and, in 1987, he joined four alumni to form the King's Harmonica Quintet (see box).
He didn't get good enough grades to enter medical school and instead chose to study accountancy at the then Hong Kong Polytechnic (now Hong Kong Polytechnic University). 'I knew nothing about financial numbers before then,' he admits. This situation was quickly remedied and when he graduated he received a string of offers from all of Hong Kong's top accountancy firms.
He accepted a position at Arthur Andersen, at the time one of the 'Big Eight' firms in Hong Kong, and from there he went on to work in a number of high-profile global firms: Hutchison Whampoa, LVMH, Campbell Soup Company and Carlsberg. He subsequently gained an MBA from the Chinese University of Hong Kong in 2003. 'I've never applied for a job in my life; they've always come to me asking,' he says.
But that enviable claim hasn't stopped Lok from knuckling down at the sharp end. Every year he spends a week or so visiting and working in the KFC stores and kitchens. 'It's the kind of experience that enriches your knowledge. Yes, we see the numbers. And yes, we hear the stories. But the best way to understand the business is to get your hands dirty and get involved,' he says, adding that he also volunteers for a less onerous challenge as a KFC taster, sampling new dishes a couple of times a month.
He credits KFC Hong Kong & Macau's marketing director for much of the company's success. 'The volume of new products is phenomenal,' he says. 'We introduce two to three new products each quarter; today we are launching Korean-flavoured chicken-on-bone.
Sampling new chicken menus may seem a far cry from achieving the ACCA Qualification, but Lok believes that there lies its beauty; it's meant to be built on. He advises young accountants to have broad interests and study widely, seeing the qualification as a starting point rather than an end. He also recommends postponing studies until after an undergraduate or even postgraduate degree.
Unsurprisingly, the harmonica music-making CFO also advises accountants to expand their knowledge beyond finance. 'Try not to have an accounting qualification alone,' he says. 'You need to have accounting knowledge but try not to limit yourself to knowing only about accounting.'
'No other organisation can do the same as ACCA,' Lok concludes. 'It has a truly global, sustainable position as a language that a successful businessperson cannot afford not to have.'
Kate Whitehead, journalist
"You've got to find time to tell your story and what action needs to be taken to sustain the trend before it turns flat or backwards"