Dairygold chief executive officer Jim Woulfe believes that there are three key attributes to successful leadership: passion, character and vision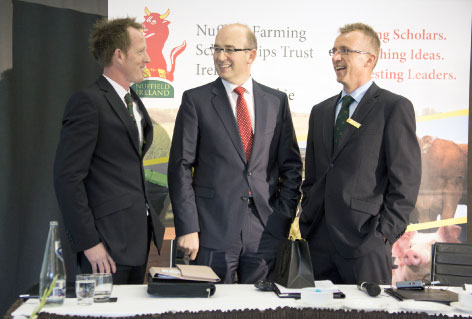 This article was first published in the January 2015 Ireland edition of Accounting and Business magazine.

Jim Woulfe has worked for Dairygold for 35 years, which is longer than the company's existence in its current incarnation. The dairy science graduate joined the milk processing division Ballyclough Co-operative Creamery in 1979, and rose to the rank of CEO in 2009.
Dairygold Co-operative Society, Ireland's largest farmer-owned dairy business and the country's second largest dairy processor, was formed in 1990 with the merger of Ballyclough Co-operative Creamery and Mitchelstown Co-operative Agricultural Society. It is headquartered in Mitchelstown, Co Cork, and processes approximately 960 million litres of milk annually from its 3,000 milk suppliers. Dairygold has manufacturing facilities in Ireland, the UK and France, with sales operations in Germany and Spain.
Woulfe identifies passion, character and vision as the key attributes to a successful leadership, as he made clear at the recent annual Nuffield Farming Scholarships Trust conference.
Leading attributes
Passion
Woulfe believes you must have a love for the job. 'When the alarm clock goes off every morning, what gets you out of bed, what sets the adrenaline going and the juices flowing for the day ahead? That's where passion comes in.' He adds that this drive ensures there is no room for complacency in yourself or the organisation. 'We should love to do what we do to the extent that we are always looking to improve ourselves and our teams.'
Moral character
Leadership is about serving, and serving honestly, according to Woulfe. 'We have shareholders, we have customers, we have employees and we have people who have invested in the business and people whose livelihoods are depending on the business. They are trusting in the leadership. So there is a degree of obligation if you like, and from that point of view it's important that you don't become arrogant, complacent or selfish.'
Vision
Woulfe believes it is incumbent in a good leader to present the guiding direction for an organisation. He says people measure the effectiveness of the leadership for its ability to bring the company from point A to point B.
Personal journey
When he began his career, Woulfe says there wasn't a structured focus on development. 'You put your hand up if you wanted to progress.' He participated in a frontline management programme, asking for time-management support, which wasn't the buzzword it is today. Woulfe continued to take advantage of the opportunities that were available to him, participating in a communications programme and, later, completing an executive development programme with the Irish Management Institute.
He continued to upskill, taking part in financial courses for the non-finance manager and Leadership 4 Growth, with Enterprise Ireland. 'These were all personal learning, where I felt I needed to improve my skill set.'
Meanwhile, Woulfe continued to progress within Dairygold, moving into an HR role in 1997 and becoming head of Dairygold's agri division in 2002, before taking on the mantle of CEO in 2009.
Brilliant at the basics
When Woulfe came to the helm, he says Dairygold's bases were sound and a lot of efficiencies had been introduced. However, he adds, energy was being misdirected and needed to be refocused to push improvements within the company.
Woulfe says he took inspiration from Vince Lombardi, an American football player and coach, who is best known as the head coach of the Green Bay Packers during the 1960s. Lombardi's management approach, Woulfe notes, was not to dramatically change tactics. Instead, he says: 'We are simply going to become brilliant at the basics.'
Woulfe says Dairygold had lost sight of the basics and the leadership needed to refocus. 'What I did was to look at the five or six different areas that are really important in the context of leadership.' He identified the areas as communication, team building, establishing values, ensuring there is a culture of performance throughout the organisation, and, finally, aligning the strategy with the various stakeholders.
'Communication was the first thing, and I felt it was very important to share this message. Full engagement with stakeholders; listening, understanding and informing them of what is going on even if the message is bad,' he says. Internally, Woulfe says it is important that employees are on the same page. Each year he takes time to meet people within the organisation to facilitate communication to ensure they have a clear picture and understanding about why certain decisions are being made. He adds that it is important to meet customers also, to understand their perception of the organisation.
To make a difference Woulfe had to build the team and get the right people in the right positions. Each week he holds a meeting with key personnel, reviewing progress on challenges from the previous week and setting out targets for the week ahead. Furthermore, he adds, it allows for the cross-fertilisation of ideas and solutions across departments.
Woulfe's experience of ad hoc professional development has encouraged him to 'copper-fasten' training and development within the organisation. Dairygold now works with undergraduates and graduates and encourages development through its senior leadership development programme. 'That's really important because people who have been 10 years in the organisation can become stale and we have to make sure that we have the talent in the organisation and we allow that talent to emerge,' he says. 'We will support those who want to do an MSc in management or an MBA. This will give confidence to people to take on new roles and to embrace change.'
Strategic programmes
Dairygold has also adopted a continuous improvement programme called Advance 2020. 'That whole continuous improvement programme, "lean manufacturing", has been defining,' says Woulfe. Furthermore, 360-degree feedback has been introduced for the senior team, which is a peer-review process.
Strategic direction, Woulfe adds, was extremely significant, and is managed by Dairygold under the following three horizons:
Building from the base up. Making sure the fundamentals of the business are right.
Once the balance sheet has been strengthened, exploring opportunities for mergers, acquisitions and joint ventures in the company's core areas of expertise.
Diversification into related areas in non-core areas. This is being 'narrowed down' as the company brings in new resources to explore opportunities in this area.
'It's all about getting results. Dairygold is driven to achieve set targets, which are filtered throughout the division. Dairygold has adopted an internal system – the GRID – that allows each individual within the company to assess their own performance in relation to the agreed targets.
'We introduced this seven or eight years ago but to perfect it is an ongoing process. The one thing I would say is that, having worked for almost 30 years without it, there is no going back. In terms of making sure that everyone is focused about what is required, GRID is the mechanism that ensures it.'
Woulfe concludes by quoting Lombardi once again. He says: 'Leaders are made. They are not born. They are made from hard effort, which is the price that all of us must pay to achieve any goal that is worthwhile.'
"Woulfe's experience has encouraged him to 'copper-fasten' training and development within the organisation."