Women across Asia have the ability to make an enormous economic contribution as entrepreneurs - and now EY is helping them to achieve their potential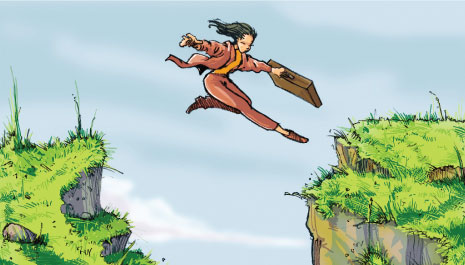 This article was first published in the April 2015 China edition of Accounting and Business magazine.

A few years ago Nicola Mills, Australian healthy lifestyle entrepreneur and CEO of Pacific Retail Management, sat down with her board and laid out what she considered to be one of her best ideas yet.
She'd already kick-started an empire which to date encompasses three wildly successful franchise brands (now expanding internationally), so doubtless the room was filled with expectation. And then Mills dropped her bombshell: newly pregnant, she was proposing an in-office crèche.
The all-male board were underwhelmed, but Mills laboured on. After all, the company she had started in her lounge with 'just me and my puppy' had grown to group-wide numbers now nudging 500, and an annual turnover of A$30m, in the space of less than a decade.
"60 per cent gender gap for economic participation and opportunity worldwide."
Now a mother of two, Mills and her fellow working parents at the Sydney headquarters of Pacific Retail Management continue to reap the benefits of the childcare model she established, knowing that they are in the lucky minority.
For even though it's been 200 years since the Industrial Revolution sent women into the workforce in large numbers, there remains a 60 per cent gender gap for economic participation and opportunity worldwide according to the World Economic Forum's Global Gender Gap Report 2014, with family commitments remaining one of the key roadblocks.
EY is seeking to change that. Positioning itself at the forefront of workplace parity, the group recently launched its EY Entrepreneurial Winning Women (EWW) Asia-Pacific programme. Fourteen women entrepreneurs across the Asia-Pacific region - each already successful in her own right - will participate in the inaugural Class of 2015 with the goal to scale up their operations and become global market leaders.
Essential role
Annette Kimmitt, EY Global Middle Market Leader and executive sponsor of the programme, said that with nearly six million formal, women-owned small businesses in East Asia alone, women entrepreneurs were already playing an essential role in creating sustainable economic growth in the region.
'The United Nations estimates that if women achieved their full economic potential, the Asia-Pacific economy could grow by as much as US$89bn annually. Yet research consistently shows that women-owned companies don't always scale as high or as fast as they could,' Kimmitt says.
'The next step then is to ensure that those women-led businesses that have the ability and desire to grow are able to do so. Our EWW programme bridges that gap - providing access to guidance, insights, financial support, market visibility and the right business partnerships to help women business leaders to achieve their massive economic potential.'
The Asia-Pacific version is based on EY's highly successful North American programme, in which participating businesswomen have reported annual growth rate of 49 per cent and a 25 per cent increase in employee numbers.
'I'd like to think we could match those numbers in Asia-Pacific,' Kimmitt says. If so, she predicts, this would equate to an additional US$720m in incremental revenue over three years, and 2,200 new jobs created in those 14 businesses.
With a global reach of 190,000 people in more than 150 countries, EY is perfectly placed to 'help open doors, build a profile, and connect with the right people' for the selected entrepreneurs, who hail from China, Hong Kong, Indonesia, Malaysia, Singapore, South Korea, New Zealand and Australia.
'The year-long programme helps women entrepreneurs to grow their businesses fast and sustainably, equipping them with the tools and information needed to break through common barriers that can often keep thriving second-stage businesses from scaling to their full potential,' Kimmitt said.
The formal stages of the programme include a two-day conference in Singapore in April, and five follow-up e-conferences. Each of the women is also assigned an EY host in their home country, who will continue to mentor them one-on-one beyond the programme's official finishing date.
Mills is one of four Australians selected this year. Starting from scratch in 2003, the former corporate highflyer-turned-entrepreneur now oversees three market-leading franchise brands - Go Sushi, Kick Juice and Wasabi Warriors - as well as wholesale sushi brands Sushi Ginza and Sushi Hachi. She is on track for regional expansion, having opened her first outlet in Hong Kong in January (the first of many planned for the city) and preparing to launch in the Philippines.
'Integrate work and families'
Mills wishes more companies would 'get behind families', citing the children-versus-career conflict as one of the major roadblocks to women's career progression. 'The real focus for business going forward [should be] how many ways can we integrate work and families,' she says.
Even though 'everyone can definitely benefit' from a family-friendly workplace, it's not something you can put direct numbers to, Mills concedes. Not enough boards are listening, she feels, because, being male-dominated, they don't see it as an issue. 'When more women are on boards facing that challenge, I think we will see change,' she says.
Another participant is Susan Chong, CEO of Greenpac, a Singapore-based environmentally friendly packaging products company. Beginning life as a one-woman start-up in 2002, hers is now a multimillion-dollar enterprise serving Fortune 500 companies, and the market leader for sustainable packaging solutions in Asia.
Chong saw a market opportunity, but she was ahead of her time. '2002 was way too early in the business, the perception being that anything to do with green is more expensive. But we continued to pursue it, in the belief that some day it would be a big business,' she says.
Chong refined her business model to one that helps clients achieve bottom-line cost savings, while at the same time greening their supply chain. 'This became our niche; people are coming to us now,' she says. But while she did face discrimination in the male-dominated industry, being a woman sometimes worked to her advantage.
'When you ask for an appointment, [potential clients] have been curious about what a woman can do,' she says. Once you have that foot in the door, 'you get a better chance'. Her advice to other enterprising women in Asia is to refute the culture of taking the back seat while letting their husbands drive the business - rather, 'show them that you are capable'.
A love of motorsports led Malaysian entrepreneur Dato' Hazimah Zainuddin to establish her business, Hyrax Oil, producing a broad range of engineering lubricants. The Kuala Lumpur-based company, founded in 1991, now exports to more than 40 countries worldwide.
'At the start of my journey, being female certainly posed challenges for me, especially being in an industry which is dominated by men,' Hazimah said. With her company now employing 78 people, generating revenues close to RM100m, 'I guess I have come full circle - from utter disbelief to respectful acceptance.'
Hazimah 'realised that for a woman to try to sell lubricants a comprehensive knowledge of lubricant would be necessary'. So she went to South Korea to learn the business, then identified potential markets and products, 'in that order'. 'I must have made the right selection as this seems to have worked,' she says. Hazimah is pleased that more women in Asia are stepping up to take the reins of business. Her advice is to 'set your goals and totally believe in yourself'.
"More women in Asia are stepping up to take the reins of business."
Another successful woman in a man's world is Qi Lin, Beijing-based president of Chexun.com, a website that guides vehicle buyers throughout the purchase process. It transpired from Qi's decision to buy a new car - as a graduation gift to herself on returning to China after studying in the UK - and finding how difficult it is to reliably compare prices.
'I realised that buying a car is painful, and set out to change that, with a website that makes the process transparent and simple,' she explains. In the space of a few years, the company has grown from a small team to 240 employees, with annual turnover reaching RMB90m last year.
It is getting easier to be a female entrepreneur in China, Qi says, sharing the view that, in the mainland, women now have the same opportunity as men, thanks to governmental efforts to improve the entrepreneurial environment and encourage innovation. She is pleased to see a cultural shift occurring across Asia-Pacific, but in addition to the 'tremendous' impact women in business can have across the region, Qi sees a broader vital role for her gender.
'In China, we have the yin and yang philosophy,' she explains. 'The idea is to achieve balance and, by finding the balance between work and family, women are not just creating more economic value, but social value as well.'
Indonesian entrepreneur Prita Kemal Gani realised her lifelong teaching dream in a country where, until recent times, women had few privileges, including the right to an education. Her London School of Public Relations, founded in Jakarta in 1992, is at the forefront of women's empowerment. 'Now people believe that if the woman in the family is successful, it will give more success and prosperity to the whole family,' she says.
Hong Kong entrepreneur Lovinia (Lulu) Chiu agrees that 'all women have every right to realise their dreams, and can do remarkable things for themselves, their family and society'. The CEO of Medialink has built a strong business since starting out with her younger sister in 1994. Any business person is, she says, only as good as their last presentation, 'so constant reinvention, innovation and focus should always be at play'.
"By finding the balance between work and family, women are not just creating more economic value, but social value 
as well."