As technology transforms the profession, an epic career awaits ACCA members that embrace this sea-change, says ACCA president Robert Stenhouse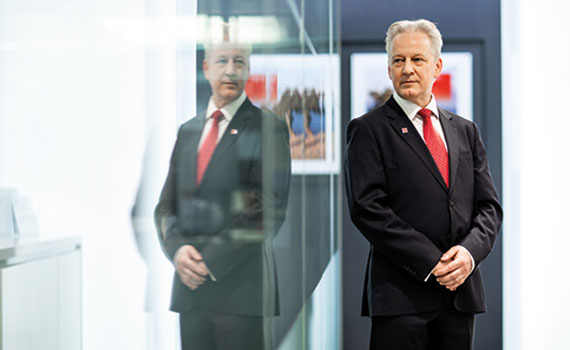 This article was first published in the April 2019 China edition of Accounting and Business magazine.
At a recent new-member event, I was asked by our guest speaker whether our members become CEOs, CFOs or entrepreneurs? My answer was simple: 'All of them – whatever they want to be.' After all, a career as a finance professional is a journey not a destination.
A more frequently asked question is related to technology, one of the key themes that ACCA will be exploring this year: 'Will technology replace accountants?'
Inevitably some routine processing jobs will be replaced by machines. But for those members who embrace change, the transformation we experience will provide career opportunities not seen for generations.
We are at the beginning of what has been called the fourth industrial revolution, and the finance profession has a huge role to play in making sure the potential benefits are captured for society as a whole.
In particular, I would highlight three areas where the core competencies of professional accountants are essential to achieving successful transformation.
The first is the appraisal of IT investment. At a time when many traditional business models are being challenged, significant investment in technology will be needed to transform our ways of working.
To make the right business decision, it is important to be able to project the true cost of this activity to ensure adequate funding is available. This involves modelling the impact on income of changing customer behaviour, while also projecting the costs of replacing legacy systems, and maintaining and upgrading new systems.
The second area is monitoring and measuring change. The business change and IT transformation need to go hand in hand, and you need to bring everyone along with you on the journey. This requires clear objectives to be established that can be measured and monitored.
The third area is making sure that the business benefits are achieved ethically and sustainably. It is in times of change and challenge when professional accountants really add value, bringing their integrity to bear as they consider the interests of all stakeholders.
ACCA members have the core skills and competencies to be leaders at the forefront of the business transformation that will inevitably happen as the world takes advantage of the latest digital technologies.
Those who choose to ride this wave will have the opportunity to secure an epic career journey.
Robert Stenhouse is ACCA president and a director, national accounting and audit, at Deloitte in the UK.