By releasing human capital, artificial intelligence and robotics can enable finance professionals to concentrate on better and higher value-added work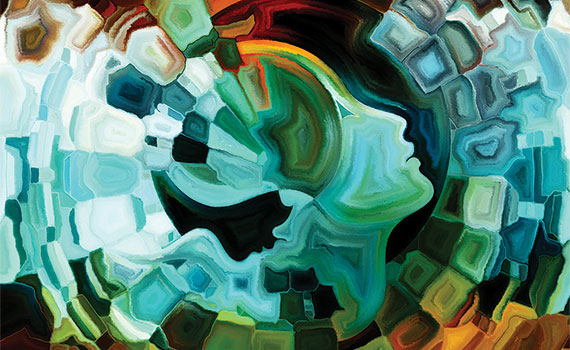 This article was first published in the April 2019 China edition of Accounting and Business magazine.
Emotional intelligence is an increasingly important factor for success for finance professionals, particularly in the era of artificial intelligence (AI). The link between the two was explored at the ACCA Hong Kong CFO Summit, held late last year, at which delegates were asked to consider how finance leaders can seek to thrive in the digital age.
'Our strength in this increasingly digital age is being human, exercising judgment, scepticism and emotional maturity,' said Jane Cheng, head of ACCA Hong Kong. 'Emotional competencies are critical to becoming a trusted and capable professional accountant, someone who can combine analytical figures with emotional maturity.' she added.
Emotional quotient (EQ), one of the seven skill areas ACCA sees as key skills for the future of the profession, comprises a range of competencies relevant to improving emotional intelligence, such as a growth mindset, self-knowledge, perspective-taking, empathy and influence.
'ACCA sees technology as an opportunity that allows accountants to focus more on value-added capabilities,' said Cheng, noting that repetitive and mundane tasks can now be done by automation.
Her view was shared by Nicholas Yang, the Hong Kong government's Secretary for Innovation and Technology, who was guest of honour of the summit. The helmsman steering Hong Kong's tech development, Yang believes that AI and robotics release human capital so that humans can focus on better and higher value-added work, thereby driving growth and increasing productivity.
The accounting profession has already benefited from AI, Yang noted. 'Cloud-based accounting software has now become a dominant force in the profession, which has improved efficiency and added value to the accounting industry,' he said.
AI will not replace accountants, he added, as witnessed by the fact that today there are more than ever.
'The work of accountants today is not about bookkeeping and data analysis,' Yang said. 'It is more about relationships and strategy-building with clients. Such work requires human interaction skills and creative thinking.'
Ultimately, Yang said, AI does not set out to make machines more like humans: 'AI is about making humans understand and work with the machine to overcome humans' shortcomings and limitations.'
Successful collaboration
This human-machine collaboration has already proved successful, said Mark Lee, research director at the Asia Pacific Institute for Strategy, during a panel discussion on harnessing the power of EQ. He described how tech startup Stitch Fix uses AI to calculate what fashion style would suit the customer before sending a parcel of clothing items with a handwritten personal note. Today, the business is worth US$2bn and its stock price has jumped US$10 in one year. This story, says Lee, proves that the human touch still has its place amid the rise of machines.
While no one would disagree that AI has enhanced work efficiency, the biggest fear of many is of AI taking jobs away. Edwin Hui, head of data and analytics solutions at KPMG, urged management to stay empathetic and professionals to have a growth mindset to stay competitive.
'We often look at how AI improves efficiency only, but we also need to think of social responsibility,' he said. For example, Amazon is retraining its employees in order for them to survive outside the company.
AI also creates new roles. 'We need people to monitor the machines to ensure the output is right,' Hui said. 'This is human resources transformation.'
Also sharing this view was Sean Lee, managing director of digital transformation at Dell Technologies.
'Humans can work as managers of the robots and see them as virtual assistants,' he said, adding that effective management was essential.
In today's data-rich environment, AI also raises fears of infringement of privacy. To address those concerns, Lee highlighted judgment and a sense of responsibility as essential.
'Now there are more regulations on data privacy protection. Corporations need to respect the regulations and work with finance professionals to understand the impact of data breach,' he said.
Lee also urged finance professionals to be less rigid about returns and failure when facing uncertainty arising from technology.
'We are still in the infancy of integrating technology in our work, so returns are unknown,' he said. 'When doing financial planning, can we have some areas that do not have any KPIs?'
'Also, failure is not bad. You can have policies to amend it. Put a box around it and let people try inside the box.'
Growth mindset
Meanwhile, Alison Sim, associate director of finance and technology at Crown World Mobility, shared how a growth mindset, influence and perspective-taking can be an answer to confronting these fears.
Through her efforts, her company adopted robotic process automation for better productivity. Not having a tech background did not deter Sim and her team from learning the technology themselves.
'Of course some people didn't want to get on board with the project but I encouraged them to remove their fear,' said Sim, adding that extensive training was provided. 'It actually opened a new career path for them.'
To reassure senior management, Sim put herself in their shoes. She increased the project's transparency to let them stay informed, engaged and encouraged. She set up milestones to review each phase of the project and brought frontline employees to the boardroom to share their positive feedback with senior management.
Meanwhile, for many, doubts persist about where humans stand in a world that celebrates the power of machines.
In the second panel discussion on the primacy of human intelligence and culture in a digital age, speakers discussed how humans' authentic feelings and critical thinking set us apart from emotionless machines that have limitations. Everyone agreed that ethics is one area in which machines cannot surpass humans.
'The ethical side is largely human-driven today,' said Steve Monaghan, founder of GenLife, an insurance company that is harnessing the power of AI. 'It's on us to understand what is possible and probable. Machines are just using mathematics to do calculations.
'It is our job to draw the ethical lines from a regulatory standpoint to decide how to use the information in the right way. AI is not designed to discover its own ethics,' he added.
Governance is crucial
For this reason, humans have much work to do.
'It's important to learn. Without understanding AI, it's hard to judge whether something is ethical or not. Learning about it will let you have a better call,' said Toa Charm, chief public mission officer at Hong Kong Cyberport Management.
Charm also highlighted the importance of regulations and governance. 'When forming governance to look at AI ethics, it's not just a set of technical guidelines. We need the accountants' profession to add value to governance and set a bottom line,' he noted.
For this reason, Singapore has released a set of principles to promote fairness, ethics, accountability and transparency in the use of AI and data analytics – a move that has been well received by those involved in AI.
'We need to establish standards and reduce the misuse of AI,' said Dominic Wu, managing director and senior risk manager, Asia Pacific, at the Bank of New York Mellon. 'It should not be used to deceive and manipulate users. AI should be building instead of eroding trust.'
Teddy Liu, head of the corporate and talent development department at New World Development Company, summed it up in one sentence: 'Control should be in place, otherwise it would be a mess.'
In its report Emotional quotient in a digital age, ACCA points out that EQ helps one prepare for rapid changes and improve human-machine interaction. In particular, the growth mindset is a key enabler for the development of EQ and is a point of high leverage. Improvements here can help with those needed across all emotional competencies.
'EQ can be learned and is an under-used asset for influencing others. A growth mind-set can help you push yourself out of your comfort zone, ask additional questions, understand the person better and see what you can do to find a middle ground,' said Narayanan Vaidyanathan, head of business insights at ACCA.
'A growth mindset really matters,' he added. 'It is one area that you can influence and has outside benefits.'
Elise Mak, journalist
"The ethical side is largely human-driven today. It's on us to understand what is possible and probable"