Our network of advocates
Here are some member stories, in their own words, to get you started.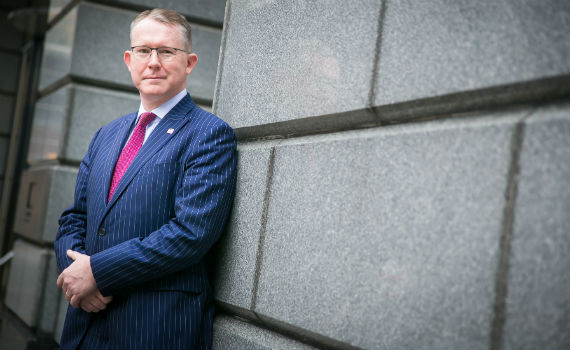 Brian McEnery, ACCA's president (2016-17) talks about what advocacy means to him
Brian McEnery,
ACCA president (2016-17)
My first experience of advocacy came very early in my life and from a source very close to home. As a child, I was lucky enough to see my brother, who was four years older, working his way through the ACCA Qualification programme. Watching him, I could see the benefits of the syllabus. In fact, it was how my passion for business was first ignited. That is why I want to spend my year as ACCA president inspiring as many of you as possible into being advocates.
The day I became an ACCA member was one of the biggest days of my life, and I owe all this to seeing someone in my life benefiting from ACCA before I did. ACCA's open access is an incredibly valuable attribute, but it's not enough for us just to open the doors to everyone; we also need to go out and welcome people in!
The world is demanding more from professional accountants than it ever has before. The role has undergone a complete transformation over the past decade, with finance professionals going on to become business leaders, trusted expert counsel and key strategic advisers. But with this metamorphosis comes a requirement for finance professionals to equip themselves with a whole new set of skills. And that is why it is so exciting that this month sees the ACCA Qualification updated to ensure that it continues to meet the new strategic challenges that are being brought about by the 21st century's disruptive economy.
Young people come in for a lot of criticism. There's a phrase in Irish – 'mol an óige agus tiocfaidh sí', which, for those of you who aren't fluent in Gaelic, translates as 'praise the young and they will thrive'. I believe that wholeheartedly. Many young people just need to be given an opportunity to succeed and they will take it. The opportunity I was given was ACCA, and by spreading the word, we can offer that same opportunity to thousands more young people around the world.
There are lots of different ways to be an advocate. If you want to get involved, I'd urge you to make contact with your local ACCA office, where the staff will help you get started. As for me, I have been a Council member since 2006. It's an amazing experience – one that feels like being a non-executive director for a multinational company.
It is an immense privilege to be able to do this work for ACCA. After spending a decade on Council I have learned so much – above all to be open-minded and to work as part of a team. This is the approach I am going to take during my year as president: to be your representative, your advocate and a mentor to our next generation of ACCA-qualified professional accountants. It's a daunting task, but I hope I do you all proud.
Michelle Hourican,
Director, Datatrails
I am proud to be a member of the ACCA professional community, engaging with other members on a regular basis across the globe thanks to the ACCA platforms and social media.
ACCA was my passport to success hence I believe in giving back. I strive to constantly assist other ACCA students and members in achieving their goals. That's what professional friends are for!
Stuart Davies,
Director of finance, Welsh Health Specialised Services Committee
As with any membership organisation, it is important that ACCA represents members in all geographical regions and sectors. With a strong desire to ensure that Wales and the Welsh health system are fairly represented, it was a natural step to become an advocate for both.
My involvement in thought leadership and advocacy with ACCA has taken many different forms, much of it in support of ACCA's activities across the health sector in the UK. I was proud to co-author a review of the three very different health services of England, Wales and Scotland – a paper which I later presented to students and members at an event at the King's Fund. I even won a Panellists' Award for my contribution, which was hugely rewarding.
The sort of involvement I've had has contributed significantly to the cultivation of greater cross-border collaboration and knowledge sharing. Opening up discussion on these issues and wider aspects of strategic thinking is an important function of ACCA in the UK for students and members alike.
Of course, our time is precious, and you might think that member advocacy won't fit into your schedule, but making the effort to break out of the routine and escape the nine-to-five crunch can bring more benefits than you might think.
You have got something to offer – it's up to you to identify what that is and how to make it happen. For me, being able to offer a valued insight into the Welsh health system has resulted in tangible benefits not only for me and my professional reputation, but for ACCA in all regions.
John Jaggon,
Finance Director Wernick Group, UK
I was recently invited to speak at a Finance Leadership Programme to up and coming FCs/FMs who aspire to become finance leaders of the future. Basically I was there to tell my story and hopefully inspire our future FDs.
I took them through my career development. From my start working in private practice and being exposed to a variety clients, which included setting up the now famous BRIT School, to working for a high net worth individual, a FTSE-250 property developer and investor, a specialist media consultants specialising in film, TV and media, to setting up a niche property development company with an ex-colleague by writing their business plan and securing private equity finance to where I am today - Group FD to Britain's largest independent manufacturer and hirer of portable and modular accommodation.
My key message to the group was the ability to use the ACCA Qualification to adapt to varying surroundings and then find your niche where you can develop and grow as FDs. I have often been referred to as a "non-traditional FD", which I am proud of.
Wendy Lee
Director, Finance & Legal. Fuji Xerox (Hong Kong) Limited
Wendy tells is how the ACCA Qualification has helped her career (and more...).
Nick Shepherd,
Retired member now living in Canada
Although I left the UK over 40 years ago I have remained an ACCA member as I believe we are one of the most progressive accounting organisations globally.
As my career evolved I became more interested in the growth of the intangible economy and the importance of individual and corporate behaviour as a factor in organisational risk and business success and sustainability.
I use my almost 50 years of accounting background as an advocate and influencer to encourage the accounting profession to embrace sustainability beyond CSR and ESG.
I currently lead the integrated reporting work of the UK based Maturity Institute and I am also a member of their council. Our goal is the promotion of human capital being at the centre of organisational sustainability. My current activities involve writing on this subject for regional, national and global publications and in developing an understanding of organisational culture and how it can be understood and sustained as a core competitive advantage.
This includes exploration of the way in which the effectiveness of culture can be developed and integrated as a core aspect of integrated thinking and reporting.
Emily Zhao Jianmin,
Director, Global Treasury, International Investment Bank
While it might be hard to name a single person who has inspired me the most, it is plain easy to name the single qualification which has benefited me the most.
My story with ACCA started 16 years ago. Standing on one of the bridges across Singapore river, the CBD fell into full view. I whispered to myself: I want to be a true professional working in one of the tallest buildings there. The supreme power heard my prayer and showed me the way.
I searched for 'professional courses' in internet and landed with ACCA. I completed ACCA in two years on part time basis, I was the prize-winner for six papers and the gold medalist for the final three papers. Upon completion of ACCA, I switched my career from nursing to audit in PwC for three years. I joined an international investment bank thereafter. Stayed with the bank through global financial crisis and heightened regulatory pressure, I made my way to one of the tallest buildings in CBD.
ACCA opens many doors for me. On top of everything else, I met my husband, a fellow ACCA member, during the study. We are happily married for 13 years and raised three lovely kids together.
Based on personal experience, I'd strongly advocate for ACCA:
Being a mid-career switcher, I strongly believe ACCA provides open platform for anyone who wants to pursue an accounting or finance profession.
Originally from China, I believe ACCA is truly a global brand which could attract people from the global pool and produce talents for the global pool.
Working in investment bank, I see opportunities ACCA could collaborate with other professional qualifications to enhance the employability of our members not only in traditional accounting roles but also in other related services.
I started to be involved more in ACCA events in recent years and joined the ACCA network panel in Singapore. There are many ways you could give back. Step forward and approach the local ACCA office!
Ian Waugh,
Director of finance, Scottish Public Pensions Agency
When I talk to prospective accountancy students and their employers, I explain that ACCA not only offers a myriad of career paths but also has the added benefits of being flexible and global in nature.
I've been an advocate for the organisation for a number of years, primarily being the 'eyes and ears' of ACCA through serving as a members' network panel member in both the health and public sectors.
I've been lucky to find many diverse opportunities to contribute to thought leadership with ACCA. I've written technical articles and contributed 'think pieces', drawing chiefly on my work experiences; been an organiser and a speaker at ACCA conferences, including drawing on my contacts to source relevant and high profile speakers and helped leverage ACCA's rich global network of members to generate insightful surveys.
Sceptics might think that involvement in advocacy and thought leadership might not be a good use of valuable time, but there are enormous benefits, not least being able to tap into the diversity of knowledge, experience and opinion that helps shape the future of ACCA and the accountancy profession. A strong ACCA brand has benefits for all members and relies on active involvement to thrive.
Alan Woods,
Director, Woods Sqaured
My first experience of being an advocate came after a local school – West Kirby Grammar – approached my firm and invited me to talk to students looking to choose their A level and university degree subjects, as well as considering future career options.
We took up residence in the school's gym hall alongside 50 other industry stands. Thanks to our ACCA banners and brochures we drew the attention of plenty of interested students and parents and were able to offer valuable one-to-one sessions with students attracted to accountancy as a profession.
Many students told us "I'm good at maths and so am interested in being an accountant." We took this opening and outlined the scope of opportunities that qualified accountants can enjoy.
The real challenge in this sort of environment is that the parents accompanying the students tend to dominate conversation. They are quite rightly interested in what a career in accountancy can offer their children, but they are asking their own, rather than their children's questions. The key is to engage with the students and get them to do the talking.
This was a great opportunity to bust the myth that accountancy is a 'boring' profession. We were able to convey to the students the breadth of opportunities a career in accounting can give you – it can be whatever you want it to be.
Register to become an advocate of ACCA
You've found out what's involved and what some of your fellow members think about being an ACCA advocate. On the next page, you can find out more and register to be an advocate yourself
Share your story
On this page, some of our members have shared their ACCA story for the wider community to read and be inspired by.
If you're interested in sharing your story here, we'd love to hear from you.