Accountancy Futures magazine
ACCA and Chartered Accountant ANZ's twice-yearly professional insights publication
Edition 20 - June 2020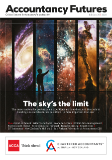 This 20th edition of Accountancy Futures – with features and interviews commissioned before the full force of the pandemic struck – is starkly relevant, even prescient. To fully play their part in a post Covid-19 world, professional accountants need to build on strong historical foundations and quickly adapt to the new and emerging challenges. The cover feature, based on ACCA's report Future ready: accountancy careers in the 2020s, demonstrates the key roles accountants can play in a future that requires skills in strategic thinking, addressing sustainability, supporting innovation and driving the digital agenda.

Published with ACCA's strategic alliance partner CA ANZ, this edition covers the Covid-19 fallout; combating bribery; ethical management of data; economic crime; the entrepreneurial mindset; accounting for climate change; smart cities; and the global move to accrual-based accounting in the public sector. We look at the global reach of Sir Donald Brydon's audit review; and at the drive towards multilateral tax reform.

There are also interviews with Vickson Ncube, CEO of the Pan African Federation of Accountants; Michele Embling, chair of New Zealand's External Reporting Board; and Belinda Hutchinson, chancellor of Sydney University.

Read the latest edition by downloading our Insights app or online