ACCA's Approved Teaching Resources Programme
ACCA's Approved Content Providers - BPP Learning Media and Kaplan Publishing - offer comprehensive packages of teaching resources, approved by ACCA.
These Approved Teaching Resources provide the essential elements for effective and efficient course delivery.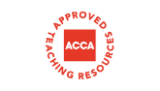 Each provider's package includes:
Resources to support the teaching phase of a course
Resources to support the revision phase of a course
Course exams
Two mock exams per year
Detailed guidance on how to use the package
Each of the Approved Content Providers may offer additional materials to support course delivery, but only those materials carrying the Approved Teaching Resources logo (as shown) are approved by ACCA.
Find out more
For more information about the resources available from each provider, please contact them directly via their website: