Umesh Shah
Umesh Shah is a director of HNS Accountants Limited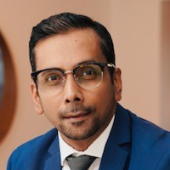 At HNS Accountants Limited we have businesses of all sizes and at various stages of growth. Each client's journey is our journey too and there is so much to learn from different businesses - so much to understand, experience, and apply. We follow through on our commitment to fulfil our promise, which states that "You build your Business; We grow your Wealth".
Keeping up with the changing environment is one of the most pressing issues for accountants today - we are prepared to handle challenges and appreciate opportunities on any given day. The current challenges we face are usually about raising funds for start-ups or dealing with environmental issues. However, where there are challenges, there are usually also opportunities, such as when there is a breakthrough with funding, or new start-ups which focus on green energy.
Most high street banks are still unwilling to work with start-up businesses, and many clients are unaware of venture capital schemes like SEIS and EIS, so we help our clients to apply for and secure funds, whilst ensuring that they do not attempt R&D claims where they do not meet the eligibility criteria.
Businesses can no longer disregard environmental issues – founders must consider how to conduct their businesses in a more environmentally responsible manner, which will help to them to achieve further success whilst also preserving the natural resources of the globe. Many people are looking for actionable solutions to greenify their lives - we have many clients with new ventures in fields such as plant-based food supply, jewellery made from recycled materials, and reducing the quantity of packaging that is used for a single transaction associated with online shopping. We should ask ourselves the question "Are you part of the solution or part of the pollution?".
It is important that businesses have the right accounting support so that they can focus on growing ethically in a regulated environment. Part of this is educating them to meet compliance requirements, but it also involves building a culture of integrity. It is of the utmost importance to determine the origin of the funds, as well as any associated parties that may be involved in the business, the nature of business, and detailed AML checks may be required, particularly in the event that the funds originate from another country. A recent pattern that we have noticed involves fraudulent claims for R&D tax credits and bounce-back loans, so my team remains vigilant for any suspicious activity.
Being an accountant is not just about crunching numbers; it's about being a strategic growth partner to all my clients and helping them flourish. I am grateful to my clients for their kind support and referrals. We do not advertise our services - instead, we let our clients do the talking for us.