Leadership requires a mindset shift, says Alastair Beddow, with strategic vision accompanied by powerful implementation skills and plenty of resilience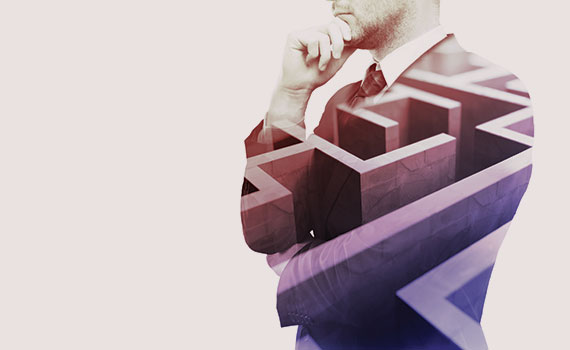 This article was first published in the January 2018 UK edition of Accounting and Business magazine.
Recent political shocks aside, the business world continues on a trajectory towards greater global interdependence and complexity. At the centre of the great interconnected network of trade and investment effort are professional services firms, advising their clients on a range of growth opportunities and regulatory and compliance issues.
Although many opportunities lie on the horizon for professional firms, there are many challenges ahead too. Technology such as process automation and self-service accounting software has disrupted the traditional role and value of finance professionals. It has also resulted in the emergence of new technology-enabled competitors, who are challenging the dominance of established firms.
The talent model of professional firms is also changing. The generation of accountants entering the profession today have radically different career expectations from their predecessors, and are less likely to be loyal to one employer throughout their career.
For professional firms to seize opportunities in this competitive and disruptive market requires strong, visionary leadership. However, many professional firms have historically undervalued the importance of leadership capabilities, preferring instead to choose their leaders on the basis of who bills the most or who has the most years of service. While these attributes are important, they don't automatically produce effective leaders.
A professional firm needs to choose its leaders on the basis of who has the most compelling answers to the strategic questions facing the firm. Which clients and markets offer the strongest opportunities for growth? What is the best way to boost the skills of professionals and create a culture of high performance? What is the right response to the threat of technology cannibalising existing revenue streams?
Although the answers to these questions will be different for each firm depending on its specific mix of clients, geographic markets and size, there are many shared lessons that expert advisers can take on board.
Expect the unexpected
For our book Professional Services Leadership Handbook: How to Lead a Professional Services Firm in a New Age of Competitive Disruption, my co-authors and I interviewed a wide range of leaders of firms. What they all agreed on is that the transition from expert adviser to leader throws up unexpected challenges. The magnitude of the transition shouldn't be underestimated.
As George Bull, a senior tax partner at RSM, acknowledges, taking on a leadership role requires accountants to adopt a new way of thinking: 'As a professional moves up through their firm, they realise that being a good accountant is actually no more than a prerequisite to get onto the leadership starting block.'
The most obvious change that occurs when finance professionals become leaders is that the demands on their time change. They are likely to spend a greater proportion on activities such as devising strategy, reviewing the performance of other senior partners, and overseeing the implementation of important firm-wide projects.
Experience shows that the most effective leaders combine capabilities in strategic vision (to anticipate and respond to the trends impacting their firm) and change management (to tackle difficult issues directly to avoid stasis).
Leaders also take on an equally important, if less tangible, role in shaping their firm's culture and values by acting as a figurehead or champion for firm-wide change. Leading by example is a critical function for anybody occupying a senior position because they set the tone for the kind of behaviour the firm tolerates and how it expects its people to interact with each other and with clients.
Given these diverse responsibilities, is it possible to be a leader in a professional firm and still undertake significant amounts of client work? For some the answer may be yes, but many professionals discover that leadership is a full-time responsibility.
There are several key behaviours for achieving effective leadership:
1. Segment your time. It is easy to get distracted with activities that take up your time but do little to forward the firm's strategic vision.
2. Don't avoid the tough choices. Leaders often fall down because they avoid making difficult decisions such as exiting unprofitable markets or work types. Saying no to colleagues is tough, especially in a professional partnership where everybody feels a strong sense of personal investment in the business. Yet successful leaders know they need to do what is right for the firm.
3. It is not sufficient for leaders to articulate a vision; they also need to secure buy-in to that change in order to deliver real results. Communication is one of the most powerful but underutilised leadership tools. Effective leaders simplify messages into digestible elements and repeat them frequently to build consensus and support for their vision.
4. Delegate where possible. Leaders, particularly when they are highly qualified professionals, tend to be perfectionists who like to maintain control, and get sucked into the minutiae of execution, taking their eye off the bigger picture. Successful leaders are aware of their own personal strengths and weaknesses, and build their top team to provide complementary skills and capabilities.
5. It can feel lonely as a leader, with few trusted people to share concerns. It is important therefore to build time for personal reflection. Many find an external coach can help facilitate this process of self-reflection.
In addition to their strategy and implementation strengths, the most effective leaders tend to be very resilient. They have confidence in their vision and the emotional intelligence not to let personal politics derail that vision. Philip George, a former managing partner, warns: 'Don't expect to be the most popular person in the office – you certainly won't be!' The best leaders command respect because they are seen to make fair decisions in the best interests of the firm.
Alastair Beddow, director at consultancy Meridian West and co-author of Professional Services Leadership Handbook
"Many firms have undervalued the importance of leadership capabilities, choosing their leaders according to who bills the most"