McGill University's Desautels Faculty of Management has an innovative approach to learning,which sets it apart, explains dean Isabelle Bajeux-Besnainou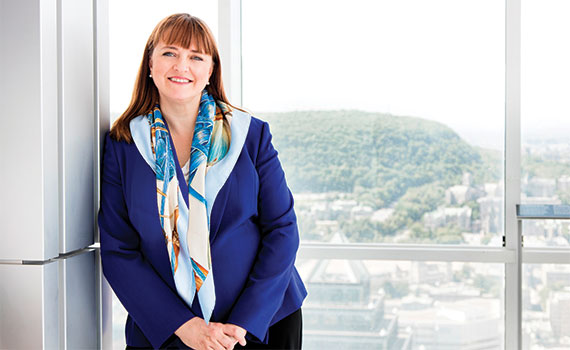 This article was first published in the China 2018 China edition of Accounting and Business magazine.
Twice a week, the investment team of Desautels Capital Management meet to review the performance of their three funds, analyse market conditions and discuss potential new investments. By most standards, the investment management firm is small, managing US$4m in assets, but it has the distinction of being run entirely by 72 selected students from the honours investment management and the masters of management in finance programmes at McGill University's Desautels Faculty of Management in Montreal, Canada.
Set up in 2009, Desautels Capital Management operates from a state-of-the art trading room on the university campus and offers students the opportunity to gain practical experience using sophisticated analytical tools while also introducing them to various aspects of running an asset management firm.
While business schools often 'have a system where students give recommendations to manage a pool of money, usually part of an endowment fund, the Desautels model is different', explains Desautels's dean, Isabelle Bajeux-Besnainou. 'This is a registered investment company, with real money given by investors, usually alumni but not always. As such, the experience is very different because the students will see all the aspects of the investment company. It's not only about the stock picking but also about all of the back-office and being accountable to the clients.'
Desautels Faculty of Management has been consistently ranked one of the world's top international business schools based on its rigorous curriculum and the innovative programmes on offer. But Bajeux-Besnainou believes that what really sets the school apart is its focus on integrated management, which is still unusual in business schools as most teach business administration from the perspective of specialisation and disciplinary learning.
Celebrating its 10th anniversary this year is the faculty's research centre, the Marcel Desautels Institute for Integrated Management. Its mandate is to develop an integrated approach to teaching management that breaks down disciplinary barriers and encourages more holistic thinking that allows students to embrace problems from multiple perspectives.
Different sets of tools
'Traditionally, business management has been about teaching a set of skills – accounting, finance, human resources, marketing and so on – but nothing in business now is siloed. We believe it's important to start learning different sets of tools at the same time in the same course because that's the kind of skills that you will need in the real business world,' Bajeux-Besnainou explains.
'It's no longer about understanding what the HR or finance director do; it's about understanding how they view a problem. With that understanding, you're then able to address problems from multiple perspectives,' she adds.
Breaking down the 'thinking silo', the school is driving cross-disciplinary teaching and encouraging integrated research and outreach initiatives, while emphasising collaborative problem-solving. Bajeux-Besnainou believes that to prepare students for the current digital and data-rich world, the school needs to keep on its toes and adapt its curriculum.
For example, in 2016, it launched a business analytics concentration to teach MBA students how to apply data analytics techniques and tools to drive performance, transforming data into a strategic asset that can be leveraged to make better managerial decisions. 'You are not going to become a data scientist, but you will be able to gain a useful understanding of the strategic use of analytics. It's really about the translation into business,' Bajeux-Besnainou says, adding that this skill is now in high demand in the jobs market.
Shared experience
With 576 students applying for the 42 places in the masters of management in finance (MMF), the Desautels Faculty of Management is highly selective. 'At that level, it's obviously what the professor brings to the classroom but we also want the student to bring something to the class. It's about sharing their experience,' Bajeux-Besnainou explains, adding that the school looks for diversity while 'crafting' a class to make the experience more valuable to its students. 'As there is a lot of collaborative work on group projects, it's really important we have an extremely international cohort. Their perspective is not just about their different area of business depending on their previous jobs, but they are also bringing their different cultural background to the classroom, which is extremely important in the learning experience.'
The current MMF cohort highlights this cultural diversity, with 16 females and 26 males hailing from 11 countries, including China, India, Indonesia and Vietnam, with a variety of academic backgrounds including those who studied accounting and business as well as law and medicine.
When she took up her position as dean of the Desautels Faculty of Management at McGill University in 2015, Isabelle Bajeux-Besnainou took a collaborative approach to implementing change, meeting with the school's various stakeholders to listen to their needs before starting to work up a new strategic plan for the school.
In 2018, the school will open a new building with plenty of small rooms in response to student requests for more learning spaces in which to work on projects. She also cites requests for better support for research as another student requirement. 'In Canada, there are a lot of grants, so it's really not about getting more financial support but more about support for the application of grants and helping students communicate their thought-leadership research. This is something we're implementing right now.'
Sonia Kolesnikov-Jessop, journalist
"We believe it's important to start learning different sets of tools at the same time"