Across the globe, members are acting as advocates to encourage others to take the ACCA journey. Why not play a part, too, asks ACCA president Leo Lee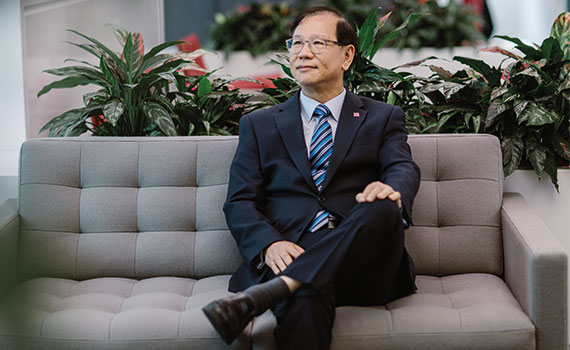 This article was first published in the May 2018 China edition of Accounting and Business magazine.
A few weeks ago, I had the honour of attending the ACCA Regional and Global Advocacy Awards in Glasgow.
It was fantastic to hear from some of our most enthusiastic, vocal members who are truly shaping and leading the accountancy profession around the world. It was my pleasure to recognise the efforts of the regional Advocates of the Year: Quin SQ Thong FCCA (Asia Pacific); Daniela Vasilescu FCCA (emerging markets); Matt Dolphin FCCA (Europe and Americas); Nandika Buddhipala (MENASA); and Felix Mutati MP FCCA (Sub-Saharan Africa). Their impact on their communities, not to mention current and future ACCA members, has been widespread. You can read more about their stories, the awards ceremony and ACCA's advocacy programme on page 62.
But on a recent visit to our membership wall online (200k.accaglobal.com), I was struck by how many more amazing stories of advocacy there are. From a member in the UK whose love for ACCA inspired her daughter to also attain membership, to a member in Ghana who uses her ACCA training to mentor others in pursuing the same path, there are stories of large, small and everyday advocacy everywhere across our community.
As I have spoken about before in this column, I have been advocating for ACCA and the profession for 40 years, and I have seen the positive impact that qualified, strategic finance professionals have had on Hong Kong during a period of immense change and disruption.
Our growth and international reach is allowing us to speak more often and louder about the value that the ACCA Qualification plays in changing lives and creating the strategic business leaders of the future. Imagine if all 200,000 of us who have already made the journey to membership pledged to spend just one hour and do just one thing to spread the word or to open a door or to guide someone less experienced: the collective impact would be enormous. Indeed, in my speech at the awards, I suggested that perhaps we could call it our 'ACCA advocacy hour' – it would be yet another way in which we, as ACCA members, can change the world!
It's a powerful feeling to belong to the ACCA community, and a powerful voice that we share. So thank you to all of you for the ways in which you use it to do good every day, around the world.
Leo Lee FCCA is retired, but formerly held various roles at the Securities and Futures Commission of Hong Kong and is past president of ACCA Hong Kong