ACCA members met recently to share their views on what leadership is, what changing business models mean for it, and the skills leaders need now and in the future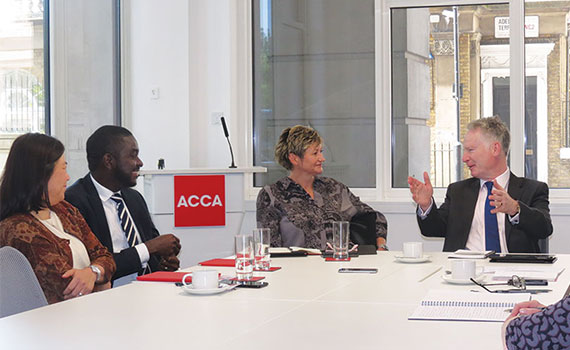 The roundtable (from left): Jenny Gu, Joseph Owolabi, Melanie Proffitt and Stephen Fitzgerald
This article was first published in the September 2018 UK edition of Accounting and Business magazine.
What makes a good leader? Are leaders born or made? The context within which leaders operate may be constantly changing, but these questions are ones that are always asked.
Leadership remains frustratingly difficult to define, and each of the participants in an AB roundtable discussion picked out different but complementary elements. 'A leader is not a leader without followers,' says Melanie Proffitt, ACCA Council member and CFO of hotel group Farncombe Estate, 'so the biggest thing for me is influence – the ability to influence and inspire others.' For Jenny Gu, ACCA vice president and COO of luxury goods company Richemont China, leadership is about setting direction: 'It's about strategy. And there is no strategy without execution. So the leader sets the direction, and then rallies the people and resources to deliver it.'
'Context is vital,' says Joseph Owolabi, ACCA Council member and director at Deloitte Australia. 'The two types of contemporary leadership we talk about most often are transformational and transactional. Some people need transformational leadership – they need a visionary leader in the mould of Winston Churchill or Barack Obama, someone to paint a picture of the future for them. Transactional leadership is about performing tasks, and when it comes to tasks the devil is in the detail. You need someone to provide that detail.'
'The situational context is important,' agrees Proffitt. 'Essential leadership skills are different in different situations. Leadership styles used in one context, such as the directive leadership style of the military, don't work as well in others.'
The leadership skills needed in modern business have been a matter of intense discussion at ACCA. The changes to the professional qualification – in particular, the new Strategic Business Leader case study (see the ACCA section of this edition) and Ethics and Professional Skills module – are designed to prepare ACCA members for leadership roles in a rapidly changing world.
Acquiring the skills
For our participants, this is a reflection of the fact that leadership can be taught and learned. 'For years people thought that unless you were born with it, you could not be a leader,' says Owolabi. 'It had to be in the blood. That has changed drastically. It's interesting to see how many leadership skills are now being learned in the classroom.'
Some people, of course, are lucky enough to be born with charisma – or whatever it is that persuades people to listen to them. But that is not to say that charisma cannot be approximated. In their careers, most of the roundtable participants have come across leaders who do not match the traditional archetype. 'When I took over my first FD role,' says Stephen Fitzgerald, interim FD of The Royal Borough of Kingston upon Thames and chair of ACCA UK's public sector panel, 'I was following a very charismatic leader and felt pressure to be the same. But what he did really didn't work for me. It's important to work to your own personal style.'
All participants stressed that the essential elements of leadership can be acquired, with work. 'I know someone who is vey inspirational as a leader, but when they started out they were terrible at public speaking,' says Gu. 'The skillset can be learned.' What is vital, adds Proffitt, is that you have that drive to learn and acquire the skills you need – and sustain that development throughout your career. You do need that inherent desire to succeed. I would add that you never see a successful sportsperson or team without a coach, so why don't we do that more in business? Coaching has a big part to play.'
The roundtable four stress that leadership does not necessarily mean reaching the very top of an organisation. Leaders are present at every level of a business and professional accountants are being called upon, more and more, to fulfil that role. 'Accountants aren't people who sit in rooms with calculators any more,' is how Proffitt puts it.
For Fitzgerald, the new ACCA Qualification modules are an important step forward for finance professionals. 'If you are really good at finance, people just see you as someone who is really good at finance and try to keep you in a box. The difficulty for people like that is crossing over into a management position; the better you are at finance, the bigger a handicap it can be, and we needed to address that.'
The necessary qualities
So what are the most important skills for a modern business leader? A number of suggestions fly around the room: empathy, courage, emotional intelligence, intuition, accountability, a degree of humility. For every participant, though, the one absolutely essential quality is integrity.
'The behavioural traits that leaders need will always be relevant, especially integrity,' says Owolabi. 'People will always respond to that. We need to trust leaders.'
'Integrity is critical,' agrees Gu. 'You can be a visionary leader but send people in the wrong direction, and that's dangerous. That is why the ACCA's focus on ethics is so important.'
And then there are the softer skills, particularly communication and presentation skills. 'Stakeholders have different priorities and perspectives, and leaders have to communicate differently with each,' explains Gu. 'Similarly, leaders need to modify their approach to make sure it continues to be effective as more and more millennials flow into the workplace. Dictatorship and directive leadership simply don't work in this world.'
The subject of communication also arises in the context of increasing automation, which Proffitt feels is the biggest change for leaders. She says: 'Social media and the flat structure of modern companies means that the communication skills leaders must have are very different from before.'
The message, too, will be critical. 'Artificial intelligence will create opportunities, but it will also change and destroy jobs,' Proffitt adds. 'Leaders need to be able to articulate that and take people on that journey. Leadership now is all about managing that transition.' Owolabi adds that the proliferation of social media means leaders are also being questioned and scrutinised much more than before, 'What we are seeing is a much more collaborative approach to leadership,' he says.
Leaders will also need to have a powerful analytical capability. More and more decisions traditionally taken by business leaders are likely to be delegated to computers in the future – although a recent KPMG study found that 67% of CEOs have overlooked insights provided by data analytics in the past three years because they contradicted their own experience or intuition.
Words of advice
So what advice is there for any financial professional who has ambitions to move into a leadership role? 'It's important to remember there is no one route towards a CFO or CEO role,' says Gu. 'It's about motivation, the right skillset, and also about the right experience. If you have the desire and the ability, you will get there. The advantage we have as financial professionals is that we have end-to-end visibility of how an organisation operates.'
'ACCA has done a lot of research into the skills that finance professionals need,' adds Owolabi. 'It shows that language skills, mobility, team working and emotional intelligence are all important. It's not just about technical prowess any more – but all things being equal, some traits will help you get there faster.'
'Of all the qualities we've talked about today, leadership is not just one single thing,' concludes Gu. 'Our members and students should remember that being an excellent finance professional and leader goes well beyond the core skillset. It's important that we all take the initiative in learning the other things we need, to take opportunities when they come up, to learn as much as we can.'
Liz Fisher, journalist
"'Members and students should remember that being an excellent finance professional and leader goes well beyond the core skillset'"