Dubai's smart city initiative is harnessing digital not only to streamline services and drive economic development but also to spread happiness across the biggest city in the UAE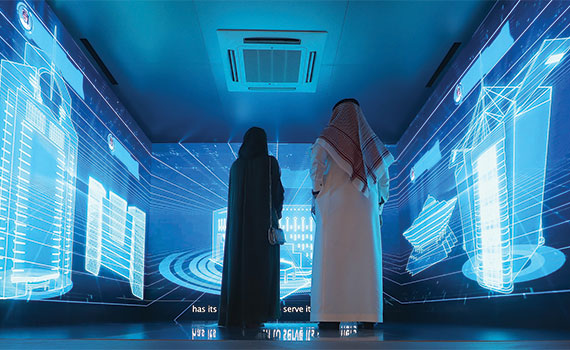 This article was first published in the June 2019 International edition of Accounting and Business magazine.
A vision to be the happiest city on earth is nothing if not ambitious, but Smart Dubai, the government agency set up to achieve this very thing in the UAE's largest and most populous city, has set about achieving its goal with purpose and determination. 'We are a tech organisation,' says Aisha bin Bishr, director general of Smart Dubai. 'We use the technology as an enabler, providing the city state with the right tools and policies to give residents and visitors a better, happier life.'
Smart Dubai works with city authorities to prepare the digital foundations that will support 'seamless and happy experiences in our city'. Looking ahead, Bin Bishr sees technology being embedded in every aspect and transaction of daily life in the city.
She has been involved with the smart city project from the outset. In 2013, as part of the office of Dubai's Crown Prince, she helped construct the roadmap for the initiative. In 2015, after the go ahead was given to turn the digital plans into reality, construction began on the infrastructure that leads the strategic future agenda for the city and its digital transformation.
Bin Bishr says: 'At the start of our journey we looked at the current state of technology in our city to understand where we stood from a smart perspective.' After looking at the existing infrastructure, Smart Dubai launched a plethora of strategies – paperless, blockchain, data, artificial intelligence (AI) lab, happiness agenda, AI principles and ethics, startup support and smart cities global network.
She says a key element has been to listen to the stakeholders, 'to understand the current level of happiness with the city services'. The data obtained from talking to the city's residents and visitors was used to build the services that Smart Dubai thought would have the greatest impact. 'By doing that, we can increase the happiness across the city and achieve our vision,' she says.
The focus is on delivering public sector services in a smarter and more efficient way. By launching initiatives on blockchain and artificial intelligence, Smart Dubai aims to further its goal of becoming a 100% digital city.
The technologies are a means to the end of introducing programmes and initiatives that will help create the world's happiest city. 'It gives me great joy to know I am responsible for every transaction that the people of Dubai make,' Bin Bishr says. 'I am happy that I can add value to the experiences they have. It is good to know we are giving people pleasurable and happy experiences.'
Happiness dashboard
This idea is more than just talk or marketing hype. In 2015 Smart Dubai developed and introduced a happiness meter. Bin Bishr says: 'It measures customer satisfaction levels at every city interaction touchpoint.' The meter has now been extended to include digital interaction channels in the private sector as well as the public sector. There are now more than 1,000 of these touch points, including mobile applications and customer service centres.
'To date this dashboard has collected over 22 million votes,' she says. 'The data collected from these places powers an analytical digital dashboard which shows the happiness level across the city in real time.'
At the end of 2018 the happiness index stood at over 90%. She says: 'Yes, 90% happiness is something to be proud of, but our target is to reach 95% by the end of 2021.'
By that time the number of services to be covered by the meter should have expanded. 'Via the meter we can learn more about how people are receiving these digital services, how the services can be improved and how we can enhance them by adopting new services.'
For instance, Smart Dubai is running an AI-based facial recognition pilot to measure how happy people are when they complete an interaction at a customer services centre.
Smart Dubai has both external and internal key performance indicators (KPIs). Take the paperless strategy, which has a target of eliminating the use of paper in all government transactions by 2021, saving a billion pieces of paper a year. 'By doing this we are not only making transactions with the city much more seamless but we will save US$350m a year,' she says. 'That's 130,000 trees a year. And we will save each person who uses government services 40 hours a year.'
Smart Dubai is keen to make a financial return on its digital investment. 'You cannot decide on what technologies to use unless there is a proper business model,' Bin Bishr explains.
The programme is also an admission that cities are in a global battle to attract and retain talent and investors. And Dubai appears to be doing well. In March 2019, Smart Dubai won the latest in a string of awards, taking a South by Southwest (SXSW) interactive innovation award for its paperless strategy initiative. In 2018 it was ranked sixth in global foreign direct investment (FDI) capital flows, according to the Dubai Investment Development Agency, with Dh38.5bn (US$10.5bn) in 2018, up 41% from 2017.
One accolade Bin Bishr particularly likes is US broadcaster CNBC naming Dubai as world blockchain capital. The city has also been cited by the United Nations in AI user case studies.
Dubai's quest for happiness has some interesting side effects too. Bin Bishr says: 'Dubai is acting as a perfect playground for innovation, particularly in emerging technologies. We are inviting people around the world to come to Dubai with their undiscovered ideas, and providing investors and startups with a framework for testing and developing ideas. We are supporting and challenging these people, helping them find the right partner and investment. People have come with an idea, signed contracts and made Dubai their permanent home. We are a beacon in implementing advanced technologies.'
It seems that Dubai's happiness hunt is well on the way to turning digital dreams into reality.
Peter Williams, journalist
"Our happiness meter measures customer satisfaction levels at every city interaction touchpoint"