A problem-solving solution developed by designers is being successfully applied in the wider business world, including in the finance sector, says Kayode Yusuf FCCA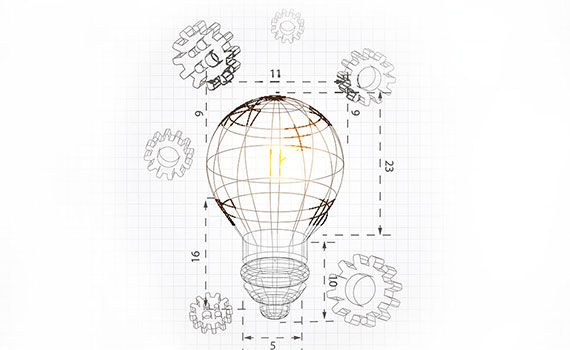 This article was first published in the April 2020 Africa edition of Accounting and Business magazine.
Organisations around the world are always in search of creative ways to grapple with the disruption that innovation can bring. Now a concept called design thinking used by designers and engineers to solve unknown or ill-defined problems – often referred to as 'wicked problems' – is gaining popularity in the wider business world.
A customer-centric process that combines empathy, intuition, creativity and rationality to solve complex business problems, the approach is also attracting the attention of a growing number of professionals, including those in accounting and finance.
Tim Brown, CEO of innovation and design firm IDEO, has defined design thinking as 'a human-centred approach to innovation that draws from the designer's toolkit to integrate the needs of people, the possibilities of technology and the requirements for business success'.
Research conducted by the Design Management Institute (DMI) between 2005 and 2015 established a relationship between the use of design thinking and company performance. According to the DMI's Design Value Index, design-led companies maintained significant stock market advantage over the period, outperforming the S&P by 211%.
Corporate giant IBM has invested heavily in design thinking, building a large internal team. When US research company Forrester assessed the economic impact of IBM's design thinking practice it found that the company saw an average 301% return on investment on projects developed using the practice.
With its foundations in rules and compliance, at first sight the finance sector might seem infertile ground for design-thinking principles. Experience has shown, however, that it can be applied as successfully to the finance function as elsewhere.
As strategic business partners, finance professionals are now expected to demonstrate collaborative and critical thinking skills. Consequently, they are increasingly acquiring design-thinking capabilities to help them develop a detailed and holistic understanding of their customers' needs. Design thinking provides a simplified understanding of customers' problems and helps devise an explicit, five-step procedure for solving those problems (see box, right).
Sam Yen, head of digital transformation, commercial real estate and commercial banking at JP Morgan Chase, is a firm believer. 'Organisations worldwide are struggling with the need to transform right across all kinds of different industries. Design thinking provides a methodology for how companies might approach this challenge.'
Many organisations have reaped the benefits, among them global professional services firm Genpact. It went through a transformative process using design thinking to innovate in its finance function. Constrained by a collection of rigid systems, processes and policies across regions and entities, Genpact was struggling to make informed decisions supporting future growth.
Using a design-thinking approach, it transformed its finance processes and unified its enterprise resource planning (ERP) across 140 entities in 44 countries using cloud-based applications. The outcome was faster and more accurate reporting that supports growth and acquisitions. It also led to productivity improvements that produced US$6m in annual savings and freed up employees to focus on strategy.
Accounting software company Intuit, which owns financial management tool QuickBooks, made similar gains. Its finance function found that a quarter of customers had their QuickBooks service suspended because they failed to update the billing information associated with their account. Through a design thinking approach, Intuit discovered why customers had not responded to reminder emails in advance of the expiration date: they were not going to the right person. Intuit's customer-centric solution enabled it to keep contact information up to date and communicate better with its clients. This reduced customer frustration and resulted in the recovery of US$8m a year in lost revenue.
Swedish-based multinational home appliance manufacturer Electrolux introduced a design-thinking mindset to its finance teams across Asia Pacific, Middle East and Africa and upskilled team members with design thinking tools and methodologies.
The approach subsequently helped its finance teams across the world to develop a creative problem-solving mindset. As a result, they gained a deeper understanding of customer needs and developed innovative solutions across the business's global finance function. Elsewhere in Electrolux the process was used to redesign a number of products.
Meanwhile the banking industry is becoming increasingly concerned about the threat that emerging fintech startups pose to their traditional ways of doing business. To protect revenue streams, banks are creating internal innovation labs to discover customers' pain points and devise solutions for them.
South African financial services company Nedbank took the step to combine product, process and people into cross-functional teams from diverse areas of the bank and discovered that the problems it thought it was addressing often turned out to be the wrong ones. The five-step design-thinking process enabled the company to uncover the real challenges. This improved customer experience and the bank's value proposition and revenue streams.
In 2004 Bank of America partnered with design consultancy IDEO to understand how to encourage more people to open accounts with the bank. A design-thinking approach discovered that people were looking for ways to make savings that were painless to their wallet, effortlessly and conveniently.
They came up with a highly successful initiative called 'Keep the change', whereby every time a customer uses a debit card, the purchase amount is rounded up to the nearest dollar and the difference transferred from their checking to their savings account. The initiative led to increased interest in opening new accounts and greater usage of debit cards.
As more straightforward, clearly definable problems are automated or eliminated by technologies such as robotics process automation, artificial intelligence and blockchain, people-centric approaches like design thinking will take on ever-higher importance in solving less obvious problems.
In the book The Design of Business, Why Design Thinking is the Next Competitive Advantage, Roger Martin highlights that one of the reasons many businesses struggle to innovate and create value for their stakeholders is because of increased reliance on analytical thinking as opposed to intuitive thinking. He concludes that the answer lies in a third form of thinking – design thinking.
Conventional problem-solving may have worked well in the past, but design thinking is more effective in solving complex or poorly defined problems. In this age of constantly shifting priorities and rapid disruptions, collaboration and creativity are essential for organisations to succeed. The organisations that will succeed in the future are those that are willing to design and redesign themselves dynamically over time.

Kayode Yusuf FCCA is a finance professional and journalist.

"As strategic business partners, finance professionals now need to demonstrate skills in collaborative and critical thinking"