As NWD becomes ACCA's strategic partner, Teddy Liu FCCA describes the importance of talent management to corporate growth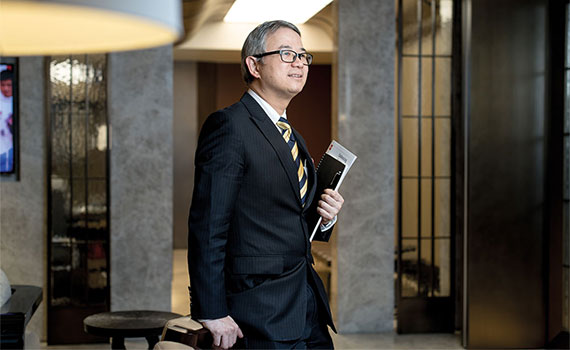 This article was first published in the July 2018 China edition of Accounting and Business magazine.
New World Development Group (NWD) is one of Hong Kong's biggest conglomerates, focusing on property, infrastructure and services, department stores and hotels. Future success depends as much on its people as it does on the returns on its investments, with the two inextricably linked.
'It's a commitment to something professional and valuable,' says Teddy Liu FCCA, general manager of corporate and talent development at NWD.
With this in mind, in March NWD signed a strategic partnership with ACCA and received Approved Employer accreditation for its Professional Development and Trainee Development programmes.
'We don't hire people as employees; we hire future leaders and businesspeople,' Liu says. 'They are the ones creating new business on the platform NWD provides.'
Professional support
Founded in 1970, NWD is one of the top property developers in Hong Kong. As a conglomerate operating in various business areas, NWD has vast training needs, and the group has embedded ACCA's syllabus into its CPD in the last year.
'My colleagues are not accounting professionals,' Liu explains. 'We really need someone external to give us technical training and professional support, and to keep us up to date.'
ACCA has, says Liu, been crucial to his career. Starting out as a science major, he undertook his ACCA studies in 1988 and went into audit. 'Studying for my ACCA Qualification gave me a backbone, something I can rely on,' he says, adding that he feels dignity, pride and professionalism in being a member of ACCA. 'I understand what business means to me, and that is what drives me professionally.'
Liu joined NWD as a financial controller in 1997 and, after a number of years within the finance function, he is now involved in the business, support and government aspects of NWD's operations. He believes his FCCA accreditation has been a help in terms of professionalism, activity and ethics. 'My motto is if something needs to be done and no one is willing to do it, I will do it,' says Liu. 'That's why my role changes all the time.'
In 2010, he took on the role of head of corporate and talent development as well as head of group internal audit.
Building mindsets
NWD already has a proven track record in talent development and was named one of the best companies to work for in Hong Kong at this year's HR Asia Awards. 'We want to build people's artisan mindset here, where employees focus on becoming highly skilled and responsive to customers' needs,' says Liu. 'Our ultimate goal is to provide our customers with the most bespoke and memorable experience.
'We train our staff on how to understand customers, how innovation is driven, how to take the initiative to make changes, how to be more committed to themselves and how to complement teams – a lot of mindset-changing programmes.'
Liu says the company's entrepreneurial employees have the freedom to build their own projects through their network with help from NWD and are encouraged to do so. And, sustainability has long been a theme, with the company adhering to strict international environmental standards. As part of this commitment, NWD launched its Green Atrium, a sustainable green building and interactive learning centre featuring an organic farm and an aquaponics pond, in Hong Kong's New Territories last November. This embodies the company's vision of innovation and sustainable growth.
NWD is also committed to corporate sustainability through initiatives such as encouraging staff to take part in volunteering and providing work experience to school students, as well as its involvement in the Commission on Poverty's Life Buddies scheme. In addition, the New World Springboard sustainable community programme, funded by the New World Group Charity Foundation, offers a range of youth initiatives including professional sports training, mentorship and a community ambassador programme.
Bridge to BRI
NWD has been investing in mainland China since 1973 and is one of its largest foreign direct investors. The group is also actively participating in the development of the Belt and Road initiative (BRI) and the Greater Bay Area (GBA) initiative in the south of the country. As an Approved Employer, NWD will benefit from ACCA's extensive understanding of the initiatives, providing the group with a bridge between internal and external finance professionals.
'With ACCA's reputation for professional excellence, I see unlimited potential,' Liu says. 'ACCA has a lot of resources regarding BRI and GBA initiatives that we can ride on. We have our internal resources but the point is we need a lot of professional knowledge, input and insight, so ACCA can provide that platform.'
'As investors, we have a lot of accountants here, particularly infrastructure people,' says Liu. 'They should benefit from understanding more from ACCA and other members here.'
The impact of existing and emerging trends around how professional accountants need to respond to the fast-changing environment is addressed in ACCA's global research programme, Professional accountants – the future. Its report, Drivers of change and future skills, identified seven key professional quotients: technical skills and ethics, intelligence, creative, digital, emotional intelligence, vision, and experience. These are incorporated into ACCA Qualification – the future to train the future leaders employers need.
'As a fellow member, I'm proud that my membership body is committed in listening to and understanding employers' needs,' Liu says. 'The seven key quotients identified by ACCA are exactly the skills that will future-proof an organisation.'
Liu is particularly inspired by the vision quotient, which indicates the ability to anticipate future trends accurately based on existing facts and fill the gaps by thinking innovatively. 'The vision quotient is very important because people without vision and purpose can't make much progress,' he says. 'It properly hooks onto our company vision.'
Liu is also drawn to the technical skills and ethics quotient. 'As accountants we are, after all, technical people but, more importantly the ethics quotient drives our personalities, behaviour and standards,' he says.
Another quotient that Liu believes fits well with NWD's company culture is the focus on experience, which represents the ability and skills to understand customer expectations, meet desired outcomes and create value. 'We see our engagement with ACCA as a corporate partnership; that way we can engage our people and make them realise that this is something really good for us,' he says. 'This can help support our connectivity and build on it; connection with experts is a very important benefit.'
As a strategic partner, ACCA has been offering staff training on topics such as fraud management, finance for non-finance professionals and corporate governance. More than 200 employees signed up for a session on tax and stamp duty. 'The response has been overwhelming,' says Liu. 'I know I'm moving in the right direction because I've been getting really positive feedback.'
Liu sees sustainability as key to a fulfilled workforce. 'Talent to me does not just mean our 47,000 employees; it means the 7.6 billion people on earth,' he says. 'If I can engage staff in something that will make our world better, then that is effective management.'
Liu notes the challenges that lie ahead for talent management, not least in the way work patterns are evolving. 'I don't see a lifetime career concept any more,' he says. 'People are doing what they like and can do,' he says. 'As an employer, we can deploy the people that can do something for specific projects.'
He believes that, in the future, talent management will be task-based, using different but specific skillsets.
'Ultimately, people can be grouped by their portfolio of competences; it is up to them to demonstrate their abilities and improve their employability.'
Cornelia Zou, journalist