For Anselm Tan FCCA, head of corporate venturing at Philips ASEAN Pacific, a background in engineering and a passion for innovation are vital tools for the role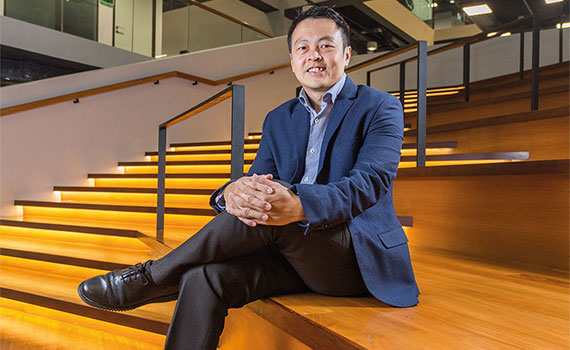 This article was first published in the July 2018 Malaysia edition of Accounting and Business magazine.
Since entering the workforce more than a decade ago, Anselm Tan FCCA, head of corporate venturing at Philips ASEAN Pacific, has held three very different roles. After starting with a stint in defence science, he moved into finance, and now healthcare. In addition, he also holds professional qualifications in both engineering and accountancy. Today, he's using his experience and unique skillset to help startup companies achieve success.
Tan synergises this unique combination of skills in his corporate venturing role at Philips, which he has held for the past two years. His role involves partnering with innovative technology startups to drive the creation and commercialisation of scalable health solutions.
'A good understanding of finance and the application of scientific principles can help with business model innovation in the new digital age, also referred to as Industry 4.0,' Tan explains, adding that the future will see 'an increase in multidisciplinary programmes, such as engineering and accountancy or business, which will lead to the emergence of a new breed of engineers with sound business acumen. I'm excited to see what comes from it.'
As someone with a keen interest in science and technology, Tan was able to excel in electrical and electronics engineering at university, experimenting with mobile agents and micro-nano technologies, earning him a first-class honours degree in the process. He then joined Singapore's Defence Science and Technology Agency (DSTA) as a project engineer. Within his first few months, his job scope was expanded to include the roles of systems manager and knowledge manager. This meant that in addition to developing engineering solutions, he was now involved in tasks such as contract negotiations, budgeting and managing the information assets in the organisation.
It was at this point, however, that Tan realised that there were certain knowledge gaps that hindered his ability to progress. 'What I lacked, which was helpful in my work doing funds approval and budgeting, was finance skills,' he says.
More than a year into his job at DSTA, Tan came across an opportunity to join Standard Chartered Bank's international graduate programme, specialising in finance. 'Even though I didn't know much about preparing financial statements or credit or debit accounting entries, I thought that these were definitely good skills to pick up early in my career. So, I said to myself, "why not give it a shot?"' he recalls.
For the next two years, he went through an intensive programme rotating around the various functions of the bank, such as financial and management reporting, traded credit risk management and group treasury. At the same time, he also started working towards the ACCA Qualification – a requirement for the role. 'It was a challenge learning on the job and having to sit for the ACCA examinations,' he admits. 'But it was worth it, as accounting skills are required in every company. It helps you to better understand a business, and to tell a story with data and numbers.'
Personal experience
After eight years at Standard Chartered – six of which were spent with the bank's private equity business, which makes investments across a range of industries – Tan moved to Philips, one of the world's leading health technology companies. Healthcare is an area he feels strongly about, having the personal experience of journeying with family members who were diagnosed with chronic illnesses, as well as the premature birth of his son. He noticed the gaps that existed in the healthcare system, and saw how advances in health technology could make a true difference in the outcomes for people.
More than that, he also recognised a growing need for healthcare, due to Asia's rapidly ageing population. 'By 2030, Asia will house 60% of the world's elderly, and more than 25% of Singapore's population will be aged 65 and above,' he explains. 'The shifts in population structure and growing demands of healthcare will put increasing pressure on our systems. The good news in this is that we are living longer lives. Global average life expectancy increased by five years between 2000 and 2015, when we have seen improvements in child survival and reducing poverty. We now need to transform the design and delivery of healthcare towards prevention and value-based care.'
Joint initiative
In order for Philips to achieve its aim of strengthening the local and regional healthcare ecosystem, the company embarked on a strategy of innovation and collaboration.
Part of this plan includes working with startups to come up with better healthcare solutions. And it's not just Philips that benefits: in addition to funding, startups also enjoy access to networks, customers, market and clinical insights, and technology, which puts them in a better position to succeed.
'Startups, across many sectors, are driving a lot of the innovation you see today,' Tan explains. 'By combining our strengths, we can deliver better solutions for our customers. Also, by making investments to fuel health technologies, we can drive change and improvement in the healthcare system. We believe that no single company can provide all the solutions across the health continuum.'
There are, however, some challenges that Tan has had to deal with. Company culture, for one, can be very different between a large corporation such as Philips and small startups. The key, he says, is to be open and transparent in your approach, and recognise that each startup is unique. 'You need to understand their individual needs, which differ depending on which stage they are in and the space that they are addressing,' he explains.
Internally, Philips has also had to put in place a framework and a corporate innovation strategy to explicitly include engagement with startups as one of its goals. Today, this is bearing fruit through the Philips APAC Center – something Tan says he is 'very proud about'. The centre's innovative solutions include a continuous care monitoring room where healthcare professionals can remotely monitor the health of home-based patients, and the health continuum space, which is a configurable facility where multiple scenarios can be run.
Tan's involvement with startups extends beyond his immediate work sphere. He has been a trainer, speaker, judge and consultant at programmes to catalyse innovation and entrepreneurship, and is also involved as a mentor at accelerators and startup communities, such as AIRmaker – an internet of things-focused accelerator – and Found – a network of entrepreneurs. His interest in startups can be traced back to his university days, where as part of an entrepreneurship course he developed a prototype and business solution for an activity monitoring device for an elderly care centre – an area he and his teammates found to be particularly meaningful and continues to inform his work. 'Today, I have the opportunity to engage daring founders who are building their company to make life better,' he says.
Wealth of experience
Tan's experience of studying, volunteering and working in more than 15 countries across five continents has also informed his current role. For example, through volunteering in developing countries such as Cambodia, Kenya and the Philippines, he has been able to experience first-hand how technology has helped to make lives better. He recalls a trip to Cambodia during his undergraduate days where he helped to build a new classroom, fitted with solar panels, in a village with no electricity. 'I marvelled at how technology could help support basic needs by powering a classroom to bring lighting and education for the children in this village,' he says.
Another area that Tan feels has made a positive impact on his career was his decision to pursue accountancy qualifications – something that he says has helped open new opportunities for him. 'Accountants are employed across all sectors and play a critical role in the manner that business activities are conducted,' he says. 'They have a responsibility towards those who rely on their work, such as management, investors, creditors and regulators.'
To keep his skills up to date, Tan participates in ACCA activities such as partner lunches to learn more about the latest initiatives, as well as taking part in discussion forums. Recognising the importance for professionals to develop their ethical skills, he also recently took ACCA's newly revised Ethics and Professional Skills Module, which he finds engaging.
Indeed, the importance that Tan places on ethics can be seen in his advice for accountancy professionals looking to climb the corporate ladder. 'Ultimately, how you climb is more important,' he says. 'Act with integrity, courage and honesty, and focus on building trust and relationships.'
Asked if there are other areas besides finance and healthcare that he would like to pursue, Tan replies, without hesitation: 'Spacetech. The wealth of knowledge that space exploration offers could be vital for us.' He describes how his three-year-old son recently asked during an evening stroll in the park if he could touch the moon. 'The quick response may be that we cannot. But if you think about it, some day it can be a possibility. It will cost more than US$100m for a ticket to the moon. However, look at genome sequencing. In the past decade, the cost of generating a human genome sequence has dropped from US$10m to US$1,000. Such are the marvels of technology.'
These are, without a doubt, the words of someone who wholeheartedly believes in the potential of technology. Tan is keen to point out that ultimately, technology advances must serve the good of humanity.
Rufus Tan, journalist
"We now need to transform the design and delivery of healthcare towards prevention and value-based care"
"By making investments to fuel health technologies, we can drive change and improvement in the healthcare system"