As FD of BAE Systems' Air sector, Brian Ierland FCCA is helping to pilot the design, construction and servicing of programmes for the UK's biggest defence contractor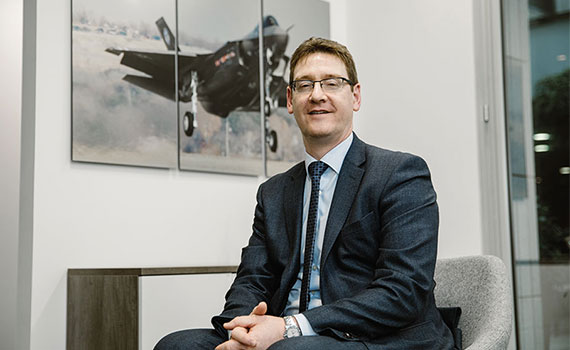 This article was first published in the July 2018 International edition of Accounting and Business magazine.
Any good finance professional engages with the company's products. During his long career at BAE Systems, Brian Ierland FCCA, currently FD of the company's Air sector, has flown a flight simulator for the Eurofighter Typhoon fighter, and been on an Astute-class nuclear-powered submarine as well as on the biggest ever warship built for the Royal Navy, HMS Queen Elizabeth.
The Air sector was created in a 2018 restructuring (BAE now has three main operating groups: Ierland's Air sector, a maritime sector and a US sector) and accounts for about 40% of the strategically significant defence company's near-£20bn turnover. It designs, builds and provides through-life support for military aircraft such as the Eurofighter Typhoon and Hawk trainer for countries around the world. As FD, Ierland plays a major part in supporting the delivery of its strategy and its operational performance. 'As a part of this, finance focuses on ensuring there is a robust framework of controls and governance in place,' he says.
It's all about the risk
Ierland describes the organisation as risk-focused: 'We offer complex technical products and services. Therefore a major area of focus is how we manage the technical, commercial and operational risks we have across the lifecycle of programmes, while ensuring delivery to customers and the returns that this provides for shareholders.'
As well as the global fighter product and training business, BAE Systems' Air sector holds a 10% stake in the largest defence project in the world: the US F-35 Lightning II programme, with an estimated trillion-dollar budget that is set to last 50 years and involves BAE manufacturing components for approximately 2,500 of the stealth fighter planes.
'Programmes last decades,' says Ierland. 'The F-35 programme is currently in low-rate production and is expected to ramp up to approximately 50 aircraft from 2020.' The Trump administration, incidentally, wants the F-35's price tag cut, and BAE and its partners on the programme are challenged to reduce price significantly on future deliveries.
Ierland says the defence sector is heavily regulated. BAE has to understand and comply with these regulations as well as flow them through its supply chain, which requires a strong system of controls.
To ensure this happens, BAE has a well-defined operational framework that is updated every year. The operational framework sets out the ethos for the group and its subsidiary businesses and sectors, setting out how they should be run and covering policies, core processes and the delegated authority for the managing directors of its businesses. All businesses are required to report on compliance with this operational framework and, where not compliant, state the actions required to return to compliance.
Even with such a control regime, Ierland says that the culture is to devolve accountability to the businesses. 'We are a line-led organisation – the MDs are responsible for winning and then executing orders from customers, and for delivering the profit and cash returned to shareholders.'
Major player
BAE is the UK's biggest security and defence business by turnover, and its ninth biggest exporter. It is equally important in terms of manufacturing, employment and the skills base it underpins. It recruits over 700 apprentices and graduates a year and plays a crucial role in regional economies through its manufacturing bases in north-west England, shipbuilding in Scotland and supporting the Royal Navy's fleet in Portsmouth.
Ierland knows many of these parts of the business well through his long time in the company. He points to three reasons for his success: 'Through people sponsoring me at various points, good luck and hard work.'
Hard work was required to gain the ACCA Qualification. He did a mixture of day-release and distance learning and qualified at 23: 'You did the day job and then you did the studying.' Of the ACCA Qualification he says: 'It gave me confidence and helped open doors when I applied for roles.' The 'luck' lay in being sponsored through a BAE finance development assessment centre. He says: 'To get there, I'd done some work somebody thought was good.'
Since then, his career has been on an unswervingly upward trajectory. By hard work, Ierland means not only putting in the hours (he regularly visits the businesses in his sector) but also carrying out difficult tasks – for instance, setting up BAE's UK shared services.
'We had everything in shared services you would not expect, and nothing you would,' he says. He helped re-establish the service, ensuring there were proper processes and controls, including annual billing rates and service-level agreements with the internal customers. 'Anybody who has worked in shared services will understand that internal negotiations are much more difficult than external ones.'
The hard yards
Another example of Ierland putting in the hard yards came with the closure of the aircraft services group near Stockport. Within six months of being appointed FD, Ierland was party to the decision to close.
'Even when you make a decision, you have to take people with you and execute that tough decision,' he says. 'You have to stand up and say there will be no employment in commercial aircraft on that site from that time. And that is life-changing for many people.'
That is one example of his input as a leader and senior finance professional in the business. He believes that leadership is about 'helping people on a journey, often when they don't feel confident of the route. It is recognising their individual needs in order to help them move on. As leaders, we set direction – some call it vision – and then take people with us. And that can be difficult, not because of a lack of willingness but because you are dealing with ambiguity. Often, there is no right or wrong answer.'
Empowerment
His 'skilled and talented' finance team does the important detailed finance work, while he sets the direction. 'My job is to empower them to deliver what the business needs,' he says. The company's finance function is devolved, embedded in the business, with shared services providing the back-office functions.
Since taking on his new role a few months ago, he has spent a lot of time making contact and keeping in touch with colleagues, ensuring the division is set up correctly and that his thinking is aligned with the Air sector board, dealing with challenges in a consistent manner.
He says: 'We need to understand where we are in relation to the commitments we have given both customers and our shareholders and dealing with challenges on the horizon.'
Of course, it isn't all an unblemished record of success – Ierland crashed his Eurofighter Typhoon in that flight simulation. It has, though, been the only accident in a notably high-flying career.
Peter Williams, journalist
"The Air sector has a 10% stake in the largest defence project in the world, with an estimated trillion-dollar budget set to last 50 years"
"Anybody who has worked in shared services will understand that internal negotiations are much more difficult than external ones"