Audit is about empathy as well as evidence, believes Mohamed Irshad FCCA, internal audit head for the Americas at Schneider Electric in Canada and diversity champion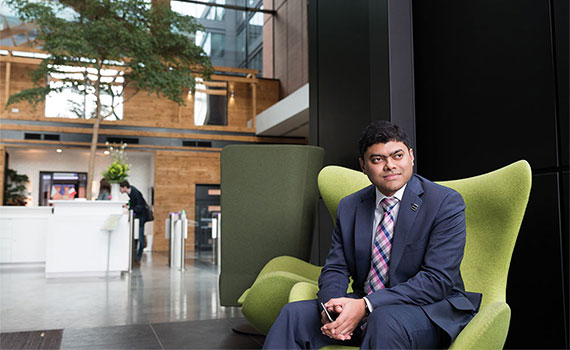 This article was first published in the July 2018 International edition of Accounting and Business magazine.
Diversity is a theme close to the heart of Mohamed Irshad FCCA, the affable 34-year-old head of global internal audit for the Americas at French multinational Schneider Electric.
An Indian national born and raised in Dubai, Irshad studied in India, has lived in Paris and is now based in Canada. He is part of a team that stretches from Singapore to Paris, spans 16 nationalities and has a gender balance approaching parity. The Americas team is spread between Canada (one person in Toronto and Irshad in Calgary) and the US.
Irshad, who speaks English, Tamil and Hindi, believes that diversity in the workplace is as much about adding value to work as it is about fairness.
'We don't, for example, like to have just external auditors or internal auditors in our team, but also someone from the business: he or she has seen the risks on the ground and can give an observation around what's happening, whereas I'm thinking financially. The chemistry between the two is what helps me deliver a message that adds value,' he explains. 'When you add cultural diversity or gender balance to this mix, the benefits are exponential.'
Irshad speaks from experience, but he did not always see things this way. When he was growing up, his father worked while his mother stayed home and he attended an all-boys school in Dubai and then an all-boys university in Chennai, in India. His first experience of meeting strong women in the workplace was when he started his first job aged 21 at PwC in Dubai. 'That was my first exposure to gender diversity. I saw women who were very strong both mentally and technically, and coming from my background I wasn't expecting it,' he recalls with a smile.
He adapted quickly, though, putting in 18-hour days and working up from assistant trainee to manager. The passion and steely determination evident in his career and vision makes for a striking contrast with his friendly, soft-spoken demeanour.
Irshad's father always wanted his son to be an accountant and Irshad himself knew early on that he wanted to be a leader – he has, he says, always been attracted to personalities who are technically sound as well as very good leaders. It was during his formative years at PwC that he got his ACCA Qualification, burning the midnight oil with studies. 'If I didn't have a passion for accounting and auditing, I wouldn't have got where I am today,' he says. The ACCA open certification was just right for him and he commends its flexibility. 'ACCA understands that you have to be well rounded as an individual, technically and soft skills-wise,' he says.
In search of soft skills
It was this need for balance that took Irshad to energy management and automation solutions provider Schneider Electric in Paris in 2012 as global internal auditor. He was 28 years old, recently married, and after working for eight years solid without taking a holiday it felt like the right thing to do. Diversity, ever present on Irshad's radar, also played a role in the decision. 'Each person I spoke to [during the selection process] was from a different nationality. That was very appealing,' he explains.
His challenge in Paris was to move on from financial thinking and put his business hat on. It was a steep learning curve, but after three years he was promoted to head of global internal audit for the Americas and moved to Calgary in Canada where he lives with his wife – a family doctor from South Africa who he says has helped open his mind professionally and culturally.
He oversees audits in Canada, the US, Mexico, Costa Rica, Brazil, Argentina, Peru, Colombia and Chile, but also in Europe, the Middle East and Africa when his expertise is needed. Understanding the different contexts in each country is key to his role. 'In some countries the risk of corruption is very high, so my focus is on compliance,' he explains. 'Other countries are mature, delivering good results, so we focus more on effectiveness of the processes.' Irshad sends members of his five-strong Americas team out into the field, and can call on 15 others from Paris and Singapore. Translators are also brought in if necessary.
It has been a challenge building up a team that is gender-balanced and culturally diverse, with people who can fit into the company culture and are willing to travel 50% to 60% of the time. Irshad stresses, though, that his number one priority is always to hire the right person for the right role.
Irshad acknowledges the strides that have been taken in Canada in addressing equality – citing for example Ontario's new pay transparency legislation, which aims to help remuneration negotiations and improve transparency in hiring processes. But he believes there is still room for improvement in the equality stakes, especially among top management. Last year, he was a guest speaker at a panel on the topic organised by the Canadian Board Diversity Council and ACCA Canada. (Irshad has also represented ACCA Canada at the national conference of the Institute of Internal Auditors Canada, networking with attendees to raise awareness of ACCA in the marketplace.)
He believes diversity makes a difference in auditing as it does in any other sector because having both men and women in a team improves performance. He says: 'Audit is often construed as something factual and evidence-based, but a lot of times it involves intuition, 'feeling', as well, which drives us to our evidence to dig up the right facts. It's about variety.'
Irshad has come a long way since graduating from an all-boys' university. In the longer term, he hopes to take on a role in one of Schneider Electric's businesses, before returning to auditing to apply what he has learned.
Emilie King, journalist in Paris