An attractive working environment is about more than an office that looks good – the large accounting firms are finding that, with the right design, staff are more productive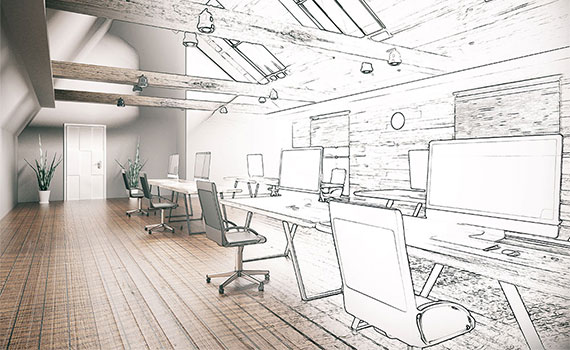 This article was first published in the July 2018 Ireland edition of Accounting and Business magazine.
Companies facing higher labour costs and competition for staff are improving their workplace environment to become more attractive as employers. They also hope that a new generation of high-spec office spaces – some being unveiled by accounting firms – will boost productivity.
Take Deloitte's new premises at Whitaker Court in Dublin, designed by Reddy Architecture + Urbanism with a 'posh garage' décor theme to stimulate creativity among members of the firm's centre of excellence in blockchain for the EMEA (Europe, Middle East and Africa) region. The 705 sq m building, which also houses Deloitte's fintech and robotics advisory teams, offers a 'dynamic working environment' through clever spatial planning, efficient lighting and 'a contrast of textured and reflective surfaces', according to Reddy. Staff and visiting clients are also enthused by artworks celebrating renowned innovations and inventions.
Deloitte isn't the only accounting firm engaging designers for its Irish office space. EY also engaged Reddy on recent refits to its offices in Cork and Dublin. Its 12,980 sq m Dublin office was redesigned to fit the company's blueprint of flexible workspaces, meeting spaces and collaboration areas. New client suites incorporate technology for interactive meetings.
The new office space aims to meet the changing needs of staff, particularly millennials, according to Mike McKerr, EY country managing partner. He says the buildings are about 'ensuring we create an environment which promotes diversity of thought, background and personality.
Naoise Cosgrove, managing partner at Crowe Horwath, said that practice staff often comment on the work environment, adding that in the past 18 months it has invested in new energy-efficient lighting, which has greatly improved the quality of light.
With Crowe Horwath Ireland having ambitious growth plans including new services and greater client specialisation, the practice is reviewing space requirements for the next few years. This includes assessing layouts, group working space, innovation areas and social spaces to improve productivity and attract and retain the brightest staff. He added that with increasing demand for flexible working arrangements with many staff looking to work remotely, Crowe Horwath is 'continually investing in technologies to support these needs'.
Productivity matters ever more as Ireland is challenged by rising housing and childcare charges. That has started to affect Ireland's competitiveness ranking, which dropped six places to 12th place (out of 63 countries) in a ranking by the International Institute for Management Development, a Swiss business school.
The importance of the office environment to the economy is highlighted in a report by Ricoh Ireland and Oxford Economics, which says an extra €3.4bn – a 1% increase in GDP – stands ready to be unlocked if companies 'optimise' their workplaces. The biggest portion of that figure comes from the financial services sector (€1bn), followed by healthcare (€854m) and business services (€555m), with the majority (87%) of business leaders surveyed believing that office environment has an effect on working performance. Chas Moloney, director, of Ricoh Ireland and UK, said: 'Irish businesses have a responsibility to assess and enhance where and how people work. In return, companies will benefit from heightened levels of productivity and employees who are invested in the optimal office.'
Grand designs
Smarter offices also make commercial sense. PwC hired global design practise Unispace to design its 23,225 sq m Dublin offices, setting new standards for accountancy office design. PwC has said that globally it wants to reduce the number of private offices while increasing collaborative spaces and access to amenities for staff. Efficient use of space was a key focus, cutting real-estate costs while improving staff welfare. Unispace says the new office layout was designed to move staff to open workfloors while improving technology and audio-visual equipment. The design also called for quiet rooms and more informal meeting spaces. 'The key is to turn away from open plans to layouts designed to cater to a variety of tasks…therefore you don't sit in one place,' according to Unispace.
Regional practices are also retooling office spaces. A new Mazars office at Flood Street, Galway, has been designed and fitted out to incorporate private meeting rooms with open-plan workstations with room for future expansion, according to Caitriona Allis, head of marketing at Mazars Ireland. She describes 'agile and collaborative working spaces' within and around the open-plan office. The office is built to be energy-efficient with LED lighting fitted with movement sensors.
Mazars hired Dublin-based design firm The Building Consultancy for the redesign. 'The emphasis was on more collaborative working space,' said Allis. 'Productivity increases and motivation is improved through working together collaboratively and this has also been shown to elevate profitability.'
There are benchmarks for assessing such offices: international engineering firm Arup is the first company in Ireland to secure certification from the Well Building Institute, for an elaborate office refit at its Cork base that staff say has led to a 25% increase in performance. The Well certification is based on seven categories of performance: air, water, nourishment, light, fitness, comfort and mind. The award also recognised Arup's 'huddle spaces', focus rooms and air quality as well as acoustics.
The Ricoh/Oxford report points out that physical comforts are only part of the draw for younger talent, with responses indicating that strong company culture is essential to increased employee trust (according to 87% of those surveyed), motivation (83%) and wellbeing (69%). It also showed commitment to ethnically and sustainable business practices is important to performance for 71% of millennials.
Mark Godfrey, journalist
"Businesses have a responsibility to enhance where and how people work. In return, they will benefit from heightened levels of productivity"