We look at five entrepreneurs who have succeeded in their chosen fields not just by spotting gaps in the market but by flexing their leadership skills to the max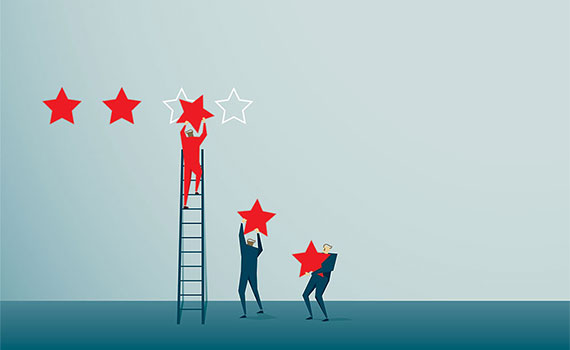 This article was first published in the September 2018 UK edition of Accounting and Business magazine.
Transformational business leaders usually possess a rare combination of abilities. The skillset often includes the ability to identify broad social or technological trends that give rise to business opportunities, a talent for communicating a clear message and inspiring stakeholders, and the discipline to manage risks that can easily destroy a growing business.
We asked professors at three of the world's top business schools to identify leaders who they think exemplify ideals of leadership and vision.
Pablo Fuentes, CEO, Proven.com
Stanford graduate Pablo Fuentes harnesses disruptive technology. Proven is an online recruitment agency for smaller firms, distributing job adverts, sorting applicants and setting up interviews.
As well as identifying an underserved market, Fuentes has shown a high degree of strategic flexibility. He came to realise that Proven's early model of selling through a salesforce was not commercially viable given the low subscription price. So he shifted to marketing via a blog that discusses issues affecting small businesses and interviews successful entrepreneurs from across the US. The blog has grown to reach 50,000 readers over the past two years, fuelling the growth of the business in a far more cost-effective way than the old salesforce.
'Pablo has shown an eye for novel and efficient ways of marketing his product and linking it to a broad community of small business owners,' says Alan Jagolinzer, professor of financial accounting at Cambridge University's Judge Business School. 'He is able to inspire his staff with a clear message about the purpose of the business, which is to connect people to their families.'
Tom Ilube, founder, Crossword Cybersecurity
The Nigeria-educated British technology entrepreneur Tom Ilube founded the online identity firm Garlik in 2005 (and sold it to Experian in 2011) and the credit reference service Noddle.co.uk in 2011. His most recent creation, Crossword Cybersecurity, works with academic institutions that research cybersecurity to bring their innovations to market.
Ilube excels in his ability to draw participation from a remarkable team, including a former head of British intelligence agency MI6, a former chief scientific adviser for national security and a former UK defence staff supremo as advisers and directors for Crossword Cybersecurity.
'Ilube has an unusual combination of long-term vision and being grounded in the day-to-day running of the company,' says Amy Ripley, dean of Cass Business School at City, University of London. 'He is relatable and great at inspiring loyalty in his team.'
Debbie Hewitt, chairman, Moss Bros
Debbie Hewitt, who will soon be stepping down as chairman of Moss Bros, led the board through the reinvigoration of the struggling fashion retailer. In the fickle clothing industry, this has required a nimble and open-minded approach.
'At the time she joined as chair, the brand was seen as stale and old-fashioned,' says Randall Peterson, professor of organisational behaviour at the London Business School. 'She built a board that embarked on a strategy of reinventing the brand, enhancing the core proposition and broadening its ranges, both in hire and retail. The repositioning ensured that the business leveraged the social trends that had threatened to make the firm irrelevant.'
During Hewitt's nine-year tenure at Moss Bros, she showed a willingness to take painful but necessary decisions – for example, selling the Hugo Boss clothing retail franchise back to Hugo Boss in 2011. Moss Bros had invested so much capital in Hugo Boss that it had neglected its own core brand, which had become old and tired. This was a difficult decision, as it meant sacrificing revenue and profit in the short term. The final outcome, however, was the transformation of Moss Bros from a near-bankrupt concern to a successful and growing business.
More recently the board has been positioning Moss Bros to exploit demand arising from new market trends, such as school proms, and bespoke tailoring. The company has also expanded its product ranges to reflect a more casual approach to
formal wear.
Tristan Walker, CEO, Walker & Co
Part of Tristan Walker's skill as a leader has been to identify a niche that was being neglected by corporate giants. In 2013 the former Wall Street trader created Walker & Co, with the goal of creating a 'Proctor & Gamble for people of colour', creating a collection of high-quality beauty and health products specifically designed for use by ethnic minorities.
'Walker embodies a wide range of business skills, from identifying strategic opportunities, the ability to communicate a clear vision, and the ability to link his company to a larger social purpose,' says Jagolinzer.
Walker is also notable for his effectiveness in managing talent. He argues that a well-run business with a clear vision should be able to run without compromising the work-life balance of its employees – or the chief executive.
Walker has described his proudest moment as returning from eight weeks of paternity leave and 'seeing the company operate better without me'. The ability to hire and inspire the right team so that a business can run without micromanagement is a key attribute of a top leader, says Jagolinzer.
William Shaw, CEO, Flycana
Another Stanford graduate, William Shaw created Colombia's first low-cost airline VivaColombia (now called Viva Air Colombia) in 2012.
'Shaw identified a crucial need in society,' says Jagolinzer. 'In Colombia, families are often very emotionally close. But the country is large, and people often live far away from the right job. William noticed that a lot of people were travelling long hours by bus to see their families. He wanted to offer a faster and affordable flying option.'
Currently engaged in building the first low-cost airline in the Dominican Republic in the shape of Flycana (formerly Dominican Wings), Shaw is 'a top example of a leader with a vision to improve society,' says Jagolinzer 'and the discipline to create a cost-effective solution in a highly competitive industry that is very vulnerable to fluctuations in fuel prices'.
Dijana Suljovic, journalist
"My proudest moment was returning from paternity leave to find the company operating better without me"