Navigating a future finance function driven by the Fourth Industrial Revolution and the Internet of Things was the focus of ACCA Malaysia's annual conference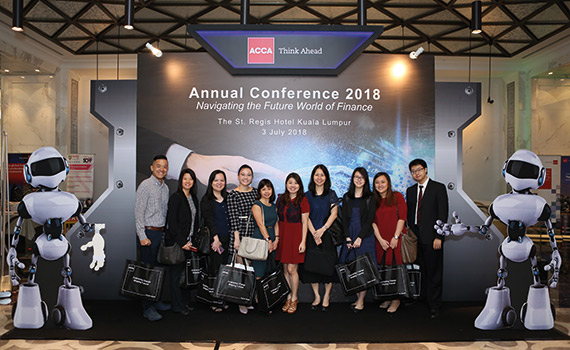 This article was first published in the September 2018 Malaysia edition of Accounting and Business magazine.
More than 500 members of Malaysia's accountancy profession gathered at the ACCA Malaysia Annual Conference 2018 to gain insights into how to manage digital disruption and develop the requisite professional skillset to successfully lead business in the 21st century.
Themed 'Navigating the future world of finance', the conference explored how accountancy professionals can continue to remain relevant and add value while traversing the new digital era, and how their contributions will support the Malaysian economy in optimising the opportunities emerging from technological and regulatory changes.
In her keynote address, Jenny Gu, ACCA vice president, said that the theme 'had been crafted to reflect the complexities and possibilities of the future world of finance fuelled by shifts in the global economy, changing business models and significant technological development'.
Given that the Fourth Industrial Revolution (IR4.0) and the Internet of Things are swiftly transforming how business is done in the 21st century, Narayanan Vaidyanathan, ACCA's head of business insights, chose to focus on how finance professionals should adapt to the changes and opportunities in order to implement the corresponding Finance 4.0. In his presentation on ACCA's recent global report Race for relevance – technology opportunities for the finance function, Vaidyanathan described the six technologies identified, which can be deployed singly or in combination to ensure the continuing relevance of the finance function. These are robotic process automation (RPA), cloud, analytics, social media, cybersecurity and artificial intelligence.
While still evolving, digital ethics and governance issues are key to implementing digital transformation. 'Finance professionals need to exercise professional competence and due care to gain a deeper understanding of issues at stake,' Vaidyanathan said. 'You need to be able to leverage technologies and navigate in a responsible manner to build Finance 4.0.'
Route to Finance 4.0
Vaidyanathan recommended six steps to implement Finance 4.0, starting with developing a technology roadmap. Finance leaders should begin by 'aligning the strategy for the organisation-wide transformation agenda and the finance function transformation'. They should then build the business case for technology investments in finance, checking for the hidden costs such as the migration process and transforming and managing cybersecurity. Data should then be prioritised, with a focus on quality. The impact of technological change on the organisation and its people, should be established, alongside ensuring that the finance team has the right skill mix. Finally, the implications for governance and risk management should be considered.
Panel discussions and expert sessions were linked to ACCA's unique seven quotients for success: digital, vision, creativity, intelligence, emotional intelligence, experience and technical competence and ethics. The first panel, moderated by Vaidyanathan, focused on the rise of the digital CFO. 'CFOs must have an appetite for change' and drive 'a culture that embraces change', said Steve Cox, global vice president, ERP ERM, cloud business group, Oracle.They must also be willing and able to collaborate, said Ann Furlong FCCA, director, APAC customer service team and global enablement at BlackLine, who urged the finance function to partner the IT team to augment its technology capabilities and help execute its digital transformation processes.
Understanding the bigger picture is also vital. Tony Ong, CEO at Xtrategize Technologies, cautioned finance leaders to couch technological change 'in the context of the overall technologies used in the organisation. What is needed is integration, not solutions in isolation.'
While there are many upsides to automating the finance function, Ong warned organisations that technological change is 'much more stressful' than other changes. Assess the negative impact on people and equip them with the skillsets to cope: 'CFOs need to ensure that everybody is tech-savvy and that the culture encourages people to learn and to use new tech.'
Structured approach
Alvin Gan, executive director and head of IT enabled transformation at KPMG Risk & Management Consulting, discussed the adoption of a structured approach to RPA technology implementation. The first step is to clearly document and map processes. This allows the identification of specific processes with a heavy concentration of manual labour that are high in cost – typically good candidates for RPA. This is also an opportunity to conduct business process re-engineering, Gan added.
In terms of implementation, a growing trend is the use of a pilot project to implement digital disruptors. This can also be effective in RPA technology implementation. By selecting a couple of key processes for pilot projects, which function as proof-of-concepts (POC), senior management and the board can visualise the investment and, if viable, identify a business partner to help implement RPA. Companies can also benefit from periodic improvements.
Crucially, the digital CFO tasked with transformation will need a new mindset to achieve change, the panellists concurred. Cox noted that the new breed of CFOs are able to 'think creatively and differently'. They apply 'design thinking, where you design for the outcome that you desire'. They are focused on achieving data mastery, drawing 'meaningful insights from data and communicating these to stakeholders'.
Furlong advised CFOs to emerge from the proverbial 'ivory tower' to gain a real-time understanding of the business and its people in order to effect the cultural, people and values transformation expected of finance leaders today. CFOs should resist the temptation to hire and retain 'yes men' because 'you need people to challenge strategy and give you the right information to make important decisions'.
Finally, keep in mind that technological transformation 'is not a destination but part of the journey. You need to keep doing projects. It is a continuing process,' concluded Cox.
Meanwhile, the second panel – moderated by Dato' Amiruddin Abdul Satar, president and managing director at KPJ Healthcare – focused on how finance leaders can achieve long-term success through creative intelligence. Dato' Amiruddin began by asking what kind of culture should be in place to propagate innovation. Raja Segaran, head of consulting and projects, corporate strategy, at MDEC, referenced Google, which allows employees to spend 20% of their time on pet projects and collaboration, while 3M allocates 6% of its total value for R&D. 'How many of these initiatives are being practised in organisations in Malaysia?' he asked. 'These kinds of ingredients that arise from leadership and resource allocation are very important. There must also be a process to validate the ideas and incentivise the efforts of the people within the organisation.'
According to Aiza Azreen, director, strategic development, at Axiata Digital, organisational culture hinges on two things: vision and mission. Initially, she found it hard to assimilate into a digital environment where the vision and mission keep changing 'because we are agile and disruptive, and don't want to stick to a plan. Digital businesses tend not to have a vision and mission but rather tao or promises – for example, disrupt, disrupt, disrupt and act now; do good and have fun; and, importantly, fail, to learn.' Malaysian companies are, she believed, still struggling to find the right culture.
Meanwhile, Jacob Isaac, managing director of new technologies at Fusionex International, said that organisations that portray themselves as championing a creative and innovative culture will attract the same kind of talent.
Asked if regulation might influence structure, Segaran said that operating in a highly regulated or self-regulated industry would not prohibit innovation. 'Boxes and structure do not define how innovative or flexible you are,' he said. 'Culture, leadership and processes drive innovation and creativity.'
The panellists were also asked how best to justify investments in technology and innovation that stimulate creativity and performance. Isaac recommended that finance leaders collaborate with technology companies and consultants to help sell the investment. Apart from the return on investment in terms of tangible monetary value, savings in costs and manpower and so on, technology companies can help finance leaders use even more powerful intangibles like 'emotional selling, branding and being in the forefront of your industry' to convince decision-makers.
Segaran recommended adopting an investment perspective rather than focusing on cost. 'From the investment point of view, there is a higher motivation or threshold for success or failure because you are looking at it as an investment over a period of time, rather than it being perceived as a sunk cost or the rush to reap a return in a very short period of time.'
Azreen, meanwhile, upsells 'valuation' and 'national service' – specifically the value delivered by the proposal in terms of market reach and growth and nation building, downplaying investment costs and returns – to convince her management and board.
Wrapping up, the panellists advised finance leaders to dissociate creativity from originality, in order to become more innovative.
'Creativity is just the act of combining new elements into something else, not something new that we invent. Mimic and improvise,' said Isaac. Azreen concurred: 'Believing that you don't have to be creative, just enhancing what is already there, can be a liberating experience.'
Nazatul Izma Abdullah, journalist
"You need people to challenge strategy and give you the right information to make important decisions"