There are many opportunities for lawyers and accountants to collaborate, say speakers at the first joint event held by ACCA and the Law Society of Singapore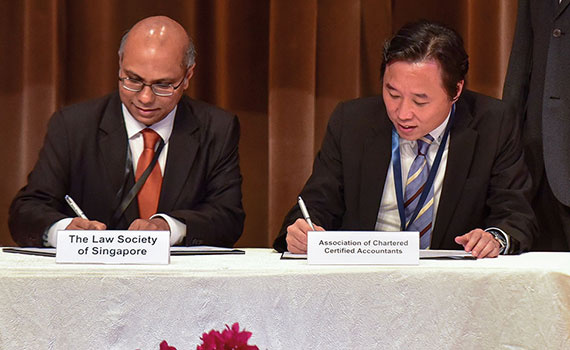 This article was first published in the September 2018 Singapore edition of Accounting and Business magazine.
Some 250 accountants and lawyers attended the first cross-sectoral thought leadership event organised by ACCA Singapore and the Law Society of Singapore. The event explored the opportunities for both professions in Singapore and South-East Asia to work together to grow and expand their practices.
The legal and accounting sectors can achieve more together, said Indranee Rajah, Singapore's minister at the Prime Minister's Office and second minister for finance, education and law, in the keynote address.
'Lawyers and accountants are more alike than they would admit. Both professions serve the same clients, face the same issues, have similar structures, and work together on the same deals,' said Indranee. 'Collaboration is becoming more essential for Singapore to remain the go-to place for professional services in Asia.'
The minister was speaking to an audience of accountants and lawyers at the half-day Legal and Accounting Connect event held at the NTUC Auditorium in Singapore.
In 2016, a working group was set up under the Committee on the Future Economy (CFE) to look into the growth of the two sectors together and a year later, as part of the CFE recommendations, the Professional Services Programme Office (PSPO) was set up to jointly develop and promote legal and accounting services.
Of the nine high growth areas identified in the CFE report, five straddle legal accounting and/or financial services.
Indranee drew attention to three areas that are ripe for lawyer-accountant collaboration: projects and infrastructure; restructuring; and risk management.
Asia is expected to drive demand for infrastructure, with an estimated US$26 trillion to be spent on infrastructure projects over the next 15 years, says the Asian Development Bank.
Restructuring is another high growth area, with the total amount of debt that may require debt restructuring across key Asia-Pacific markets estimated at US$250bn. In such cases, accountants can act as financial advisers and develop the restructuring plan, lawyers can provide legal advice and make the necessary court applications, and financiers provide new money to meet operational needs and recapitalisation.
A second area of collaboration is for law and accounting firms to capture more regional legal and accounting work. 'Besides internationalising alone, law and accounting firms can work together,' added Indranee.
A third area of collaboration is to jointly develop strategies for business development and marketing in the legal and accountancy sectors.
Delegates also heard from industry practitioners, who provided practical case studies on how lawyers and accountants can collaborate in the financing of regional infrastructural projects, the restructuring of enterprises, and risk management.
Infrastructure gap
Alex Wong, partner at Hogan Lovells Lee & Lee, noted an infrastructure gap in Asia due to the increased urbanisation, especially in South-East Asia. He added that certain countries like Indonesia and Vietnam offer more regional opportunities for professional services, as they have a shallower pool of local investors and a less liquid finance and banking system, compared with countries like Malaysia and Philippines.
While restructuring cases often involve external advisers, a consideration is to see if there is scope for inhouse lawyers and accountants to be the eyes and ears on the ground. If they can spot the warning signs, there might be a higher chance for a company in distress to turn around and survive, said Angela Ee, partner, transaction advisory services, EY Solutions.
Clients today face the challenges of a tough business environment and the need to manage businesses that cross geographical borders. As a result, an integrated service that comprises crossborder networks of multidisciplinary service providers would better meet the needs of today's clients, said Ravi Arumugam, managing partner and CEO at RT and RT group of companies and executive chairman at RT ASEAN Network.
One-stop shop
In a panel discussion moderated by ACCA Singapore's head of policy, Joseph Alfred launched the discussion with a focus on the benefits and areas of improvement for legal-accounting teams.
Vincent Ng, executive director at Sompo regional HQ, provided a client's perspective. He explained that while a one-stop shop is convenient, the priority is to match professional capability to the business or project requirements.
Chaly Mah, chairman of Singapore Accountancy Commission and the co-author of the CFE working group report (legal and accounting services) advised firms to not fear competition and instead to collaborate, especially in the areas of anti-money laundering and compliance.
Gregory Vijayendran, president of the Law Society of Singapore, highlighted concerns surrounding multidisciplinary practices (MDPs) that include the possible erosion of ethical stands due to commercial pressures, and the need to ascertain if privilege applies to non-legal services that are being offered – involving a client's right to keep communications with a lawyer confidential.
Keith McGuire, partner at PwC Legal International, said that firms should take a solution-oriented approach and aim to optimise the service they provide to clients.
Thio Shen Yi, joint managing partner at TSMP Law Corporation, said that while non-legal entities like accounting firms have been building up legal-services divisions, Shen Yi believes that law firms should be allowed to form MDPs.
Finally, both legal and accounting professionals need to shift their minds to work out where they fit into this new world and how they can add value.
Ai Lei, journalist