Primark has chosen ACCA as the qualification of choice for its finance trainees, with the Strategic Business Leader case study resonating strongly with the retailer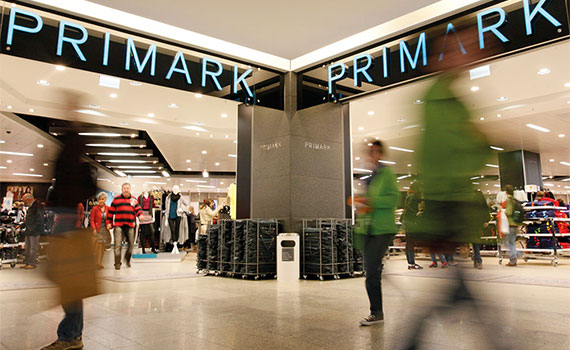 This article was first published in the September 2018 Ireland edition of Accounting and Business magazine.
1960s Dublin was an unlikely place for a fashion retail powerhouse to emerge, but the Primark story has always been one of defying expectations. From that first shop in Mary Street, opened in 1969, the company has grown to over 355 stores across 11 countries today, including the UK, continental Europe and
the US.
In a ruthlessly competitive sector, Primark has carved out a distinctive position with its 'amazing fashion, amazing prices' catchline, winning the loyalty of a huge and diverse customer base and very often the plaudits of fashion writers along the way.
Employing over 75,000 staff, and with stores in such plum locations as London's Oxford Street and Berlin's Alexanderplatz, Primark has, for all its international focus, remained loyal to its roots. The group's HQ remains 'above the shop' on Mary Street, although reincarnated as a modern, open-plan office space of more than 11,000 square metres. Named Arthur Ryan House in honour of its founder and chairman, it is today far more reflective of Dublin present than past – a vibrant working environment that recognises that investment in people is key to unlocking potential.
The group HQ is also home to the company's finance function. Under the leadership of CFO David Paterson, this centralised team of almost 200 professionals is also very much focused on the future. Primark recently selected ACCA as the qualification of choice for its finance trainees, and is committed to becoming an ACCA Approved Employer.
Enabling talent
Paterson believes that building stronger relationships with ACCA makes sense as the business evolves. He says: 'Our offices in Dublin are very young, diverse and energetic. That reflects our customer base and their changing demands in very competitive markets. For me as CFO, and for our finance team here, the really exciting thing is the role we play in that.
'There's a real demand from the business for us to do the basics – financial operations, financial reporting, audit, assurance and tax – very well, but they are also looking for finance to add value in areas such as decision-making, capital investment and risk management.
'As Primark continues to grow, and strategic opportunities emerge, a very strong finance business partner is needed to help make sense of those opportunities. It's really important to have a qualification and skillset that enables our finance people to do that.'
The decision to choose ACCA emerged from consultation and conversation within the business, as well as observations on how the qualification itself is developing. 'When we looked at that need to have accountants who are both competent at the basics and have the ability to think strategically and commercially, ACCA seemed to address all those issues,' Paterson says. 'In reality, it was already the qualification of choice here, as the vast majority of our trainee accountants were already studying ACCA.'
The introduction of ACCA's new Strategic Business Leader case study was a further big influence in those conversations, he says. 'That was something that really resonated with us. As a business that's doing some €8bn in sales annually, we are looking more and more at strategic options. It's really important that we have finance professionals who are comfortable getting into the details but also at widening their perspective and considering the implications for the wider business.'
The focus on corporate governance in the ACCA syllabus was also important. 'Finance at heart is about governance and control,' he says. 'We spend a lot of time thinking about what's the right governance framework for a particular piece of work, so that was a key factor for us in terms of ACCA.'
Helping hand
The formal link with ACCA coincides with the introduction of a mentoring programme in the finance function, designed specifically to support employees undertaking the ACCA Qualification. 'We currently have 20 mentors on the programme. These are at finance management level and higher, and they buddy up with our trainee accountants, providing support, guidance and a little bit of direction around the work/study life balance,' Paterson says. 'We recognise that gaining the ACCA Qualification is hard work, and our people are undertaking it while also working in a high-growth, face-paced business.'
It's a commitment that ties in very much with Paterson's overall leadership style, which, he says, is to set his team and people up for success. 'That means giving them the right accountability and the right tools to succeed. We work in a very competitive market and are focused on growth and building our brand. It's really important we have a finance structure that helps our business navigate those demands but also looks at the bigger picture. That requires us to constantly develop our people and to bring in new talent.'
The company's decision to seek ACCA Approved Employer status is a further step along that path. 'It's really important that we remain a competitive choice among people who are looking for a career in finance here in Dublin,' says Paterson. 'Having an association with ACCA adds credibility to that proposition. People see that we are going to support and enable them as they progress through their exams and develop their career.'
Donal Nugent, journalist
"As Primark grows, a strong finance business partner is needed to help make sense of the strategic opportunities that emerge"