An ACCA conference in Guangzhou described how Guangdong enterprises are starting to embrace the opportunities offered by the Belt and Road initiative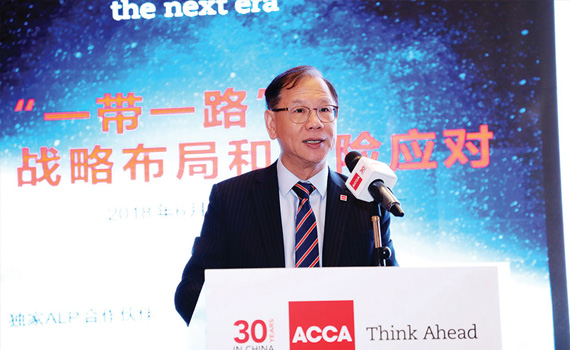 This article was first published in the October 2018 China edition of Accounting and Business magazine.
Guangdong companies are already leveraging the opportunities created by the Belt and Road initiative (BRI), according to new ACCA research.
Many of these companies possess qualities and strengths that will allow them to succeed in BRI projects while facing challenges brought by political turmoil and lack of global market experience.
'Today China is on a path to sustainable, national rejuvenation with ambitious targets set for 2025 and 2035,' said Leo Lee, president of ACCA, at a conference held in Guangzhou in June to release Guangdong Enterprises along the Belt and Road, a report based on ACCA's new research. 'This new era of economic development will enable China to become a global leader in innovation, and the accounting profession is at the forefront of this sustainable growth,' he said.
Guangzhou, in mainland China's southern Guangdong province, is a manufacturing hub and home to some of the country's best known technology companies.
Lee pointed out that global connectivity, one of ACCA's key tenets, is also crucial to the BRI. 'ACCA is committed to thinking ahead, connecting markets and communities and using our global reach to support professionals to grow,' said Lee. 'The idea of connection is particularly important to the success of the BRI. It's all about promoting connectivity among five elements: policies, trade, infrastructure, financial resources and people.'
Benefits to all
Efficient infrastructure can help countries by improving networks and facilitating crossborder trade. This, in turn, creates new avenues for growth. By connecting countries, the BRI can bring benefits to all participants.
'Since its foundation in 1904, ACCA has been a super-connector,' said Lee. 'Connections bring opportunities and so does BRI, but it's important that we understand the impact of the new connections, new ways of thinking and new ways of working.'
As part of an effort to determine the impact of the BRI, ACCA spent six months interviewing Guangdong companies across the construction, communication, finance and IT industries, laying the groundwork for the report, which focuses on the opportunities and challenges the initiative brings to companies in Guangdong.
Hu Yuming, a professor at Jinan University's School of Management and the main author of the report, said companies from Guangdong have significant technological advantages over many other regions along the Belt and Road (B&R) routes.
'Guangdong enterprises have obvious technological superiority in building energy, ports and communication infrastructure,' said Hu. 'These advantages can help our enterprises during the infrastructure project tender process in B&R countries.'
Good brand awareness is another major advantage Guangdong companies enjoy, especially in the electronics sector. 'Guangdong enterprises also have a brand advantage, especially in the field of smart appliances and smart consumer electronics, which allows us to export our products to other B&R countries,' said Hu. 'They have also achieved strategic global manufacturing layout; they have combined R&D, manufacturing and distribution to meet the fast-changing market needs.'
Dong Xingbin, head of the financial management department at TCL's air conditioner division, described the importance of the integration of business and finance to the company's strategy. When accountants are talking to businesspeople, they need to speak the business language instead of the financial language,' he said.
Hu also noted that Guangdong's companies benefit from internationalised products; an effective operational system; and established international business strategies.
Global vision needed
However, companies in Guangdong also have some shortcomings that need their attention, especially in a global perspective beyond the BRI countries. 'Guangdong companies may have built their brand in the smart appliances sector, but they have yet to have great influence in non-BRI countries,' said Hu. 'Some of the core technologies are still dominated by foreign competitors.'
In terms of creating a global brand image, companies in Guangdong are also lagging behind.
'They do not have enough experience, resources or consistent investment in terms of globalisation, so they're not very competitive in the high-end markets,' Hu said, adding that poor localisation schemes in global markets and lack of globally competitive talents are also some of the aspects that need improvement for Guangdong enterprises.
Most of the opportunities offered by the BRI will materialise in industrial capacity transfers, the extension of market boundaries and the overall improvement of corporate governance. Guangdong enterprises, especially those in labour- and capital-intensive industries, can transfer some production capacity to the countries along the B&R route, in order to enhance their economies of scale. 'The BRI has expanded the market boundary of Guangdong enterprises, speeding up their internationalisation process, adding global experience and improving their international management skills,' Hu said.
On the other hand, the weaker economies of some BRI countries may create some challenges for Guangdong enterprises wanting to enter these markets. 'Political risk would be the first major challenge,' Hu pointed out, noting that political turmoil in developing countries might make contract negotiations difficult and slow.
'Negotiation with the local government at the market entry point is very important; you have to get things right from the beginning to avoid tax or labour issues later on,' said Hu Yongfeng, deputy director of the project insurance business unit at China Export and Credit Insurance Corporation's Guangdong branch. 'Companies should seize good business opportunities when BRI countries are trying to attract foreign investment and try to win the maximum support from their governments,' he said.
However, Vincent Zheng, vice president at international car rental service start-up Zuzuche, has a different opinion on the regulatory issues.
'Companies usually analyse the regulatory risks before entering a new market, but the markets that are the easiest to enter also have the most fierce competition,' said Zheng. 'It may also be a good strategy to enter a "blue-ocean" market with stricter rules but little market competition.'
While lack of well-developed infrastructures in some BRI countries will provide opportunities to construction companies, this may pose challenges to companies not involved in the sector.
'It will make it harder for these companies to build their supply chains,' said Hu Yuming. 'Policy discrimination where additional taxes would be levied on Chinese goods is also a hurdle.'
Trade and technical barriers, financial risks, compliance issues, additional taxation, incomplete local labour market and lack of qualified accountancy professionals are also some other challenges that Guangdong enterprises may face.
'Accountants play an important role in due diligence work,' said Hu Yuming. 'ACCA contributes to the development by fostering and preparing talents for Chinese companies' global expansion. And for companies that already have an international presence, ACCA also helps them to identify and recruit local high-calibre finance professionals.'
Cornelia Zou, journalist
"The idea of connection is particularly important to the success of the BRI"