Guests at a gala dinner in Shanghai to mark ACCA's 30th anniversary in mainland China heard inspirational stories from members and toasted a bright future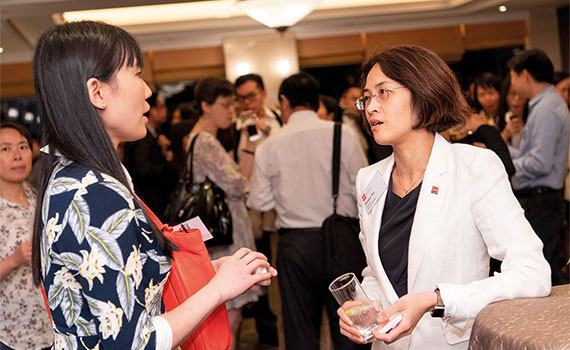 This article was first published in the October 2018 China edition of Accounting and Business magazine.
A gala dinner in Shanghai provided an opportunity for 400 guests to celebrate a major milestone: the 30th anniversary of ACCA's arrival in mainland China.
Guests including members, representatives from universities, employers and regulators joined ACCA deputy president Robert Stenhouse and council members Brendan Sheehan and Marta Rejman to mark the occasion.
'Our celebrations are themed "Together, we shape the future", highlighting how partnerships and connections have helped to build the profession in China,' explained Ada Leung, director, ACCA China.
ACCA was the first global accountancy body to establish a presence in mainland China in 1988, following a successful meeting with the Chinese Institute of Certified Public Accountants.
'China is a growing market for ACCA,' Stenhouse told guests. 'With 30 years' investment in China, ACCA grows with this country and supports Chinese members to gain vibrant careers in the finance world, which in turn serves the economy.'
Inspirational stories
Members from different industries also shared their inspirational stories. They included Tanya Tang, a tax partner at KPMG China, who described how, after graduating from law school, she entered KPMG and decided to study for the ACCA Qualification in order to challenge herself and prepare for her new role. For Tang, ACCA offers a job-ready curriculum that provides the skills she requires, such as strategic economic analysis, management accounting and valuation analysis.
Like most candidates, Tang found the process rewarding but tough. Apart from working in a day-to-day high-pressure environment at KPMG, she was six months pregnant when she sat her last exam.
'I could feel the baby kicking my belly while I was preparing for the exam,' she recalled, adding that the experience had actually honed her willpower, and helped her gain the skill of balancing work and family life earlier than others.
Agnes Li, a partner in risk advisory at Deloitte China, who served as anchor for the dinner, described her experiences as an active advocate for ACCA China. 'With the support of other advocates in ACCA China, I help with various activities for members on a constant basis,' she explained, describing the popularity of the lecture series, which covers a wide spectrum of topics from finance to artificial intelligence and blockchain. 'More and more members find that disruptive technology has become increasingly intertwined with their work, and the urge to learn new stuff apart from auditing or accounting has never been stronger,' Li said.
At the event, eight members were also recognised as ACCA Central China Advocates.
This was followed by the cutting of a birthday cake and a toast to a bright future for ACCA.
'China is at an exciting point in its history, with its drive to open up new trade routes and marketplaces, to build on existing connections, and to create new ones,' Leung said. 'We look forward to playing our part in this exciting future for the next 30 years and beyond.'
Ailin Zhou, journalist