A solid understanding of the oil and gas industry has given Li Peng FCCA, vice president at CNOOC Finance Corporation, the tools to deliver first-class service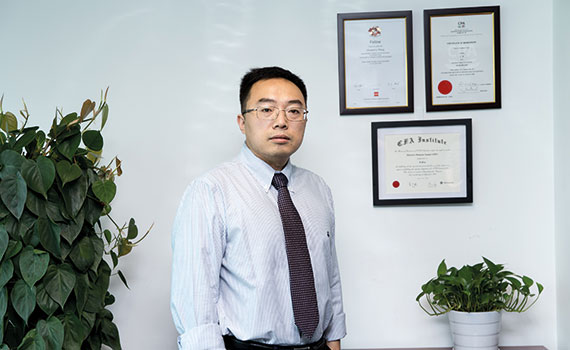 This article was first published in the October 2018 China edition of Accounting and Business magazine.
Self-study in petroleum reservoir engineering may not be the usual route to success in a finance career, but it has paid off for Li Peng FCCA, vice president at CNOOC Finance Corporation.
To Li, who oversees an asset portfolio of RMB130bn for CNOOC Corporation, one of the world's largest oil and gas companies, accounting is both a compass and a driving force. 'It's like having a universal language for business,' he says. 'Once mastered, any firm can interpret and benchmark its distance to the best-in-class worldwide.'
CNOOC Corporation, a state-owned enterprise (SOE), was established in 1982, offering licences for developing mainland China's offshore oil and gas resources at a time when capital was scarce and technology limited. This natural inclination for cooperation has been the secret to the company's success in expansion. 'This has been in CNOOC's genes since the early days when it had to rely on international giants for their teams and expertise,' says Li.
The strategy has paid off. In 2013, CNOOC acquired Canadian oil and gas giant Nexen for US$15.1bn – mainland China's largest ever overseas takeover. Ranked 87th in the Fortune 500 index, in 2017 CNOOC had net proved reserves of about 4.84 billion barrels of oil equivalent (BOE) and an average daily output of 1.29 million BOE.
In his previous role as director of group subsidiary CNOOC Ltd, Li was closely involved in the process of integrating Nexen into the company. This included consolidating corporate reporting and IT systems, and integrating property insurance policies and capital market disclosing practices.
'The finance team should take the lead as well as set the pace for post-acquisition integrations as it will directly affect the synergy and value creation afterwards,' Li says.
'Win-win' and 'balance' are two words that frequently come up in conversation with Li. 'The challenge for Chinese companies to debut in a diversified business environment while pursuing multidimensional goals is unprecedented,' he says. 'It's not as easy as matching demand with supply capacity from an economic perspective.'
Be prepared
With decisions on where to invest, what to invest in and how to develop its management and performance appraisal system for overseas businesses, companies must be well prepared, Li points out.
'Companies must manage a global asset portfolio to balance asset, profit and cashflow structure, while weighing in risk exposure,' he says. 'The risks are not limited to sovereign and geopolitical ones, but also include compliance, tax, security and environmental protection factors and their impact on the vulnerability of profits.'
As of the end of 2017, about 46% of CNOOC's net proved reserves and 35.6% of its net production were derived from overseas, with notable projects spanning regions from Nigeria to the UK and from the Gulf of Mexico to Brazil. The company has interests in oil and natural gas blocks in more than 20 countries and regions including Indonesia, Australia, Uganda, Argentina, the US, Canada and Guyana.
With immense initial cost and risk exposure overseas, maximising economic value is not always the goal, says Li. 'There needs to be a balance between near-term financial performance, value creation in the long run and environmental and social responsibility in strategic decision and execution,' he explains.
While the Belt and Road initiative is proving attractive, mainland Chinese companies should think very carefully before expanding overseas, Li cautions.
'Companies should not go abroad for the sake of it,' he says. 'Globalisation should serve the purpose of achieving economic goals under moderate risks.
'Outbound acquisition of an asset cannot be solely driven by business development. It must be reached after carefully studying its intrinsic value and impact on existing business lines while quantifying possible risks and negative influence.'
It is also essential, Li, believes, for mergers and acquisitions (M&A) teams to be multidisciplinary and include professionals from finance, business development, legal and human resources, as well as external experts, 'to ensure well-rounded due diligence'. In addition, Li notes, generating local employment opportunities and strictly upholding requirements for health, safety and environmental protection can help clear compliance challenges and ensure a 'smooth integration' into local societies.
'The mentality should transform into seeking maximised win-win for all stakeholders involved in global businesses,' he says. 'It's crucial to maintain multidimensional, transparency and effective communications on an equal footing.'
Commitment to modernisation
When Li graduated in 2002 he was keen to join a state-owned company and play a part in transforming the sector. 'For years, SOEs in China had been blamed for falling behind in efficiency and modern ways of management. I thought to myself: many things could be done there,' Li recalls.
Such was Li's commitment to modernising CNOOC that for several years he voluntarily gave up holiday leave in order to compile a bottom-up model detailing performance forecast and sensitivity analysis for each business unit, correlated to the rest of the operation. 'Any best-in-class company should have a medium- to long-term strategic assessment tool to match their business development plan,' he explains.
The model simulating the company's overall cashflow and financial performance under various conditions – including oil price, production profile, cost levels and capital expenditure – was approved in 2015 after vigorous testing, and coincided with a steep slump in oil prices, which tested it even further.
'Financial discipline is critical to a classical cyclical sector like oil and gas,' Li says. 'To survive the downturn, it's vital to maintain free cashflow and profit. As a listed company, CNOOC has never once incurred a loss-making year, not even when the oil price dropped as low as US$30 per barrel.'
To deal with the slump, the company instigated a crisis management approach, cutting back on capital expenditure and other administrative costs and, where necessary, shutting down some less efficient operations. 'Visibility of different scenarios helped us plan ahead,' Li says.
Broader direction
Recalling his time on this 'mind-blowing but rewarding' project, Li credits the result with a flexible working environment and the trust that senior executives had in him to conduct creative and exploratory research. That same initiative also drove him to read more than 1,000 industry research reports, written in English, giving him the ability to communicate confidently with other areas of the business. Li's diligence has also led to his being admitted into CNOOC's reserve evaluation process – the only member with a financial background.
Describing his role as the combination of 'chief architect and project manager', Li says that his role requires attending to the broader direction of CNOOC and devising an efficient management system, while at the micro level separating that direction into various projects and tracking their progress.
An ACCA member since 2005, Li credits his training in developing his capabilities for comprehensive analysis and troubleshooting. 'Being a company's manager is like driving a car. One has to think in multiple directions, including what's in front, behind and at the rear,' he says, adding that ACCA has helped him to work in complicated situations.
His advice to the next generation is to accumulate both professional and managerial expertise. 'You don't have to wait to get promoted before practising how to organise, coordinate, motivate and manage,' he says. 'Leadership capabilities can be developed along the way. Dedication and a strong work ethic can help you win credibility and therefore form a positive cycle for you to grow within the company.'
Willingness to learn and adapt to change is also crucial for career development, Li notes. In his office stacked with books on subjects ranging from climate change to raising funds, the idea of continuous learning is self-evident.
Openness to new ideas has never been more important, Li says. 'Energy giants have kickstarted their transformation,' Li says, adding that while globally the vision is benchmarked in the United Nations' 2016 Paris Agreement, China has also pinned 'green' as one of the five keywords for development.
Industry players are now standing at the same starting line in exploring new energies and racing towards mass-scale use of those, he notes. 'There are opportunities as well as challenges, but as a Chinese saying goes, you should be alert to dangers even in times of calm.'
New challenges also arise from unexpected places, he adds, referring to a recent experience when he tripped and broke his leg while playing with his young son.
'What can you say? One can always learn new things along the way.'
Sarah Dai, journalist
"Being a company's manager is like driving a car. One has to think in multiple directions, including what's in front, behind and at the rear"