Paul Simmons FCCA, CFO of Marriott International Middle East and Africa, is bringing on capacity at a phenomenal rate in a region building for the future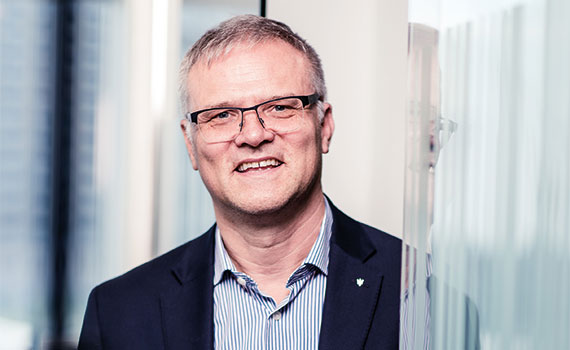 This article was first published in the October 2018 International edition of Accounting and Business magazine.
The Middle East – particularly the countries of the Arabian Gulf – is known for its impressive skyline of luxury hotels. As one of the first operators to enter this market, in 1980, Marriott International has been a trailblazer – a fact not lost on Paul Simmons FCCA, CFO of the hotel chain's operations in the region and Africa.
Amiable and easy-going, a self-confessed people person, Simmons seems well suited to the hotel sector: 'Hospitality is a people business,' he stresses.
People skills are paramount to this particular business given how Marriott has spread across this diverse region. In 1980, it opened the JW Marriott Dubai and Sheraton Kuwait. Today, it has a significant presence in 29 countries across the Middle East and Africa, including the UAE, Saudi Arabia, Qatar, Jordan, Egypt, South Africa, Nigeria and Rwanda.
Simmons was keen to develop his technical skill-set at an early age: 'When I was 11, I remember my teacher asking me what I wanted to do when I grew up. Even then I wanted to be an accountant.'
Small fry and big boys
Sure enough, he graduated in 1988 with an ACCA higher national diploma in business and finance. He took up a role with a small firm in Hertfordshire, not far from London, which he says was a perfect starting-point: 'Completing accounts from invoices and cheques out of a shoebox at one end of the spectrum and auditing the likes of Reebok UK at the other was a great learning ground.'
After a short stint with Rank Xerox, he moved to Whitbread, at that time Marriott's strategic franchise partner. He soon fell into four distinct roles in his job – reporting, capital appraisal, investment and analysis.
'My ACCA training quickly became extremely valuable,' he says. 'The breadth of the qualification is very wide, covering areas such as law, financial accounting, investment accounting and auditing.
'In the early years, being ACCA-qualified helped me climb the ladder in a relatively short time period. Now I'm very involved in the legal side with such things as management agreements, and my ACCA background is still very useful.'
After various roles with Whitbread, including looking after shared services and the management of 250 pubs ('a tough job'), Simmons became responsible for managing area hotel clusters across the UK and Europe. He moved to Dubai in 2011, and landed the top finance job in the region two years later.
His core team numbers 75 and is based in two offices, one in Dubai and the other in the company's South African head office in Cape Town. Area teams of around 2,500 accounting and bookkeeping staff are based in the UAE, Qatar, North Africa, sub-Saharan Africa, Saudi Arabia and Bahrain. Hotels report to the area finance teams, which in turn report to the core team for tasks such as internal audit, administration, entity accounting, compliance, tax, reporting and feasibility.
Internal auditing, while conducted in-house, is a separate and independent function. 'We call it the internal controls team, because they are as much coaches as they are auditors,' explains Simmons. Each hotel is given a no-notice audit at least once a year, which lasts for around three to five days.
Furious growth
In the seven years that Simmons has been overseeing the Middle East and Africa operations, the rate of change has been phenomenal. 'In 2011, Marriott had just 35 hotels in the whole region,' he says. 'Today, there are 55 in the UAE alone and 256 across MEA.' This is thanks in large part to Marriott's 2016 acquisition of Starwood Hotels and Resorts. The US$13.6bn deal, which made Marriott the largest hotel operator in the world, doubled its business in the region, adding depth and breadth, and brands such as Westin, Sheraton, St Regis and Le Meridien to the global portfolio.
'A merger of this size was a first for our industry,' Simmons explains. 'As you can imagine, integrating the two companies' systems and processes was a huge undertaking. We had to devise a roadmap to bring the best of the two companies together, while keeping our key stakeholders happy. Cultural integration was crucial for our most valuable assets – our people. For our owners, we needed to stay 100% focused on business as usual, and focus on delivering value on the top and bottom lines.'
The business maintains an ambitious growth strategy in MEA. It has 180 new hotels in the pipeline to 2025, which will bring Marriott's MEA total to more than 400.
Much of Dubai's construction activity is focused on the Expo 2020. While there are concerns about hotel room oversupply, Simmons is pragmatic. With the ramping up of tourism and more leisure activities opening, supply and demand will level out, he says. 'In the UAE occupancy remains at the higher end of the 80% range. Dubai is building for the long term, not just the short term. Marriott is adding a mix of business and leisure properties for the different needs.'
Of greater concern to Simmons is the all-important industry metric of revenue per available room (revpar), which Simmons fully expects to fall across the MEA region as more rooms come on stream. How will Marriott address the forecast fall in revpar?
'Despite the challenges of revpar in certain locations, our main objective is to continue to keep owners happy,' he says, 'which means increasing the profitability of the hotels.' That will be achieved by placing more emphasis on the cost side and driving efficiencies. The result will be, he says, an industry that is competitive in terms of both cost and quality.
At the start of this year, VAT was introduced in the UAE and Saudi Arabia, and Kuwait, Bahrain and Oman all plan to follow in their footsteps. So far, the new tax hasn't hurt the business, according to Simmons, who adds that Marriott considered the issues thoroughly beforehand. 'We looked at the different needs of the business – F&B [food and beverage] compared to rooms, for example, to assess whether the customer would bear the cost. In some cases we raised prices to account for the VAT, but in other F&B outlets we felt we would benefit through greater volume by effectively discounting the price.'
Yet with continual expansion, challenges remain in areas such as bookkeeping and tax returns, particularly for the 100+ Marriott hotels in sub-Saharan Africa, where so much business is still done in cash and the capacity of tax administrations is often weak. For Simmons, addressing these issues comes down to proper process structure. He says: 'We have policies and procedures in place across the globe to ensure we have the correct split of duties between our finance departments, which helps us mitigate such challenges, and all our hotels are also internally audited annually.'
Professionalisation
As the business climate changes in the region, Simmons has noted a shift in the qualifications of local accounting professionals. 'When I came to the region in 2011, the number of qualified accountants was minimal,' he says. 'People were more qualified by experience. This is changing, however, particularly as we encourage our joiners to complete an ACCA or another professional accountancy qualification.'
To attract local talent to the hospitality sector, Marriott International has been offering career opportunities for young Arabs and Africans, enrolling them in all disciplines. The group's global development programme, Voyage, provides university graduates with leadership mentoring. Another programme, Tahseen (developed in conjunction with Saudi hotel partner Dur Hospitality, Cornell University in the US, and youth education non-profit organisations Injaz Al-Arab and Education for Employment), aims to attract Saudi nationals to train in hospitality management.
In sub-Saharan Africa, partnering with the Akilah Institute, a non-profit college for women in the Rwandan capital Kigali, Marriott engaged Rwandan women in a two-year placement programme in hotels across the MEA region. On completion, they returned to run Marriott's Rwanda property as managers with valuable operational experience. Marriott is looking to replicate the programme elsewhere in the future.
Such initiatives have not gone unnoticed. Marriott was voted best employer by MENA hoteliers in 2017 as part of Hotelier Middle East's salary survey that year, and was among the winners at Aon's 2017 Best Employer Middle East Awards. As well as being good for local talent, it makes financial sense. 'It's expensive to import talent,' points out Simmons.
He is optimistic about what lies ahead. 'It is an exciting time for the region's travel and tourism sector. Governments have set out clear and ambitious visions to grow and invest in the sector, the industry is thriving, and we are proud we are opening up a huge range of jobs, as well as contributing to the ongoing growth and diversification of the region's economy.'
Mark Atkinson, journalist in Dubai
"In 2011, Marriott had just 35 hotels in the whole region. Today, there are 55 in the UAE alone"
"Our main objective is to continue to keep owners happy, which means increasing the profitability of the hotels"