As A4S' Accounting Bodies Network celebrates its 10-year anniversary, it is asking organisations to develop a longer-term economic and environmental mindset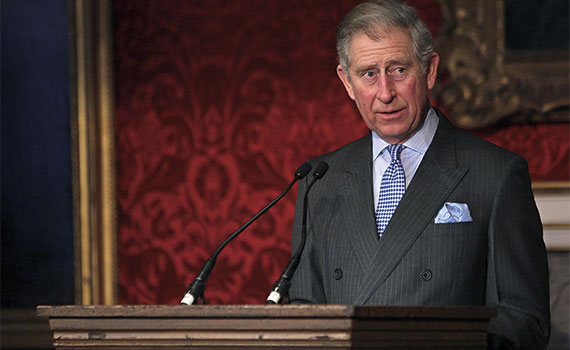 This article was first published in the November 2018 UK edition of Accounting and Business magazine.
Netflix drama The Crown may have chronicled the end of an age of deference but an invitation from the Prince of Wales still invariably brings a response. The royal appeal has been used to powerful effect by his charitable foundation Accounting for Sustainability (A4S).
Set up over a decade ago, A4S has played a major part in putting environmental and social accounting challenges centre stage for financial professionals and investors (see panel). 'His Royal Highness is able to bring people to the table who maybe otherwise would not join in,' says Jessica Fries, executive chairman at A4S and qualified accountant. 'Whatever you think about climate change or sustainability, an invitation to tea with the Prince of Wales is unique and intriguing. His focus on these sustainability issues and the role that businesses can play for such a long time inspires action.'
And once someone is in the room, Fries and her team will explain the role they could play. For example, conversations and experiences setting out the business case for responding to sustainable and environmental issues are shared in the CFO Leadership Network, which was launched by A4S in 2013.
A4S also provides a space for sharing insight, learning and challenges, enabling collaborative solutions. For instance, ACCA and A4S have partnered to develop guidance. 'The partnership ACCA has with business schools is key to engagement and action,' says Fries. She says the chief executives of accountancy bodies play an instrumental role in encouraging the wider accountancy community to act. The impact of A4S and its Accounting Bodies Network (ABN) is highlighted at the World Congress of Accountants this month. A group of accountancy bodies from across the globe representing 2.4 million accountants, the ABN works on a common approach to accounting for sustainability.
Fries says: 'We have helped to progress issues such as integrated reporting [IR], including via the establishment of the International Integrated Reporting Council. IR has produced a massive shift in organisational thinking, and we continue to see it gathering momentum and reshaping corporate reporting.'
Fries also stresses how A4S has influenced and inspired research in business schools, which in turn has helped to bring sustainability into the mainstream. A4S is keen to maintain that level of achievement and is looking at progressing key issues over the coming years, such as the Natural Capital Coalition (NCC), which aims to bring organisations together, and harmonise approaches and initiatives. 'NCC is putting a spotlight on tools and guidance to account for natural capital,' says Fries. 'This is crucial if we're to tackle major scarcity issues and ecological vulnerabilities.'
A4S is examining how tech will influence the role of finance and how that presents an opportunity to embed sustainability into that transformation – for instance, satellite technology helping to monitor the supply chain (think illegal fishing) or through enhanced access to information for investors.
It's fair to say that A4S works with the more traditional channels. It has set up an invitation-only Asset Owners Network that brings together pension fund chairs to discuss social and environmental risks, and how pension funds can help deliver a sustainable financial system in line with the UN Sustainable Development Goals and the Paris Agreement.
In Climate Week NYC, held in September to accompany the annual start of the UN's General Assembly session, A4S launched the Financing our Future report in partnership with Aviva Investors, distilling actions taken by all parts of the investment chain and highlighting collective actions that still need to be taken.
Fries says the accountancy community is quick to grasp the issues and looks for solutions equally quickly. 'We work a lot with the CFO Leadership Network on making it practical: what are the tools? What is the guidance? How do you make a sustainable approach to financial decision-making the norm?'
A4S is determined to stir the global financial community into action. 'Society faces urgent issues,' Fries says. 'On climate change we are running out of time.' She points to holding the rise in the average global temperature to no more than 1.5°C above pre-industrial levels as crucial to avoid triggering dangerous changes.
Fries says: 'The ABN can play such an important role in engagement, thought leadership, training and education, thinking how we take lessons and insights from organisations and scale them.' Action across the globe has to be tailored and fit for purpose at company, sector and country level.
As part of ABN's 10-year anniversary celebrations, A4S is examining how accountancy bodies have embedded accounting for sustainability into training and education. 'We want to make sure accountants are equipped to tackle the sustainability challenges, take advantage of the opportunities and manage the risks,' says Fries.
A4S is asking organisations to develop a different, longer-term mindset. 'There is always the pressure of the short term,' says Fries. 'Increasingly, social, economic and environmental issues are impacting in the short term but will perhaps only unfold in the longer term.'
Understanding and embracing the sustainability agenda is increasingly seen by many finance professionals as a key part of their purpose. So if an invite from Clarence House does hit your doormat or inbox, you could be joining one of the great causes of the 21st century.
Peter Williams, journalist
"Whatever you think about climate change or sustainability, an invitation to tea with the Prince of Wales is unique and intriguing"