Roundtables in Hong Kong and Singapore hosted by ACCA and Hays debated the findings of a report exploring the ingredients for a successful and effective CFO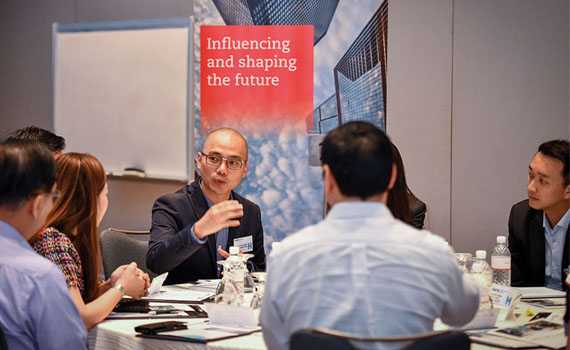 This article was first published in the November 2018 China edition of Accounting and Business magazine.
To be a competent CFO in Asia, one has to be versatile, have an open mind to learn and adapt, and watch out for red flags to protect the organisation. These were the conclusions of recruiters and financial professionals at the recent roundtable discussions held by ACCA and finance recruitment specialist Hays.
The roundtables, which took place in Hong Kong and Singapore, were held to launch a new report from Hays: DNA of a CFO – The makings of a Chief Financial Officer in Asia.
Among the 411 CFOs and finance leaders surveyed, over half hold CPA or ACCA qualifications and have been in the industry for six to 15 years before landing the top job. But it takes more than just qualification and years of experience to excel at work.
The report provides insights into the personal traits and technical skills required, with the aim of helping aspiring CFOs better understand the challenges they face, as well as preparing them for transitioning into the top finance role.
'A CFO needs to have a comprehensive skillset and keep learning every day,' said Eunice Chu, head of policy at ACCA Hong Kong.
Chu noted that CFOs should display the seven different traits identified by ACCA's extensive research project, Professional accountants – the future. Besides technical and ethical skills, a CFO has to be creative and be aware of digital technologies.
'You also need vision to be able to anticipate the future, emotional intelligence to know how to handle people, intelligence to keep on learning, and experience skills to understand the situation from different perspectives before proposing a solution,' she explained.
Positive attitude
Andrew Ling, finance director at Pizza Hut Hong Kong and Macau, and Ernest Wong, president and group CFO at KVB Kunlun Holdings, spoke from personal experience.
'A positive and can-do attitude is important,' said Ling. 'Every time you push away a responsibility, you also push away an opportunity to learn more.'
For Wong, having an ambitious attitude and the ability to look at things in different dimensions matters.
'Instead of only reporting the figures, I interpret them from the investment point of view, so I can tell a story through the figures,' he said. 'For example, what does the future hold? What are the risks? What outlook should the management focus on?'
Over half of the CFOs and finance leaders surveyed by Hays think 'strategic planning' is the most important ability, while 38% point to 'commercial acumen'.
Panellists at the Hong Kong discussion noted that a CFO needs to develop a sense of how business runs and should be done in order to be a competent business partner to the CEO.
'Being a finance professional, we need to have financial knowledge, but more important is to walk in and learn the business model of the company,' said Chu.
Ling agreed. 'You need to know the actual scene happening on the ground and also have the balcony view, so as to make strategic planning to give directions to the business,' he added.
The Singapore event began with a broad overview of the report by Grant Torrens, business director at Hays Singapore, followed by a series of discussions exploring personal development and the business challenges faced by CFOs.
Srinivasan Venkita Padmanabhan, president and global head of corporate finance at Olam International, shared his own journey and encouraged attendees to focus on developing themselves first as a way to prepare for the CFO role.
'DNA is about who you are,' he said. 'If you can't lead yourself, how can you lead the team?'
A recurring issue was that while many finance professionals tend to be technically proficient, they are often introverted, thereby lacking the natural desire to speak up and 'be heard' in higher level discussions.
'People often think that if you have enough credibility in the boardroom, you should be invited to the party, but that's not necessarily true,' said Zichen James Qiu, head of finance at eBay Southeast Asia/Japan/Israel, alluding to the fact that traits like charisma are at least as important as domain expertise.
Fine balance
Amos Ng, CFO at Straco, pointed to the fine balance that a finance leader needed to strike between the crucial stewardship role and the equally important position as a business enabler.
'We are comfortable with black and white, but in today's complex world, the CFO will need to help the business navigate the different shades of grey,' he said. 'Don't be a show-stopper. Manage risks, but be proactive in offering alternatives as well.'
Another challenge that was brought up was the danger of being too comfortable. 'As CFO, you don't have that safety blanket,' said Jeremy Gocalek, financial planning director, Asia Pacific, at Cushman & Wakefield. 'You need to start relying on other people and need to take more risks.
Chiew Chun Wee, ACCA's regional head of policy for ASEAN ANZ, summed up the discussion. 'Recognise that even if nature holds you back, nurture yourselves and get out of the back office; go out and learn things beyond finance,' he said. 'Recode your DNA. Be prepared so that when you are put in the position, you can be an exemplary CFO or CEO.'
Redundant role?
Another key question that was discussed at the Singapore event was whether the current CFO role would become redundant due to the increasing effectiveness of robotics and analytics.
Ross Bowerbank, section manager for senior finance recruitment at Hays, said that a common fear among CFOs is that jobs are being taken over by bots.
Darrell Tan, director of hotel performance, hotel finance, at Hyatt Hotels, and member of the ACCA Singapore Network Panel, said that he did not expect a quantum leap over the next 10 years. 'It's hard to replace the intuition and the face-to-face interaction,' he said.
Peter Fleming, Deskera Holdings CFO, agreed, noting that the CFO role was more strategic and visionary, and that they should be the ones driving change rather than being replaced.
John Myerscough, executive director of finance at Avon, believed that bots are most effective at the transactional level but having a senior director onsite is still something essential for business continuity.
However, Seow Zhi Yuan, regional finance director, Asia Pacific at Wilhelmsen, took a more pro-bot stance, especially when it comes to delivering on the expectations for finance to do more with less.
'If bots can do the job, it's easier to manage them locally than having a remote shared services centre,' he said. 'Also, it frees up our time and budget for more important things such as human development.'
Indeed, raising the competency of staff was a common sentiment among the attendees. To achieve this goal, many of them provided suggestions such as carving out time for personal development, as well as encouraging an open and honest culture.
Better prepared
Gocalek also talked about job rotations as a way for managers to help retain qualified staff. It can prevent competent people from getting bored while allowing them to further build their experience. Another advantage is that the team might better perform overall as there is then more flexibility and less reliance on one particular individual for specific tasks.
After all, disruption isn't always a bad thing, and "dealing with uncertainty can often be an opportunity in hiding."
Citing the Hays report and examples shared during the discussions, Joseph Alfred, head of policy at ACCA Singapore, said that greater competition meant that CFOs needed to build commercial savviness.
Chu pointed out that government policies – such as the Greater Bay Area initiative which will connect 11 cities in the Guangdong-Hong Kong-Macau region – may invite more players to intensify competition in certain industries.
Speaking from a financial perspective, Wong is more concerned about inflation and outflow of funds.
'Rates will stay high in the coming months,' he said. 'There is also a lot of pressure on fundraising due to the exchange rate for the Hong Kong dollar.'
He also described how the ongoing trade dispute between China and the US has clouded economic prospects, which Chu also suggested CFOs to keep an eye on.
These concerns are broadly in line with those of the finance leaders surveyed, who believe that the economic environment, managing risk and the digitalisation of the economy are among the top business challenges in the coming year.
Elise Mak and Rufus Tan, journalists
"Every time you push away a responsibility, you also push away an opportunity to learn more"