As a recent ACCA report shows, a clear vision and strategy, robust processes and the right people are as vital for SMEs to succeed as they are for larger organisations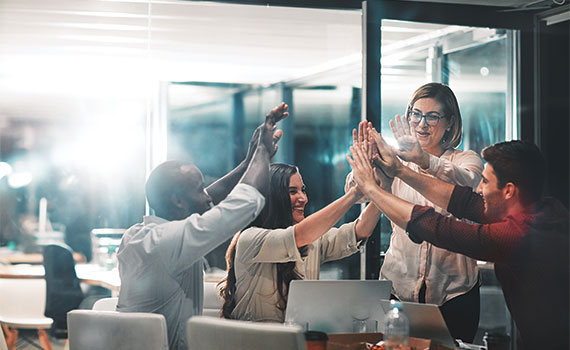 This article was first published in the January 2019 International edition of Accounting and Business magazine.
Owner-managers of small businesses are generally brave, ambitious people with a good grasp of their sector and a quiet confidence in the product or service they are offering. But a stellar idea does not necessarily translate into a star company. So why not?
In every country, the majority of businesses are small. SMEs and micro-firms account for 95% of all enterprises in OECD (Organisation for Economic Co-operation and Development) countries and 93% of those in non-high income, non-OECD nations. The long-term success of a smaller business, though, depends as much on the nuts and bolts of an organisation – solid processes and governance – as it does on a money-spinning idea.
No one understands this more than professional accountants, which is why ACCA has embarked on a detailed research project to better understand how SMEs can grow successfully. The second report in its three-part research project, How vision and strategy helps small businesses succeed: Governance needs of SMEs, focuses on how a business can build an internally robust organisation. It follows Growing globally: How SMPs can unlock international ambitions, published in July 2018, which discussed how small businesses can be better supported to participate in international trade; the final report will examine how SMEs can adopt best practice from high-growth firms.
SMEs come in all shapes, sizes and sectors but, the report argues, there are some good ideas that can be applied to most of them, with some inspiration. It defines governance in the context of SMEs as being 'about leadership directing the organisation to long-term prosperity'. In practice, this requires four vital elements:
introducing oversight mechanisms
aligning processes with the organisation's purpose
demonstrating a commitment to stakeholders
ensuring that resources are used for maximum impact.
These objectives may appear a lot to ask from SMEs, says the report. 'Governance requirements may, at times, appear to involve a balancing act with the pursuance of the business' purpose.' But, it adds, if the way in which a business is run is aligned with what it aims to achieve, the organisation will be as efficient as it is effective.
The research, which is based on a survey of 500 SMEs and not-for-profit bodies worldwide, as well as insights from business leaders, academics and business advisers, identifies a number of drivers that build a robust organisation.
Having vision
It begins with vision. 'Any organisation needs to picture how it wants to look, what it delivers, and how people external to the organisation would see it in the future,' says the report. If a vision is about where the organisation wants to go, strategy and processes are what will take it there – breaking down the vision into manageable steps, setting achievable goals for execution, and monitoring and reporting on outcomes.
In all of the organisations questioned, the owner-manager or CEO played a key role in strategy-setting, although senior management and the executive team tend to become more involved as the organisation grows. And it is an ongoing process; 78% of respondents said that strategy is discussed at least four times a year in their organisation.
Just under half of those questioned said they never involve a third party in strategy discussions. This is an area where changes could be made, according to the report. It may not always be a palatable idea to bring in external parties to review strategy, but it can be helpful to receive a different perspective: 'Even on an ad hoc basis, by having contacts to consult with, leaders can benefit from different experience and expertise – or just have someone to bounce ideas off.'
The third essential driver of SME success is people, and that will continue even in an automated world: 'In high-growth, high-tech and niche industries, the innovation and creativity of people is fundamental,' says the report.
Added to these are the external factors that a resilient SME must withstand. 'The organisation must understand and interact appropriately with its stakeholders – from its workforce to trade partners, from funders to the community in which it operates – and win their support,' says the report. 'This can make or break the business as it goes through the economic cycle, circumvents threats and explores opportunities.' It adds that if an SME is to be successful, it must nurture its relationship with external stakeholders, align rewards and opportunities for employees with its strategy, and stay flexible, adaptable and resilient.
Vital leadership
The report acknowledges the vital role that leadership plays in creating and maintaining these drivers of success. Most of those taking part in the survey said that their own leadership team had a process in place to make sure that its members had a broad range of skills to meet these challenges, although almost half of micro-entities questioned said they did not evaluate individual leaders.
The report suggests that a regular review of leadership skills and performance should not be confined to larger companies and could be beneficial to businesses of any size.
The research team concluded its survey by asking those SMEs taking part what critical factors helped them to prosper over the long term. For most, the answer was good people – the importance of attracting, retaining and investing in people to create a strong team. In other words, whatever business you are in, it is essential to be in the business of people.
Liz Fisher, journalist
Critical factors for long-term prosperity - ACCA's report asked 368 SMEs what they felt were the critical factors enabling businesses to prosper over the long term.
| | |
| --- | --- |
| Staff/team work | 39% |
| Strategy | 30% |
| Resilience/competitiveness | 22% |
| Business process | 20% |
| Leadership | 20% |
| Treat stakeholders well | 15% |
| Mission/vision | 14% |
| Liquidity | 13% |
"The long-term success of a small business depends as much on the nuts and bolts of an organisation as it does on a money-spinning idea"