For Norman Sze FCCA, northern region managing partner at Deloitte China, moving beyond the comfort zone is vital for both personal and business transformation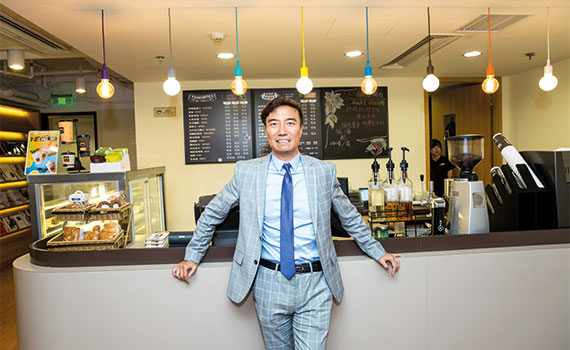 This article was first published in the January 2019 China edition of Accounting and Business magazine.
At the entrance of Deloitte China's headquarters in Beijing, a motto reads: 'Make an impact that matters'. To Norman Sze FCCA, the firm's northern region managing partner, that attitude traverses all areas of his life, from the intellectual rigours of his day job to his recent decision to challenge himself physically.
Having avoided exercise since his schooldays, Sze set a goal last year to improve his fitness levels while inspiring others. The result is telling: the 55-year-old now has a body fat rate of 13% to 15% – a level that borders athlete standard. And he is using his inspirational story as a motivational tool for his 4,000-plus colleagues in the region, as they get to grips with Deloitte China's new culture, which puts courage, innovation, inclusion, integrity and wellbeing at the heart of the business.
'I was thinking about how to make them understand the new culture, which can't be achieved through just one or two projects,' says Sze. 'As a leader, you have to take the first leap by working out of your comfort zone.'
For Sze, the parallels between business transformation and physical training are clear. To start with, overcoming the ego is vital; he recalls that, when he first worked with a personal trainer, he was afraid of reprimand for not being able to mobilise his muscles. 'It's natural to avoid unfamiliar things, but good work relies on a sound body to fuel the drive and passion,' he explains.
That same passion is also, Sze believes, indispensable when working with a new generation of colleagues. About 50% of Deloitte's staff in the region were born after 1990, and every year more than 600 graduates are recruited in China.
Deloitte is increasingly looking for employees with diverse backgrounds, including graduates in science, technology, engineering and mathematics (the so-called STEM subjects). In particular, recruits with a technology background are seen as key to economic transformation in the future.
At the same time, demands of the modern business environment require innovation in leadership. 'The traditional boss was very strict and detached, but today the younger generation wants a sense of presence, interaction and affinity,' Sze says.
Independent thinkers
Young people today are also independent thinkers who rely on more than just past experience, Sze notes. This also translates into a change in perceptions of loyalty; Sze mentions the fact that Generation Z professionals have a strong tendency to move jobs frequently and are inclined to favour short-termism over long stints with a brand. This, he concedes, presents a challenge.
'The future is theirs,' Sze says. 'We can only be understanding and guide them with our ideas. Of course, we would wish that all new colleagues could develop their career path within Deloitte, but in reality not everyone can work up to the level of partner.'
Nevertheless, laying a solid foundation in accounting and audit early on is, he says, crucial, regardless of career choice. 'Accounting and audit is the central language of the business world and will level up your capabilities in various careers,' Sze points out. 'In any enterprise, financial performance is very much at the centre of business decisions; even for non-profit organisations, one still has to consider financial risks.'
However, a financial mindset doesn't equal to being conservative. 'One can be innovative and discreet at the same time,' he says, 'The key is to have the courage to push boundaries and embrace changes.'
To nurture employees, Sze has undertaken a number of initiatives. 'As a leader responsible for a team of over 4,000, I need to take care of them to help them understand the company's development and how they can bring in values,' he says.
'I want to do something different so that they can know the company is different,' he adds. A spacious workplace café, where staff can hold discussions and relax with a cup of coffee and music, was just one of Sze's ideas.
Helping colleagues achieve a healthy work-life balance is also important to Sze. 'We all should have different priorities and time planned out for life as well as for work,' he says. 'One can't work for work's sake.'
Embrace new experiences
Sze arranges periodic meetings with young professionals to share experiences. 'There are always things I can learn from them; recently they showed me how to use the music video platform Tik Tok for self-promotion,' he says. 'The meetings encourage myself and others to think young and promote continuous learning.'
Sze's own early career was led by his willingness to embrace new experiences. Having graduated from Hong Kong University in the 1980s, when very few high school students went on to higher education, he has worked in a wide variety of roles encompassing audit, consulting and corporate finance, and even cofounded a chain of jewellery stores at the age of 26. 'At the time I did not have the burden of a family to support, so I thought: "Why not go ahead and give it a try?"' he says. 'If that path does not fit, then you make a U-turn.'
The native of Hong Kong made his first visit to mainland China in 1991 while working as a senior manager for Thai conglomerate Charoen Pokphand Group. He was asked to stay on in Shanghai as managing director for a joint venture. Back then, mainland China was a challenging place to work; Sze recalls Shanghai's shops and restaurants closing before 6pm, when the city turned dark due to a shortage of electricity.
'It was not an opportunity I would have asked for, but I thought I should grasp the chance and respond positively,' he recalls, adding that throughout his career he has taken a strategic approach. 'It's not about taking all the opportunities that you see,' he explains. 'One has to think first about the capabilities and ideas you can contribute to the market and the role it can play in your career.'
His next move, in 1994, was to Arthur Andersen China's business consulting department, where he spent eight years in the frontline of the emergence of management consulting in mainland China. With clients ranging from chemical enterprise to pharmaceuticals, and consulting fields from operation strategy to asset appraisal, Sze says he valued opportunities to learn new things and help as many companies as possible.
Throughout his career, Sze has drawn on the solid foundations provided by his ACCA training. 'The ACCA Qualification serves as an all-round test of hands-on practice in financial management. The qualification was a career milestone; from then on, I couldn't dodge challenges any more,' he says, adding that he has continued to learn, earning an MBA and, recently, a doctorate in business administration.
Sze's passion for finance extends beyond his day job through his role as a visiting lecturer at the Chinese Academy of Governance, a training institution for middle and senior government officials. He has also advised various government bodies including the central and municipal watchdogs of state-owned enterprises and the State Committee of the Finance Industry.
Borrowing the name of the hit show about Chinese consultants, The First Half of My Life, Sze says he will devote his second half to passing on his knowledge and leadership know-how to younger peers. 'For a partnership firm, teaching and inheritance is very important,' he says. 'I will be actively involved in such coaching.'
Ultimately, Sze believes, leadership is not just about having a senior job title. 'It's more of an attitude,' he says. 'To be a good leader is to have people follow you, like you and respect you.'
Sarah Dai, journalist
"One can be innovative and discreet at the same time. The key is to have the courage to push boundaries and embrace changes"