Languishing at the bottom of the class on climate action, Ireland desperately needs new strategies and fresh thinking to make 2019 a year of change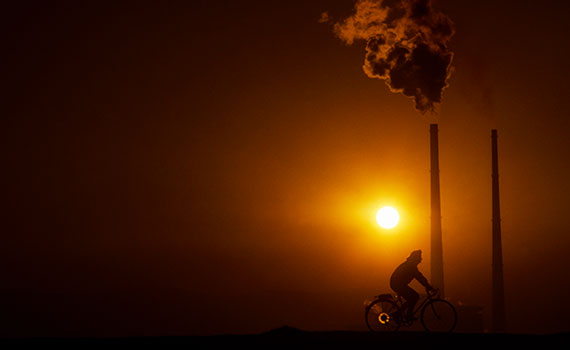 This article was first published in the February/March 2019 Ireland edition of Accounting and Business magazine.
New research on climate change rarely brings good news, but there is at least the hope that it will show movement in the right direction. Not so for Ireland it seems, as a joint report by Germanwatch and the NewClimate Institute published at the end of 2018 confirmed the country to be the EU's worst performer on the Climate Change Performance Index, and 48th out of 56 countries reviewed worldwide.
With the impending threat of significant fines from the EU if the country fails to take action on greenhouse gas emissions (GHG) by 2020, will 2019 be the year Ireland finally gets serious about one of the biggest issues facing the planet, and how businesses can support this process?
The evidence so far is mixed. While Taoiseach Leo Varadkar says he is not proud of Ireland's position as a climate 'laggard', he also backed the decision not to introduce a carbon tax in Budget 2019, a move greeted by incredulity among environmentalists.
The government can reasonably point to the 'gilet jaunes' protests in France as evidence that carbon taxes are a difficult pill for the public to swallow, but inertia on the issue is seeing patience fray in the EU. Belgian MEP Philippe Lamberts, a member of the Greens/European Free Alliance, spoke for many when he recently accused the government of 'lacking ambition' on climate action in spite of Ireland's 'abundant' renewable energy resources.
As pressure mounts, could a new sense of responsibility from one influential quarter, along with fresh thinking internationally, prove significant in how countries like Ireland improve their emissions performances?
In a 2017 report, UK-based Dr Paul Griffin, energy data analyst at CDP, noted that 'large-scale GHG emissions data has traditionally been collected at the country level. In fact, these emissions can be traced to a smaller group of commercial decision makers.' He argues that 'since 1988, more than half of global industrial GHGs can be traced to just 25 corporate and state producers'.
Around the world, it appears that the energy sector is finally waking up to its onerous responsibilities, driven by a combination of evolving corporate thinking and more strident shareholder demands. In December, Royal Dutch Shell announced it would set specific and robust net carbon footprint targets for its global business in the decades ahead and link them to executive remuneration. Earlier in the year, its US peer ExxonMobil announced its first company-wide targets to cut emissions by 2020. Along with BP and Total, both have also signed up to 'guiding principles' to cut methane emissions.
It's a pattern of behaviour that isn't just in evidence among energy producers. According to Jeff Nesbitt, author of This is the Way the World Ends, 'more business leaders are recognising that climate change is indeed a real threat, and many are leading the way in making it a priority in business decisions'. A former director of public affairs at the US National Science Foundation, he argues that a pragmatic three-pronged approach is needed for businesses to drive real change: make climate action part of their business; support carbon taxes; and turn to renewable energy.
The desire to do the right thing won't be the only force driving a change in corporate thinking. ExxonMobil ended the year facing a lawsuit from the office of the New York Attorney General alleging the company 'systematically and repeatedly' defrauded investors about the financial risks it faces from climate change regulations. It's one of a range of lawsuits being filed against energy companies in the US by local governments, many centred on ensuring providers contribute to the cost of the infrastructure needed to guard against climate change in the years ahead.
In Europe, major cities are also increasingly taking the lead over more cautious national governments. Paris and Stockholm are among the capitals that have announced plans to be effectively carbon neutral by the middle of the century, while according to Nicolette Bartlett, director of climate change at CDP, 'in the UK, more than 90 cities and local authorities have committed to shift to 100% clean energy by 2050'. Against such targets, businesses will need to do much more than simply pay lip service.
Time to lead
Tomás Sercovich, CEO, Business in the Community Ireland, says: 'The opportunity is now for Irish business to take the lead on climate action, which would be a significant step towards Ireland meeting the global carbon emission targets set in the Paris agreement'.
Encouragingly, it isn't just big businesses or major urban areas that are showing leadership. Agriculture forms a significant component of Ireland's emissions profile (32.5% compared to an EU average of 10%). In 2012, Bord Bia, the Irish Food Board, launched Origin Green, a voluntary, industry-wide programme that requires every participant to set and achieve measurable improvements in their energy and emissions performance. The programme has won widespread support from farmers and food manufacturers, driven by one of sustainability's strongest arguments, that reducing resource usage also reduces costs.
Meaningful collaboration between business and policymakers was one of the key recommendations of a recent PwC report on climate change, even if its title expressed frustration with progress to date. The low carbon economy index 2018: Time to get on with it was launched in Ireland last October, with Kim McClenaghan, strategy partner, PwC Ireland, striking an optimistic note for the country's prospects: 'While the challenges are significant, there are indications that Ireland can lead in aspects of the transition,' he said.
It's clear that time is running short for serious action on climate change. As the business community is waking up to its responsibilities, the big question is whether a spirit of real collaboration can guide a serious response to the challenge. Future generations will certainly hold us to account if the answer continues to be no.
Donal Nugent, journalist
"More business leaders are recognising that climate change is a real threat and are making it a priority in business decisions"