Delegates at the recent MIA conference were urged to prepare for the transformation of the finance function through the disruptive power of robotic process automation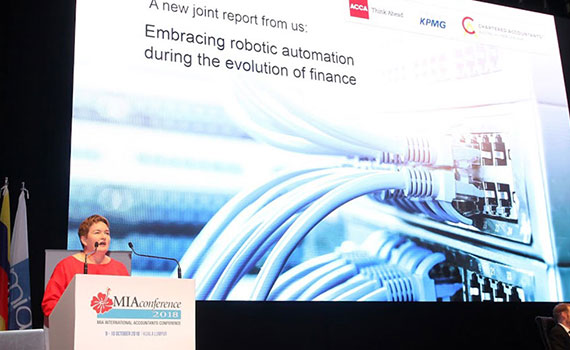 This article was first published in the February/March 2019 Malaysia edition of Accounting and Business magazine.
Disruptive technology is playing a critical role in transforming finance capability at the heart of businesses. Technology is helping companies shape future strategy, manage performance, drive innovation, support more effective risk management and make better decisions.
Speaking to delegates at a plenary session during MIA's International Accountants Conference 2018 in October, ACCA chief executive Helen Brand noted that 'the one thing above anything else that is needed by the business is speed of execution'.
Organisations seeking a competitive advantage have adjusted their strategic priorities to deliver digitisation across the business to enable greater speed to market and data driven insights. And for CFOs, that is a call to arms for finance automation. Automating routine, transactional and repetitive work naturally frees up finance professionals to add value. That is where robotics or RPA (robotics process automation) comes in.
'But perhaps the greater prize is how finance teams start to combine robotics with other emerging smarter technologies,' Brand said. 'ACCA is committed as part of its future research programme to explore these exciting developments such as machine learning and artificial intelligence.'
Brand also highlighted a recent research report, Embracing robotic automation during the evolution of finance, produced by ACCA, its strategic alliance partner, Chartered Accountants Australia and New Zealand, and KPMG in Australia. The report indicates that it is mainly larger organisations that have so far adopted RPA. Adoption is also more significant in finance functions in larger economies, with 74% in the US and 61% in the UK saying that they had RPA activity compared with, for example, 38% in Hong Kong. In Malaysia, there appears to be growing interest in the use of robotics in the finance function as 49% of those surveyed say they have implemented or are trialling RPA. 'So across the world there is plenty of runway left for robotics adoption,' Brand said.
Lessons learned
However, the path to RPA adoption will not necessarily be smooth sailing as ACCA's research revealed a number of challenges and lessons learned from the first implementers. There may be initial concerns from employees about the impact of technology on finance roles, and robots will not improve processes that are already broken. Hence, it is critically important that the talent challenges and upskilling required by RPA are managed properly.
'Automation is definitely not a new agenda – especially for the finance function,' Brand noted. 'The profession is very used to technology adoption. Where, for example, would professional accountants be without spreadsheets?'
Alan Hatfield, ACCA's executive director – strategy and development, who moderated the subsequent panel discussion, said the top three challenges to RPA implementation were employee resistance, combining with other technologies and poor IT legacy systems.
When it comes to adopting RPAs, there must be involvement across the business and it should not be considered as just an IT project, explained panelist Alvin Gan, KPMG Malaysia executive director and head of IT enabled transformation. KPMG is already starting to implement RPA in its financial services space.
'What we are trying to automate is the business. Involvement of business and finance is key to making sure that automation does well,' Gan said, adding that it is vital to arm the CFO with greater insight so that the business can make the right decisions.
All about efficiency
Gan noted that one of the questions often asked is whether RPA adoption will lead to a reduction in staff. 'If your idea to implement RPAs is to reduce staff, then that's the wrong platform,' he said, adding that RPA adoption was about efficiency rather than cutting staff. Companies, he said, have got to go in with the right mindset of investing in RPA to allow the freeing up of employees from low-level work so they can focus on innovation and higher-value activities. This, coupled with the right change management in deploying disruptive technologies like RPA, will in turn lead to a reinvention of the workforce, offering new ways to deploy talent in order to remain relevant in the marketplace.
The key challenge for many organisations is deciding which finance processes are suitable for RPA adoption. For Ray Ng, senior manager at Averis, activities or processes that are rules-based, have high volume transactions and structured data are those that can be automated.
'Going beyond these, I think companies will have to look into the processes to make sure that it is lean, and undertake a review to cut down on all the unnecessary processes and steps,' he said. 'Otherwise, we are not automating something which is effective as the complexity will still be inside.'
Ng added that understanding what RPA is really about is vital in ensuring a successful implementation. 'It's actually a software, and not a robot walking around,' he said, dispelling a popular misconception.
Test runs
There is also a need for understanding the costs of implementing RPA, Ng noted. 'In the first few years, operating expenditure will increase as you have to go through a lot of training and test runs,' he said.
He said another key consideration is the need for staff engagement. Ownership of the RPA project is also very important and getting the right person to start it are among the challenges to overcome. 'For us to implement it, we actually took about six months to promote RPA within the organisation through various activities, townhall meetings and even a slogan-writing competition.'
An audience member asked how a CFO obtains assurances that data generated by robots used in decision-making has integrity and is reliable.
Drawing on KPMG's experience when advising on implementation of RPA, Gan said there must be checkpoints within the process itself to make sure the human team checks and validates information. 'We cannot fully rely on the bot; that's the caution that we put in,' Gan said.
Despite some scare stories of companies reducing headcount due to automation, speakers noted that RPA and cognitive technologies can actually spark new jobs and enhance human skills and expertise. Inevitably, the types of jobs will likely change as we see more and more middle-income routine jobs being replaced by automation. The challenge for companies is to integrate and make the most of both kinds of labour. In other words, the human factor and touch are always going to be present and considered, no matter how advanced automation becomes.
Citing the recent case of Ibrahim Diallo, who was fired by a machine in Los Angeles, Gan asked: 'Can we fully rely on a machine? The answer is no'.
MK Lee, journalist
"If your idea to implement RPAs is to reduce staff, then that's the wrong platform'"