Despite years of austerity in Greece, Dimitris Koutsopoulos FCCA, CEO of Deloitte Greece, remains optimistic about the prospects for business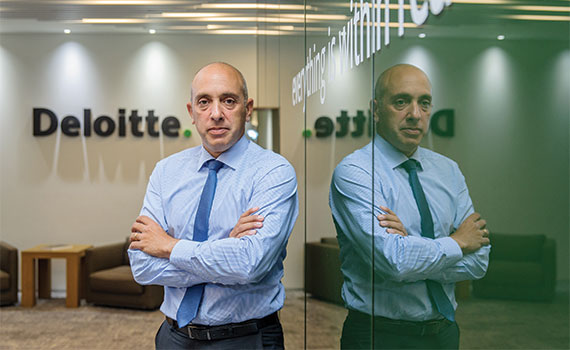 This article was first published in the February/March 2019 International edition of Accounting and Business magazine.
In his office in the northern Athens suburb of Maroussi, Dimitris Koutsopoulos FCCA, CEO of Deloitte Greece, projects an air of being prepared for any challenge – unsurprising perhaps, given the disruptions that have dogged the economy of this southern European nation over the past decade.
Following the 2008 global financial crisis, Greece endured an uncontrolled government debt crisis, requiring three separate bailouts from the European Union and the International Monetary Fund, worth a total of €310bn (US$360bn). In return, the government adopted stringent austerity measures, including severe fiscal consolidation, as well as structural reforms to remedy chronic economic distortions.
Koutsopoulos concedes that it has not been an easy decade. He is under no illusions that Greece's exit from the bailout programmes in August 2018 will herald a period of quiet stability in Greek markets. 'The characteristics of the public administration and market distortions are still causing challenges for our clients, and therefore for our organisation as well,' he says.
Desirable reforms
He lists a number of measures that would help the country move forward. He would, for example, like to see the economic environment become more welcoming to strategic investors and businesses, and the government pruned of excessive bureaucracy. Parts of the public administration could also be more welcoming to major private finance – or at least less hostile. In a country that values sociability and personal relationships, this should be attainable, he says.
Such moves would go a long way towards persuading foreign investors that Greece is a safe place for their money. 'Greece has to convince the markets that it has achieved a return to sustainable growth,' Koutsopoulos says. This in turn should lead to confidence that its current (still high) level of public debt is itself sustainable.
With this in mind, Deloitte Greece recently undertook a joint study with employers' organisation the Hellenic Federation of Enterprises into ways to enhance foreign direct investment. The result is an 'investment acceleration toolkit' of policies, which he hopes might be used by the present left-wing government or future administrations to improve the country's competitiveness.
Foreign investment is only part of the solution, though. 'Greece also has to carry out structural reforms to remedy the causes of the crisis,' Koutsopoulos says, citing some hefty tasks: restructuring the public administration, including the tax and judicial systems; liberalising closed markets; and privatising and restructuring social, pension and health systems. The finance ministry, he says, is also ripe for reform.
'A return to sustainable growth as a result of these reforms will definitely assist Greece in attracting strategic investments,' he says.
A key problem is an outdated financial reporting regime in the public sector. Currently, central government still reports on a modified cash basis. 'There has been discussion of the implementation of International Public Sector Accounting Standards, but that has not happened yet,' Koutsopoulos says. 'Effort needs to be put into the adoption of accrual accounting.'
Current conditions and ongoing changes in the Greek financial, business and banking regulatory framework sparked by the reform process have provided opportunities for Deloitte Greece to add value for its clients. Entities it audits include the country's central bank and two major commercial banks – Piraeus Bank and Alpha Bank. It also provides professional services to the two main retail banks, National Bank of Greece and Eurobank, and the Greek banking association. During the recent financial turbulence, the firm assessed the collateral of Greek banks' non-performing exposures.
Upbeat
Koutsopoulos is excited about the opportunities opening up. 'We are experiencing growth, especially in non-traditional services,' he says, 'and we see further opportunities predominantly on the technology front.'
He himself has thrived during the 20 years he has been at Deloitte Greece. Having joined the audit department in 1998, he has spent his entire professional life at the firm, becoming its youngest partner in 2006 at the age of 33, and rising steadily through senior positions in financial advisory services and consulting to take the CEO position in 2015.
'When I started working here two decades ago, I did not imagine that my career would develop so well within this company,' he says. 'But over the years, opportunities arose within Deloitte Greece that allowed me to accomplish a series of achievements.'
He names one of his proudest achievements as the creation of a cybersecurity team, which has won 23 domestic awards to date for its work. He is also proud of the establishment of Deloitte Alexander Competence Center at Thessaloniki, a centre of development, creative thinking and productivity.
'We visited Thessaloniki's universities and discovered a lot of young people with a thirst for knowledge,' he explains. 'That kind of discovery delights me and gives me hope.'
Entrepreneurial explosion
Another opportunity for the firm that has arisen from the financial and economic crisis is a rise in the number of startups. As people have been laid off from steady jobs, many have turned to entrepreneurship to make ends meet.
The firm has organised events for small businesses looking to scale up their operations and provides services and mentoring to startups. It also equips young entrepreneurs with coaches. 'We stand ready to support efforts, especially by young people, to build new, innovative and outward-looking businesses,' Koutsopoulos says.
Such a broad level of service helps Deloitte thrive in the country, where the audit and accounting market is particularly competitive. Koutsopoulos says that the Big Four firms are less dominant in Greece than in some other developed countries. He believes, though, that reform of the Greek financial reporting and supervisory rules will 'contribute to enhancing public trust in major global networks'.
With Deloitte having a considerable global reputation to protect, such reforms will help the firm maintain the ethical position that is part of its brand and baseline standards. If the firm is ever asked to draw up an aggressive tax minimisation strategy, Koutsopoulos puts ethics firmly on the table. 'As a principle, we advocate the position that a responsible citizen must be prepared to pay a fair tax,' he says.
The same ethical stance is taken at any hint from a client that they might seek to break the law – by engaging in corruption, for example. 'Ethics and compliance are non-negotiable,' Koutsopoulos says.
Maria Panagiotou, journalist in Athens
"The characteristics of the public administration and market distortions are still causing challenges for our clients"