As a professional accountant and amateur cricketer, Nottinghamshire Cricket Club FD Tim Eatherington FCCA is living the dream of a starring career role in his favourite sport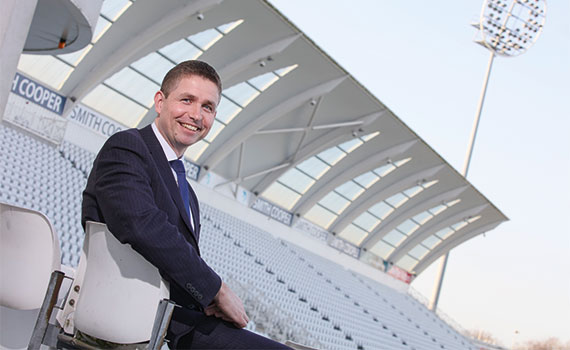 This article was first published in the February/March 2019 Africa edition of Accounting and Business magazine.
When he landed the FD position at Nottinghamshire County Cricket Club in 2014, Tim Eatherington FCCA, now the UK club's director of finance and development, must have felt like he'd just hit a match-winning six.
'I love sport and cricket, and I'm Nottingham born and bred,' he says. 'I'm very much an amateur cricketer and a professional finance person. So when the opportunity came up here, I didn't hesitate.' The club was established in 1838, and since his appointment five years ago Eatherington has enjoyed 'helping such a historical organisation find its way in the modern world'.
This is an interesting time for UK cricket. The new form of the domestic competition starting in 2020 is 'set to rival all of the best competitions on the global stage', Eatherington says. More money is also coming into the game from the sale of broadcasting rights. The England and Wales Cricket Board (ECB) has signed a £1.1bn (US$1.4bn) deal with Sky and the BBC for five years starting in 2020.
'The ECB has a responsibility to apportion elements of that money back to the game, back to the grass roots,' Eatherington says. 'The ECB has been in consultation with all the first-class counties. We've all been on various working parties looking at where we should be investing money.' Women's and girls' cricket are likely beneficiaries.
'We know we've got significant money coming to us from 2020 onwards, so we have choices to make,' he adds. 'There's a lot of project appraisal going on. Is the money best spent on a revised pavilion? Better changing facilities? Membership facilities?' The club has already invested in its Trent Bridge ground, developing a new media centre with a hospitality facility, which is expected to open by the end of March 2019.
While the ECB funding is important, around half the club's income comes from international games, which are awarded by the ECB following a competitive tender process.
'We presented in London in January 2018 and in early 2018 got our award, covering games from 2020 to 2024,' Eatherington says. 'From a business point of view, we're quite fortunate in that, in terms of the big chunks of our income streams, I could probably write them down today and tell you what they will be. They are relatively predictable. If it's an India Test match starting on a Thursday, we know what the ticket price will be and the appetite for tickets.'
Revenues may be predictable, but there is still volatility year to year. For example, for the year ending September 2017, the club reported a pre-tax profit of £279,000 (US$350,000), after a pre-tax loss of £741,000 (US$931,000) in 2016 and a profit in 2015 of £1.18m (US$1.48m). The key differentiating factor between the years? Trent Bridge did not host a Test match in 2016.
The guaranteed sell-out
Such fluctuations aren't necessarily a problem, just a fact of county cricket life. 'If during a four-year cycle our average surplus is at an acceptable level, the movements within it are less important,' Eatherington says. 'In 2016 there was no Test match, so that was a large proportion of income we couldn't replace. In 2015, when we had our record surplus, we had an Ashes Test – that's your guaranteed sell-out, at premium prices.'
The financials for 2018 will be strong again, helped by a Test match against India, which sold well. Test matches traditionally sell out at the Trent Bridge ground, which has a capacity of 17,000.
County games are another matter. 'We're more likely to have hundreds,' Eatherington says. However, one-day domestic cup competitions will attract higher numbers – 3,000 to 4,000, and significantly more for the T20 Blast. 'We have the highest average attendance outside of London for that,' he says.
The road to Trent Bridge
Eatherington's financial services course at Nottingham Trent University included a placement at Midland HR (now rebranded as MHR), a software group based in Nottingham. When Eatherington graduated, the then FD recruited him full-time and he spent 11 years moving into ever more senior roles in various group companies, gaining his ACCA Qualification along the way. 'I pinged up the ladder, from management accounts to finance manager to FD designate to FD and ultimately MD,' he says. He then moved to a fresh produce supplier in Lincolnshire, before spotting the FD vacancy at Nottinghamshire County Cricket Club.
Having joined the club as a pure FD, Eatherington subsequently took on responsibility for cricket development. 'If people aren't playing it, they're probably not watching it, and we're not going to get the players we need in future,' he says. He is also now a trustee of the Trent Bridge Community Sports Trust and recently took on responsibility for the club's heritage.
He advises accountants not to feel confined by their sector experience. 'I've worked in a software house, a carrot-packing factory and an international cricket ground,' he says. 'They're all different, but ultimately they're all trying to make a really strong product, with good quality and a good price. If you're a finance professional, you can apply your knowledge to anything.'
Sarah Perrin, journalist