Big Concerts CFO Jonathan Murphy ACCA has helped transition a family-run business into the successful South African subsidiary of a US corporate heavyweight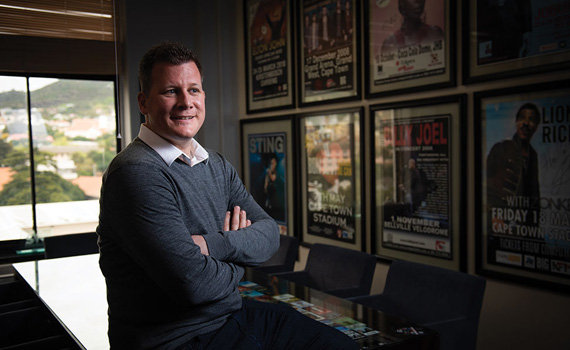 This article was first published in the April 2019 Africa edition of Accounting and Business magazine.
Jonathan Murphy's first foray into business was in high school, selling ice-creams from the back of a truck on the sea front in Cape Town. With a friend, he sold King Cones and Magnums over the summer holidays, pocketing a tidy profit.
'We had to get a permit from the local police station to sell on the beach,' says Murphy. 'We were responsible for stocking, cashing up and all the rest of it, just between the two of us out of the back of a truck. That was my first real experience of keeping accounting records. We were really successful as well – there were profits which we shared, so that was great.'
This early show of initiative would go on to propel Murphy into a finance career that has spanned the globe, bolstered by an advanced diploma in accounting and business and the ACCA Qualification, which he completed over seven years. 'I wrote exams in London, Cape Town and Valetta in Malta, which highlights just how global and transferable the ACCA Qualification is,' he notes. Now aged 38, he is CFO at Big Concerts – South Africa's leading live entertainment company, which has promoted artists including Lionel Ritchie, Pink and John Legend. Murphy was appointed following the company's January 2016 acquisition by Live Nation Entertainment, the US events promoter and venue operator listed on the New York Stock Exchange.
Corporate transformation
Moving to Big Concerts, Murphy was thrown in at the deep end, charged with helping change the company from a family-run business to the South African arm of a US$10bn US-listed corporate.
Speaking at the Big Concerts HQ in Cape Town, where the boardroom is lined with posters of artists staged by the company, Murphy sketches a colourful picture of an international career journey that has seen him rack up an impressive number of air miles. Beaming and with one hand wrapped around a coffee mug, he lightly laments his long working hours, then relays the thrills of tackling challenges in different business sectors across borders.
Back in the early Noughties, he honed his skills in women's fashion retail at a small UK firm called East, based in London. He worked his way up from junior accounts assistant to management accountant before taking the leap into the corporate sector at French utility consortium EDF Energy, where he became a management reporting accountant. 'I went from what was essentially a small, family-type business to EDF, a huge corporate with about 13,000 employees in the UK,' he says. 'Obviously all the corporate reporting had to go back to France, so it was really interesting to be in that centralised position, coordinating and pulling data from all these different sources within the group.'
Premium position
On returning to Cape Town he joined Steenberg Accounting Services, a provider of consulting services to luxury goods businesses in Africa, as a financial manager. His territory was Angola, where he looked after companies distributing alcohol and premium brands. 'I spent a lot of time in Luanda in Angola, which had recently emerged from a civil war and was starting to develop as an oil-producing nation,' he says. 'We were starting to see funds flow through the country, with growing demand for certain consumer goods and services. For example, I looked after a company called Rouge, which was the first chain to start importing premium brands into Angola – Calvin Klein, Issey Miyake, Estée Lauder, and the like.'
Remaining with the same parent company, Murphy then assumed the post of financial manager at Lighthouse Foods. This required a move to Valletta in Malta, while continuing trade operations in Angola, this time focusing on frozen foods. 'That was frozen fish, frozen meats, fruit and vegetables, which we procured from around the world and shipped into Angola,' he explains. 'My job was producing financials in Angola so that we could remain compliant with the authorities, pay tax locally, report to shareholders, and so on.'
Eventually, the pull of Cape Town lured Murphy back to South Africa, and he became head of finance at Travel with Lia, a business unit at South African media company 24.com. In 2016, following Live Nation's acquisition of Big Concerts, he stepped into the CFO role at the music promoter, where he now leads a finance team of four.
New broom
'Live Nation obviously has the majority stake, and it is a US-listed business, so with that comes all the compliance, all the regulatory issues, and a very, very strong set of internal controls that needed to be fairly quickly implemented,' he says. 'There were good controls in place already, but they needed to be better. It's never easy coming in as the new face, and if you're bulldozing 29 years' worth of processes and pushing them out the door, that needs to be managed quite carefully.'
In August 2017, the company passed a full internal audit. 'It went well,' Murphy says. 'Everybody was very happy. There were a few points that could be improved on, the odd thing here and there, but there were no major findings that needed correcting.'
He goes on to explain that significant financial modelling is required for offers to artists: the calculations are based on the venues to be played, the number of people expected to attend, plus estimates on the artist's guarantee. Each tour is a mini-project in itself, with deals that need to be structured, leading to a back and forth negotiation with artists' accounting teams or representatives.
Murphy's present challenges include exchange rate volatility, especially with the South African rand rollercoastering as a result of political and economic uncertainties. 'We often work up to a year in advance, in terms of signing artist contracts and agreeing show dates,' he says. 'With exchange rate volatility, things can change a lot. We forward-hedge where we can, but it's a real risk.'
Asking what else keeps him awake at night earns a wry smile. 'The weather,' he says. Unexpected rain storms in South Africa can force the cancellation of shows at open-air venues, prompting ticket refunds and insurance claims. In the wake of the catastrophic drought in the country last year, this may seem a far-off dream, but it has happened.
'Insane downpours'
'We had UB40 in South Africa in 2016,' Murphy recalls. 'They were due to play an outdoor show at the Durban Botanic Gardens, starting at 8pm. During the day the city was soaked in the most insane torrential downpours, thunderstorms. We were really worried we wouldn't be able to go ahead with the show. The guys on the ground in Durban were sending me storm reports every 30 minutes, while I was on the phone with the insurers, giving them half-hour updates. As it turned out the storm came and went just in the nick of time. We managed to delay the start by an hour, so we didn't have to cancel. That obviously saved a whole lot of headaches, but it was very stressful all the same.'
For success in finance – and particularly as a CFO – Murphy stresses the importance of relationships. 'If you want to work in finance – and in particular if you want to work in a CFO role – you should not expect to be desk-bound. It's not just about number crunching. You need to be able to move around, talk to different departments, talk to different people. You really become the company's central hub, as finance has input into every other department one way or another. You also spend a lot of time talking to people external to the company, whether that's auditors, banks, artists, insurers or legal departments.'
Murphy concludes that his ACCA Qualification has stood him in good stead, opening doors for him in the business world. 'In South Africa and internationally, wherever I've been it has been widely respected and well known,' he says. 'Seeing the way the qualification has developed, keeping up with changes in the sector, changes around the globe, keeping relevant – that is also really, really positive from my point of view.'
No doubt South African fans can expect more stellar musical performances in the future. Meanwhile, Murphy intends to continue to seek to unlock value for shareholders.
Biénne Huisman, journalist in Cape Town
"It's never easy coming in as the new face – if you're bulldozing 29 years' worth of processes, that needs to be managed quite carefully"