Launched last October, wavespace Singapore is part of EY's global network of centres aimed at helping clients to harness the power of emerging technologies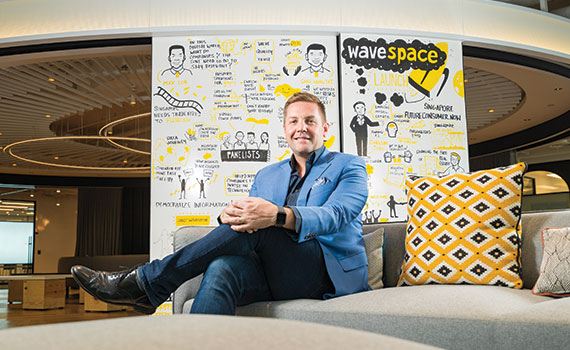 This article was first published in the May 2019 China edition of Accounting and Business magazine.
As the challenges facing businesses become increasingly complex in an age of technologial disruption, traditional consulting models are rapidly becoming obsolete. Step forward EY wavespace™, the Big Four firm's global growth and innovation network.
Launched in October 2018, EY wavespace in Singapore is one of six centres in the Asia-Pacific region and the first such facility to be established in an ASEAN country.
'Singapore is one of the six centres that we've launched in Asia Pacific within the last quarter of 2018,' says Jonathan Rees, the digital leader for EY's advisory business across ASEAN. 'It was a response to companies trying to get to grips with all the uncertainty in the world, whether that's around massive technology change or geopolitical or economic uncertainty.'
The idea behind wavespace is, Rees says, 'to create an environment where we are able to bring the best of EY to collaborate with our clients around the really tricky problems of innovation and growth.'
While all of the wavespace centres share a similar methodology, individually they focus on specific growth strategies and technologies that are relevant to the region. In Singapore, for example, intelligent automation is a current topic that is resonating strongly with clients from across all sectors.
'We are seeing a lot of demand from clients, from basic robotic process automation all the way through to more cognitive solutions, such as machine-learning blockchain and artificial intelligence,' Rees says. 'We've had over 100 client events, many of which have revolved around the topic of intelligent automation.'
The real beauty of the wavespace network is that clients are not limited to the expertise of their regional or local office. While each centre may have a focus area that they can go deep into, such as intelligent automation in Singapore or analytics in Sydney, clients have access to assets that are being produced across the globe. 'We now have a catalogue of thousands of different demonstrations of different tools that we can leverage to support conversations with the clients,' Rees says.
Ambiguous questions
Nevertheless, Rees is quick to add that due to the nature of emerging technologies, these focus areas were expected to change over time. In fact, he says that some of the best challenges that are suited to a platform like wavespace are those with ambiguous questions that have no clear answer at the onset.
Rees shares a recent example of a real estate company that approached EY with a mandate from its board to adopt digital but without knowing where to start. 'That's a fantastic question for us because we can bring sector expertise around that specific industry as well as business strategists, technologists and designers to help them work through that,' Rees says.
At the other end of the spectrum, however, Rees says that wavespace can also support clients who have specific issues, by helping them go from 'concept to code' in a fraction of the time it would have previously taken with traditional work processes.
Rees describes a case where they placed a team of designers and coders in discussions about strategic challenges relating to the client's company, before returning to the design lab to start building tangible assets.
'By the end of two days, we had four proof of concepts that the client could take away to their executive team for endorsement,' Rees explains. 'We had also built a mock-up customer portal, a chatbot and a smart facilities management bin. This is how we bring technology to life for our clients and also debunk some of the myths around the complexity of delivery of some of the technology.'
Fully integrated
One of EY's key philosophies for managing emerging technologies is that it is an all-of-business issue. Accordingly, EY wavespace has been designed to be integrated into all of the different service lines, rather than as a separate digital business.
'We believe that the impact of digital technology on a business could result in significant tax implications, or could require advice around the legal and regulatory environment, or could face cybersecurity concerns,' Rees says. 'So just putting digital in a specific corner of advisory really wouldn't address the fact that we have to look at it from every angle.'
In terms of keeping wavespace at the cutting edge, Rees recognises that while it is almost impossible to keep up with every single form of technology, there are nevertheless some core skills such as user experience design that remain relevant across them all.
'I think the ability to think about the user experience is a skill set that is relevant for content management systems, blockchain and artificial intelligence,' he says.
Furthermore, as an advocate for continual learning, wavespace conducts weekly 'lunch-and-learn' sessions centred around emergent technology and other specific functional areas.
Passionate about tech
One of the most crucial factors for success is, says Rees, having staff that are passionate about tech. 'I don't think you would enjoy a career working in wavespace or around emerging tech and digital unless it's something you're passionate about to begin with,' he says. 'We are fortunate that we have talented young team members who live and breathe digital, particularly in this emerging tech arena.'
Wavespace Singapore has already started to host a number of companies from Malaysia and Vietnam, indicating signs of interest in the region. For the time being, however, he is carefully studying the learnings from Singapore to think about where and how further investments and expansions can be made to the wavespace network.
'We need to look at whether we produce more flagship centres like this which have a full capability, or whether we do a smaller scale version in smaller markets,' he says. 'It's a significant investment, so you need to make sure that there's enough demand in the market to warrant it. This was a great place to start, but no doubt we'll expand beyond Singapore in the next few years.'
Rufus Tan, journalist
"Just putting digital in a specific corner of advisory really wouldn't address the fact that we have to look at it from every angle"