Ireland's boom years have been followed by a sharp drop in house prices, leaving many homeowners seeking a way out of the substantial arrears now building up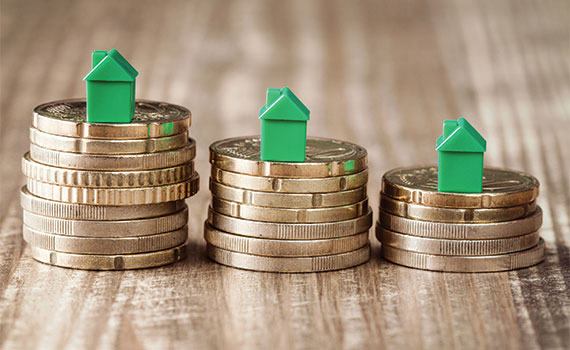 This article was first published in the May 2019 Ireland edition of Accounting and Business magazine.
Ireland's financial strength may be steadily improving, but the scale of mortgage debt continues to limit the economy's expansion. Around 64,500 homeowners in Ireland are in mortgage arrears, according to the Central Bank's latest statistics, of which 28,000 have been more than 90 days behind in payments for over two years. This represents a long-term debt of €9.3bn.
About 114,000 mortgage loans have so far been restructured. The most common restructuring has been through 'arrears capitalisation', an arrangement for arrears to be added to the remaining principal balance for repayment over the life of the mortgage. About 80% of restructured mortgages were no longer in arrears when the latest statistics were compiled last September, but this leaves a significant number of borrowers failing to meet even those restructured and easier terms. 'Inability to meet the terms of the arrangement implies that the restructure agreement put in place may not have been suitable,' observed the Central Bank.
More than 500 legal proceedings were launched by lenders in one quarter of last year. That rate of legal proceedings seems to be about to accelerate, as the most hardcore non-performing loans have been sold to non-bank lenders, who are likely to be more aggressive in debt recovery. Until now, the rate of repossessions has been low as a proportion of debt enforcement cases being brought before the courts, FLAC (Free Legal Advice Centres) has observed.
That, however, may be about to change. Ed Honohan, master of the High Court in Dublin, where many of the enforcement cases were heard, has been criticised by some as too sympathetic to debtors, not least because of his view expressed on national radio that Taoiseach Leo Varadkar's advice to those in homes to opt for a mortgage-to-rent solution was a 'sick joke'. Honohan was recently removed by the president of the High Court, Peter Kelly, from automatically hearing debt cases, which will instead be directly assigned to other High Court judges.
Honohan became popular with debt campaigners last year when he authored the National Housing Co-operative and Fair Mortgage Bill, which would have strengthened arrangements for free legal and financial advice to those in debt, provided broader mortgage-to-rent solutions to those in debt and established a new national housing co-operative with powers to acquire, manage, rent or sell distressed mortgages, enabling borrowers to become tenants of the co-operative. There is now little prospect for the proposed co-operative scheme making progress. A petition to have Honohan returned to his previous role quickly gained more than 3,500 signatures, but is unlikely to be successful.
Clients in difficulty
Many accountants in practice are now dealing with clients in difficulty. Tom Murray FCCA is one of Ireland's leading insolvency practitioners, a partner at Friel Stafford and a former president of ACCA Ireland. He explains: 'There is still a significant amount of issues pertaining to mortgage debt. A lid is somehow being kept on it due to low interest rates and a strong economy. Any impact on interest rates or the slowdown of the economy into a recession will crystallise these issues and practitioners could see a volume of clients being affected.
'It is also affecting [company] debts,' says Murray, 'as when lending to businesses banks look at the debt profile of the individuals behind the company. They want to make sure that they are aware of all pressure points that may have an impact on the ability of the company to repay the debt. If the principles are heavily indebted, they may be forced to draw heavily on the company's resources to pay those personal debts, or they could be distracted from the business by personal financial issues. This could impact on a company's ability to raise monies.'
In some circumstances, clients are curtailed from starting over until they deal with historical debts, adds Murray. 'Sometimes clients need to grasp the nettle and deal with debt through personal insolvency or bankruptcy if informal negotiations with the bank do not work.'
Accountants in debt
But even professional accountants can have serious personal debt problems that must be addressed. 'Like any cross-section of society, a significant percentage of accountants in practice have mortgage debt, which is problematic,' Murray points out. 'If they have not dealt honestly and responsibly with their debt, it may be an issue for their continuing membership and/or practising certificate. If the debt is genuine and not relating to the practice – and they are upfront and transparent with ACCA – ACCA is fair with regard to the practising certificate and continuing membership. If the mortgage debt spills over into affecting the practice and, for example, significant revenue debt builds up, this could be an issue for ACCA if the practitioner cannot show that they acted honestly and responsibly.'
Paul Gosling, journalist
"Sometimes clients need to grasp the nettle and deal with debt through personal insolvency or bankruptcy"