The European Union must add data analytics and forensics to the basics to penetrate the murky world of financial crime within EU institutions and drive out fraud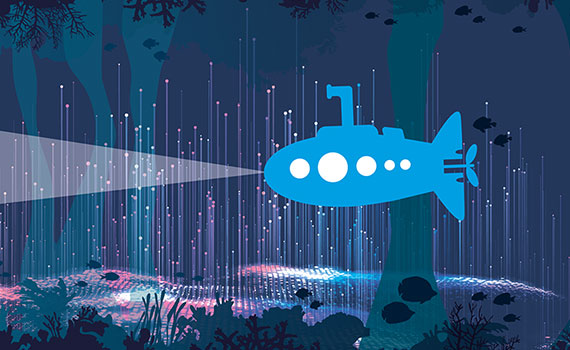 This article was first published in the May 2019 International edition of Accounting and Business magazine.
The cost of fraud to EU spending programmes and revenue collection is eye-wateringly high. Between 2002 and 2017, it amounted to more than €9bn (US$10bn), according to a report by the Organized Crime and Corruption Reporting Project (OCCRP), published in January. And new European Commission statistical analysis on financial crime shows, for example, that fraud cases involving €10,000 (US$11,200) or more in lost import duties deprived EU coffers of €76m (US$85m) during 2017, while spending programmes lost a total of €59.8m (US$67m) to fraud in the same year.
High levels of reported fraud are nothing new, as a damning recent report from the EU's financial watchdog, the European Court of Auditors (ECA), points out. The report, Fighting fraud in EU spending: action needed, proposes reforms to EU anti-fraud policy and the European Anti-Fraud Office (Olaf), including the development of statistical fraud risk indicators for systematically assessing the EU's books and identifying transactions that may have been impacted by fraud, and which could be the subject of investigation (see also box opposite).
Rudy Hoskens, partner at PwC Belgium, is sympathetic to these ideas and believes forensic accountants could be of value in performing a first assessment of allegations of fraud sent to Olaf. They could filter out the 'more material cases' that should be further explored by Olaf's anti-fraud experts. 'Forensic services can help screen information and accounts, and identify anomalies not flagged during regular audits,' he says. They can provide 'more in-depth analyses of key areas that may go undetected but actually present a significant fraud risk', including, for example, instances of management override and reclassification of accounts.
Hoskens adds that forensic data analytics could help international organisations detect anomalies in procurement processes, flagging, for example, the systematic award of funds to a particular competitor.
Tech role
New technology has a growing part to play in support of forensics. 'In these days of big data, Olaf should be making use of the EU's computerised systems as the first line of defence in the fight against fraud,' says Adam Stronach, head of forensic accounting at Harwood Hutton UK and current chairman of the Network of Independent Forensic Accountants. 'Migration to financial systems with machine learning capabilities backed up with artificial intelligence is a must,' he says. 'Olaf could then deploy forensic data mining techniques to look for patterns in the EU's financial systems that are indicative of fraud or control weaknesses.'
That said, the EU needs to get the fraud fight basics right first. Stronach emphasises that the bloc's financial controllers need to be better at detecting the behavioural 'red flags' that are shown by 85% of fraudsters, according to the 2018 Report to the Nations on Occupational Fraud and Abuse from the Association of Certified Fraud Examiners (ACFE). The basics include the application of physical, arithmetic and accounting controls and the better segregation and defining of anti-fraud tasks such as supervision. 'When one control or combination of controls isn't applied properly or just doesn't exist, problems can arise,' Stronach says.
ACFE member Hugh Penri-Williams agrees that forensic accountants must be involved in such preventive work, and adds that they should have access to 'big data, artificial intelligence and machine learning'. At present, he says, they are too often called in only at the investigation stage – 'after the horse has bolted', so to speak.
'Fraud is best fought on the front line,' he explains – within the organisation itself. With the initial detection of most occupational fraud coming from tip-offs (40%, according to the ACFE report), a reward scheme for whistleblowers alerting the authorities to public sector contract fraud could be worthwhile.
And the EU needs all the help it can get. Penri-Williams dubs it 'a juicy target for fraudsters – like any multinational, multilayered, distributed responsibility organisation'.
Its cultural diversity is its biggest weakness when it comes to financial controls, according to Stronach, with political disputes and divided loyalties undermining financial rigour. Notably, the primary enforcement of anti-fraud legislation in the EU is undertaken by member states, which may turn a blind eye to local financial malfeasance as a mechanism for capturing a bigger national slice of the EU funding pie. Stronach believes that more harmonisation of EU fraud rules is essential. 'There can be no room for local interpretation,' he says. 'The tone must be set at the top of EU institutions.'
Designed to bolster the anti-fraud defences is the new European Public Prosecutor's Office (Eppo), which will be endowed with powers to prosecute financial crime in 22 EU member states from 2021. Stronach is sceptical about Eppo, because not all EU member states will come within its remit – it will not be able to launch prosecutions in Denmark, Hungary, Ireland, Poland, Sweden or the UK (whether or not it remains in the EU). 'These are the countries I would therefore concentrate on if I were a fraudster,' Penri-Williams says.
Olaf director-general Ville Itälä, however, believes Eppo is a step forward, because it has the power to prosecute criminals directly – something his organisation cannot do, being permitted only to investigate and refer cases to member states' national law enforcement agencies.
However, Olaf will be able to supply evidence to Eppo. It already collects digital data, mainly forensically acquired copies of hard drives, workstations and servers. 'Good cooperation between Olaf and Eppo should lead to a larger number of successful convictions and a better recovery of defrauded funds,' Itälä predicts.
He is keen that accountants should share information with his office if they suspect fraud with EU funds, which they can do anonymously. This could prove especially helpful in monitoring complex EU international public procurement exercises, boosting prevention and early detection of potential fraud and irregularities.
Itälä would also like member states to give Olaf more power. In some countries its investigations are impeded or delayed by what he calls 'burdensome national legislations'. It would help, he says, if information access rules were harmonised to allow Olaf to enter premises and seize documents without the owner's consent, for instance. An effective EU anti-fraud regime clearly has some substantial barriers still to overcome.
Liz Newmark, journalist in Brussels
"Migration to financial systems with machine learning capabilities backed up with artificial intelligence is a must"