City of Mississauga CFO Gary Kent ACCA chalks up his rise through the Canadian public sector ranks to his UK privatisation experience – and his accountancy training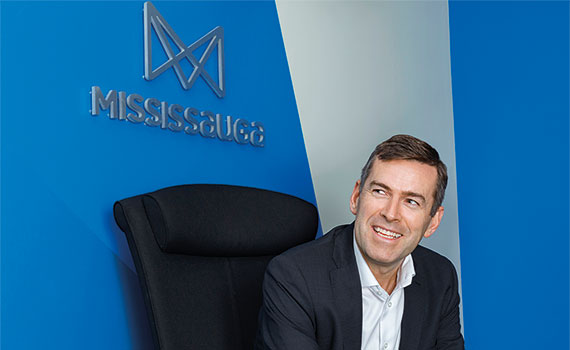 This article was first published in the May 2019 International edition of Accounting and Business magazine.
When Gary Kent ACCA graduated from Glasgow Caledonian University in Scotland with a degree in accountancy, little did he know that most of his career would be spent on the other side of the Atlantic in North America. His decision to emigrate to Canada in 1995 was not the consequence of a lack of opportunity in the UK, but a quest for something new.
'My wife and I loved the UK and we had two great jobs, but we always had a sense of adventure. We visited family in Canada, and the country just seemed fresh, young and exciting, so we decided to apply to move there, if Canada would have us,' he says.
On arrival in Mississauga, Canada's sixth biggest city, he expected to face an extended job search. But after just a week, his very first interview landed him a post as a management consultant, the first in a succession of roles in local government. More than two decades later, he has risen through the public service ranks at Mississauga, just west of Toronto, to become its commissioner of corporate services and CFO.
So how did a UK national secure a senior public service position? It was all down to the experience he had garnered in the UK public transportation sector during some very turbulent times, he explains – plus the help of ACCA training, which transcends borders.
'When I was in the UK, I had tremendous experience in transit, at a time when it was going through a phase of deregulation and privatisation and, eventually, a management/employee buyout,' Kent says. 'Then there was a period of amalgamation when different companies started to join forces. Some went public and some merged with other publicly listed companies. So at a young age I was able to put together plans to do really quite unusual things.'
Once he and his wife had taken the decision to move to Canada, Kent contacted the Mississauga local government in search of an opening. 'They were looking at the governance of their own transit system,' he recalls. 'It turned out that nobody in Ontario had my experience doing these types of assessments.'
The ACCA edge
What also gave Kent the edge was his ACCA studies and training. 'I didn't realise at the time just how useful the skills I learned would prove in moving abroad. It gave me flexibility not just in terms of being in the private or public sector or location, but in how I could apply my studies in real life, globally.'
His first role was as a management consultant assessing strategic governance options for Mississauga Transit, the local bus company (now called MiWay), and developing a business plan for the entity to operate as an arm's length corporation. But it would be the wide-ranging experience he gained through a further six roles at the City of Mississauga that landed him his current post, with further opportunities ahead.
During his time in local government, Kent has been involved in activities such as co-chairing the update of Mississauga's strategic plan, which involved engaging with 100,000 citizens, as well as multiple continuous improvement projects and strategies, including developing and implementing a long-range financial plan, a people strategy and an IT masterplan.
As commissioner of corporate services and CFO, he speaks highly of his team of seven directors, who provide strategic and integrated services to the public, staff and council. His portfolio includes finance, procurement, IT, HR, communications, legislative services, corporate performance and innovation, and facilities and property management.
'Ultimately, I really focus on three things,' he says. 'Great customer service, value for money for taxpayers, and making sure we've got the right talent and technology in the organisation.'
He cites working with a wide range of people as the most rewarding aspect of his job. 'Being able to collaborate and partner with people and come up with new solutions is really the best thing about my job.'
Time of transformation
In terms of the finance function, Kent explains that over the course of the past two years the systems infrastructure has been rebuilt and the back office transformed. 'We're transforming finance using technology and talent,' he says. 'The driver is unrelenting customer expectations.'
Rebuilding the finance department has involved investing in people as well as technology to achieve the following four goals:
to produce timely and reliable financial information
to establish clearer lines of accountability and responsibility
to create an environment of continuous improvement and career growth
to build a welcoming culture and create trust and confidence in the finance function.
'Through the investments provided by a supportive council, and working with our colleagues in other departments, we decided to embrace [enterprise resource planning suite] SAP, which means we now have greater integration,' Kent says. 'We've got our HR systems and our financial systems on the one platform and we have mobility.
'We have introduced various apps to do simple things like electronic approval or payroll, which we can do from anywhere in the world now. New technology for expenses has given us a stronger digital audit footprint.'
Transformative tech is also key to quality customer service in the public sector, Kent says. 'One of the pillars in our IT masterplan is around data analytics and big data so we can ask the right questions around customer service. We're investing a lot in our customer relationship management so everything is more transparent and in real time. It's very much a 24/7 business compared to where it was even five years ago.'
With the restructuring and the introduction of new technology, Kent and his team have also been able to do things like bring in new revenue streams focused on the community's needs, such as public infrastructure and tourism. 'We could only do that once we had solid financial information and systems that were responsive.'
Kent says that the focus of a public sector CFO is a bit different from that of a private sector CFO. 'In the private sector we talk about the corporation meeting the street every quarter; in local government, we meet the street every day, literally.'
Skills war
As to what keeps him up at night, it's the battle for talent currently raging in Ontario's local government sector. 'For example, the City of Mississauga has 26 directors, and over the past three years 50% of them have changed – that's a big leadership change in any organisation,' he says. 'In the next few years we're going to hit a big peak of retirement, so we'll be losing somewhere between 30% and 40% of our workforce.
'It means that developing people to ensure our businesses can run smoothly in the future is a big part of our overall strategy, and my role specifically.'
Wider initiatives he has been involved in recently include running a 'Smart Cities, Simpler Cities' webinar for the Financial Management Institute using examples from Mississauga, and showcasing good practices in public financial management for an IFAC/ACCA video project. He was also a speaker at ACCA's ninth international public sector conference earlier this year and is a member of its Global Forum for the Public Sector.
'The more you work in the public sector, the more it gets under your skin,' Kent says. 'And because of the scale of the City corporation, I've been lucky enough to have had eight different roles and one great career.'
Ramona Dzinkowski, journalist
"I focus on three things: great customer service, value for money, and the right talent and technology"