An ageing population is posing a social care conundrum for policymakers. A green paper has been two years in the making, but does it offer any solutions?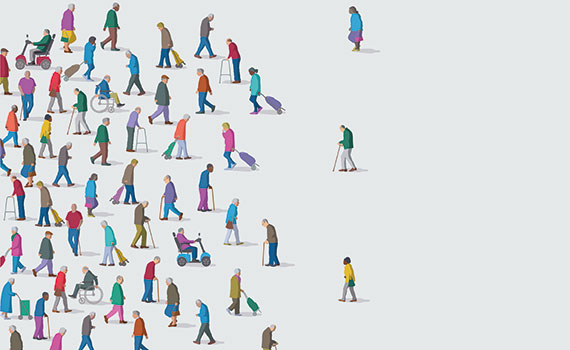 This article was first published in the July/August 2019 UK edition of Accounting and Business magazine.
Social care is a problem in need of a policy fix. But policy is difficult to formulate, as proven by the two years spent waiting for government to produce the latest social care green paper (see box). Much of the costs are borne by local government, whose income has been stripped back by austerity and which has little capacity to cope with existing, let alone expanding, demand.
Analysis in the King's Fund's recent Social care 360 review shows the scale of the challenge. With more adults living into old age, the number of over-75s is set to double in the next 40 years from the current level of 5.3 million. And medical advances enable more people to survive into adulthood with complex conditions that require ongoing social care support, at a high cost to councils. In addition, public discourse on disability and mental ill-health may have increased understanding of, and demand for, support services.
Councils have been forced to restrict service availability, often rationing it so that only the poorest or most assertive receive it, leaving other costs to be met by self-payers. The burden does not fall only on local government; costs are rising for central government too. 'The most obvious example is that the number of carers supported by local government has fallen over the past four years while the number receiving Carer's Allowance, a national benefit, has nearly doubled,' the King's Fund reports.
Damian Green was responsible for social care policy in his previous role as first secretary of state before leaving government at the end of 2017. He has now produced his own radical vision, Fixing the Care Crisis, published by the Centre for Policy Studies. He argues that the current system is financially and politically unsustainable, opaque, unfair and actively discourages councils from investing in social care.
Green concludes that social care should be remodelled in the manner of the pensions system, via what he proposes would be the Universal Care Entitlement. 'This would involve moving from the existing system – in which the state provides care via local authorities – to a nationally funded model, where the state pays this [flat-rate] set amount for each week or month that an elderly person needs support,' he says.
Basic state provision would be topped-up by individual payments, financed from savings or personal housing wealth. State costs could be partly met by taxing the over 65s' winter fuel allowance and imposing a 1% national insurance surcharge on those over 50. Councils would have the incentive to build more care homes and retirement housing.
Councillor Ian Hudspeth, chairman of the Local Government Association's community wellbeing board, gives the report a cautious welcome. He stresses that something must be done: 'The current system of adult social care is at breaking point, and faces a £3.5bn funding gap by 2025 just to maintain existing levels of provision,' he says. 'It is vital the government uses the social care green paper and forthcoming spending review to set out how it plans to tackle this crisis and ensure that there is a sustainable funding solution that can deliver the prevention, care and support that people need.'
Market approach
It looks inevitable that individuals will have to spend more to meet their own care needs in later life. Several insurers are keen to create a market approach, offering policies and building demand.
Steve Ellis, CEO of Legal & General's retail retirement living solutions division, believes that the key is to use money locked up in home ownership. 'Property wealth could have a potentially significant role to play in addressing the care crisis,' he says, 'and the lifetime mortgage market is already well placed to help people unlock the £1 trillion of housing wealth owned by "last-time buyers". This equity can be mobilised to help individuals cover the costs of social care, as well as giving older homeowners the opportunity to remain in their homes and maintain their independence for longer.'
Former pensions minister Steve Webb, who is now director of policy at pensions provider and insurer Royal London, is another developing future options. In the paper Is it time for the care pension?, he argues that people should be able to access their pension fund to buy care insurance.
Webb explains: 'When it comes to paying for care, it will always be the case that the state will pick up those with nothing, and those at the top will simply pay the bills as they arise. But a large group of people in the middle might benefit from an insurance product. Government could help to get such a market going by allowing tax relief on premiums into such a policy. A huge side-effect is that far more work would be done to delay and reduce the need for expensive residential care.
Paul Gosling, journalist
"It is vital the government uses the social care green paper and forthcoming spending review to set out how it plans to tackle this crisis"