The massive investment in Belt and Road infrastructure schemes shows little sign of stalling, with refinancing flexibility enabling project completion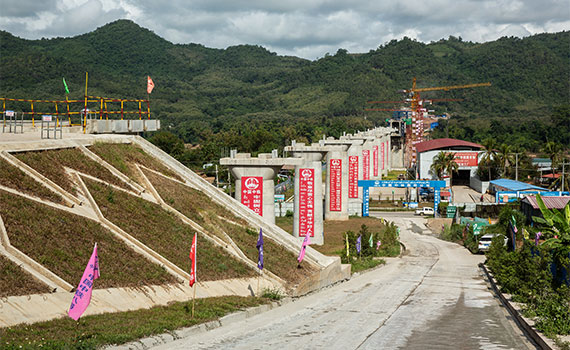 This article was first published in the September 2019 International edition of Accounting and Business magazine.
China's Belt and Road initiative (BRI) has been described as a 'transformative economic project that will reshape the world's geography by linking places that were previously unconnected'. Speaking at the launch earlier this year of a Centre for Economics and Business Research report on the project, From Silk Road to Silicon Road, Douglas McWilliams, CEBR deputy chairman, added: 'It will give a huge boost to the global economy not only through creating new infrastructure, but more importantly by boosting trade.'
The total value of BRI investment is unclear – figures vary from US$1 trillion to US$8 trillion. According to Refinitiv (formerly known as Thomson Reuters), China's pledged investment in BRI schemes totals US$3.67 trillion and covers 2,631 projects. Meanwhile the country's banks are lending US$440bn to BRI schemes.
But concerns have been expressed that BRI loan terms may be unsustainable for some countries. It's an argument advanced by the US – which has a vested interest in trying to undermine China, given the ongoing trade war between the two nations. There has, however, been only one instance to date where China took control of a BRI asset – it now operates Hambantota port in Sri Lanka on a 99-year lease.
Elsewhere, Chinese lenders have been forgiving to debtor nations and institutions unable to repay their BRI debts. The consultancy Rhodium examined 38 BRI loans over the past decade where 24 borrowing nations had difficulty meeting repayments. It found 14 debt write-offs (involving Botswana, Cambodia, Cameroon, Cuba, Ghana, Lesotho, Mozambique, Sudan, Vanuatu and Zimbabwe), 11 repayment deferrals, and various refinancing and debt term changes. In total, about US$50bn of Chinese loans have been renegotiated so far.
Nevertheless, several borrower countries are in difficulty. Pakistan's previous government overcommitted on the BRI's US$62bn China-Pakistan Economic Corridor, leading to the adoption of an austerity budget and an IMF bail-out. The Center for Global Development concluded that another seven BRI recipient countries – Djibouti, Kyrgyzstan, Laos, the Maldives, Mongolia, Montenegro and Tajikistan – are potentially in BRI borrowing-related debt distress.
Rhodium's analysis concludes that debt renegotiations are common in BRI investments, with the most likely outcomes being refinancing or partial or total debt forgiveness. China's leverage in repayment negotiations is limited, says Rhodium, with borrowing countries in the strongest position if they have alternative sources of finance, including the International Monetary Fund (IMF), and access to international capital markets. Changes in government can also be helpful to borrowers seeking to renegotiate arrangements.
Debt assistance
China is very aware that it is under scrutiny. President Xi Jinping and his officials have repeatedly said they do not want debtor nations to be in difficulty. Moreover, domestic economic challenges mean that Chinese banks need to focus more on reducing risk exposure, addressing domestic poverty and cutting pollution. BRI investments accordingly were less last year than in 2017. To assist nations avoid excessive debt, new institutions have been created. The China-IMF Capacity Development Center is being funded by China, as is the International Development Cooperation Agency.
Cambodia has received billions of dollars in aid and investment from China. But its prime minister Hun Sen, speaking at a Future of Asia conference in Japan in May, suggested that reports of a 'debt trap' were overstated. He explained: 'For Cambodia, we maintain our sovereignty in borrowing. We borrowed according to the projects we need, and China respects our decision.' He added that loans from China were at low interest rates and repayable over long terms, making them affordable and sustainable.
At April's Belt and Road summit in Beijing, President Xi made explicit China's commitment to supporting global debt goals and environmental sustainability. IMF managing director Christine Lagarde responded positively, adding: 'History has taught us that, if not managed carefully, infrastructure investments can lead to a problematic increase in debt. I have said before that, to be fully successful, the Belt and Road should only go where it is needed. I would add today that it should only go where it is sustainable in all aspects. Fortunately, the Chinese government is already taking some steps to ensure this is the case. The new debt sustainability framework that will be utilised to evaluate BRI projects is a significant move in the right direction.'

Paul Gosling, journalist

"If not managed carefully, infrastructure investments can lead to a problematic increase in debt"