Troubleshooting and transformation are the name of the game for Donna Wheeler FCCA, FD and CFO at IBM Global Business Services in the UK and Ireland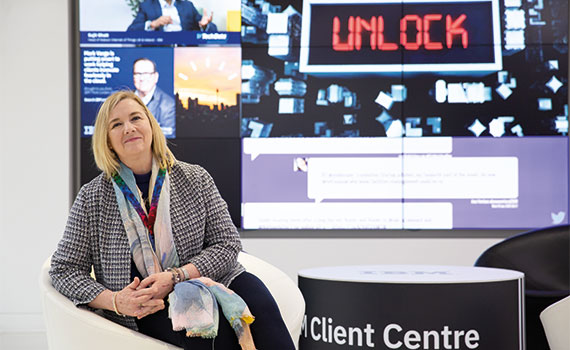 This article was first published in the September 2019 UK edition of Accounting and Business magazine.
No one would be surprised to learn that Donna Wheeler FCCA, FD and CFO of IBM's Global Business Services UK and Ireland, sees the tech behemoth's finance function as offering the business well-controlled processes. These enable Wheeler and her team to deal with IBM's complex bespoke deliveries to its global clients.
What may be surprising – especially for non-accountants – is that the approach Wheeler has to maintaining and enhancing these disciplines can be traced back to a small South African accountancy practice, where she worked while a student. 'I learned so much and found it so interesting,' she says. 'The firm gave me a little job, so I would go there during the week after lectures.'
The only aspect of office life that was automated was a Wang machine that she used to input timesheet data. Starting off in a workplace that had no computers, her hands-on financial education began with T-accounts (debits and credits represented graphically on a piece of paper) and sorting out clients' accounting records – invariably delivered in a cardboard box – to produce the finished financial statements. The way those T-accounts brought forth order out of chaos has never left her.
Eventually, though, she left practice. 'I was hungry for more responsibility and knowledge, and wanted to be at the coalface,' she explains. Her younger self had concluded that her work was backward-looking, and she wanted to be part of carving out the future.
However, she is clear that even today she uses those skills she learned early on, overlaid by the high-level technical knowledge of her ACCA Qualification. 'It does not matter how much you automate or standardise processes,' she points out. 'Understanding the debit and credit is absolutely fundamental to any finance professional's value-add.'
She ensures her own teams, whether ACCA-qualified or not, are well schooled in these fundamentals. 'I have to understand how IBM's sophisticated transactions translate into a general ledger input and output,' she says. 'A debit is going to end up in an account receivable, and someone is going to have to collect that cash.'
Wheeler's biggest driver is to add value. IBM Global Business Services is the professional services arm of the business, providing consulting, machine learning and cloud solutions. She sees her main role as being a trusted business adviser. FDs are few and far between, and Wheeler, who took the job in 2017, is proud of having worked her way up to this position.
It's a commercial and advisory-focused role that involves working closely with the business, helping the general manager and the leadership team understand the risks as they take difficult decisions to turn commercial actions into profit. 'When I am doing that I feel the most relevant, and I love to bring people with me to do that.'
The troubleshooter

Over the years, troubleshooting and transformation have been her key skills. 'People ask me to come into their part of IBM, and when I leave they acknowledge I have transformed their business, leaving them in a much better state than when I found them,' she explains. 'I bring structure, and I build organisational capability in a controlled fashion. I choose every person in the team for the job that needs to be done.'
She also builds teams to support her quest for relevance. Based across various European finance service centres including the UK business, she describes them as 'cross-cultural, dynamic and geographically diverse, and commercially aware and well informed about the business'.
And that business is – according to one description Wheeler heard recently – a 108-year-old startup. 'We keep reinventing ourselves,' she says. 'We've evolved from a company that instructs machines and software to working in a cloud and cognitive environment. We use these technologies to drive our own thinking and decision-making.'
Partnering with other companies, the business helps others to exploit all forms of data, structured and unstructured (such as speech and vision). Wheeler says: 'Data is the most powerful asset for competitive advantage, and IBM is harnessing this asset through robotics, artificial intelligence, blockchain and the internet of things via cloud technology.'
In this emerging world, Wheeler suggests that it is becoming the responsibility of the CFO to ensure that the rest of the C-suite and the boardroom understand the meaning and potential of data and to guide colleagues in its use. She says: 'This includes using data tools for risk management, scenario planning, pushing operational excellence, robotic process automation, predictive analysis to drive business insight, streamlining and cost-effectiveness.'
For her the role of the CFO will become more important as the degree of complexity, and therefore risk, increases. 'The CFO will have to pinpoint where that risk, such as cybersecurity, is actually coming from. We will need to do the same thing in a different way.'
More broadly she warns that finance professionals need to maintain their awareness of risk levels as automation increases. 'With the increasing use of algorithms, we as accountants need to understand how a number is made up – where did it come from? In the future we won't necessarily know.'
And a key element on the risk register is the maintenance of cybersecurity, which accountants need to champion. 'We need to be alert, educating ourselves to a new way of working on these new technologies to navigate our way through,' she says. 'This will ensure relevance.'
To take on those new responsibilities, CFOs and the finance team need reskilling so they can understand the potential of new technologies and direct businesses accordingly. Wheeler is foreshadowing this emerging world in her current role. 'IBM's finance professionals are being asked to do something that is very different from running accounts over regular time periods, closing the books and going home. Things now happen in real time.'
The day before AB spoke to Wheeler, her plans for the day had been superseded by the need to contribute to a client negotiation. The commercial team wanted financial information that required scenario planning and financial modelling, which led to Wheeler and her team presenting to IBM's highest finance levels to obtain approval and support for the ultimate decision.

The bigger picture
Wheeler praises her team as the bedrock of her success ('You can't do it on your own'). Describing her management style as 'I believe I'm firm and fair', she emphasises her structured approach. 'That's because I'm an accountant. From the word go, I make sure everyone in my team understands their roles and responsibilities, how they contribute to the bigger picture, and they have a sense of their value.'
She also places considerable value on networking, and is a volunteer on ACCA's mentoring programme. 'No man is an island, and asking for help facilitates success for yourself,' she says. 'If you don't ask for help, you can go down a hole. I have mentors – there are people I call if I have a difficult situation.'
During her time at IBM Wheeler has driven financial transformations that are designed to raise productivity – such as turning out quarterly financial statements faster. 'Instead of repeating the same transaction time and again all over the organisation, you need the concept of doing tasks once in order to save time, effort and costs,' she says. This has led to the consolidation of reporting work in increasingly automated financial centres, and using data and technology-driven tools such as predictive analysis.
The skills that are required of financial professionals have moved beyond the financial and even the commercial, Wheeler says, and now extend to relating and communicating at all levels of the organisation. 'We must have personal skills and emotional intelligence – including tolerance for cultural differences – in order to negotiate a way through the complexities of building the networks and the connections that will allow you to obtain the information you need. In that way you earn the respect that ensures you have that place at the table as a key decision-maker.'

Peter Williams, journalist
"We're a 108-year-old startup. We keep reinventing ourselves"