Fiona Fitzmaurice FCCA, CFO of Canadian company Enforcer Gold, has mined her accounting skills to fulfil a long-held ambition to travel and work abroad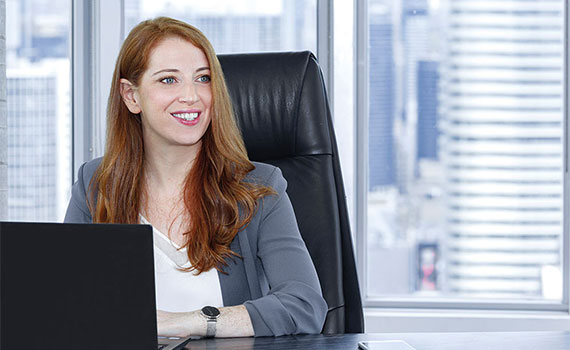 This article was first published in the September 2019 Ireland edition of Accounting and Business magazine.
As CFO at Enforcer Gold, a Canadian-based mineral exploration company based in Toronto, Fiona Fitzmaurice says she has found her niche, connecting her ambitions, qualifications and personality traits. Armed with the ACCA Qualification, and an appetite for exploration, Fitzmaurice has embarked on a career journey that has not only seen her land a role far away from her home town in County Longford, but travel through a series of roles, working environments and fairly risky career moves to reach what she calls her 'sweet spot'.
'Working in a gold mining company totally suits my personality,' Fitzmaurice says. 'I'm a risk-taker and enjoy the excitement of building things from scratch. I discovered through my own career exploration that I love working for public companies, the structure of the quarterly filings and telling the story, especially for junior start-up companies.'
Growing up as one of seven children, Fitzmaurice learned early on to fend for herself, and living in a small rural town forced her 'to think outside the box'. She says: 'Although I'm Irish through and through, I always knew I was going to leave the country and that I was going to go exploring. I remember that as a young child when a train went by I would wish I was on that train going to Dublin and then to the airport. I was always curious and knew there was more out there.'
Fitzmaurice's decision to take the ACCA Qualification after completing her BA degree in accounting was very much driven by this wanderlust. Watching her older sister, who had qualified several years earlier, travel the world also convinced her that if she wanted an accounting career beyond Irish borders, an internationally recognised qualification like ACCA's was the way to go.
'When I did research on the designation, I found that ACCA was just more global,' says Fitzmaurice. 'I knew that getting a job and travelling would offer big opportunities for me.'
In 2009, it was the dramatic reversal of fortune for the Irish economy that kick-started Fitzmaurice's career travels abroad. 'Just as I qualified with ACCA, the recession hit badly. Things were pretty grim in Ireland, so I decided to apply for a working visa for Canada, ride out the recession for a year and everything would be fine when I came back.'
Point of no return
But everything was not fine within 12 months. The idea of returning to Ireland soon faded as Fitzmaurice obtained increasingly progressive positions in Canada, en route to the top finance job.
However, her career path was anything but easy and, as she explains, emigrating to Canada with a one-year working visa was definitely living on the edge. 'Not knowing if I could remain in Canada year after year was nerve-racking, but I knew I wanted to stay and had to do whatever it took to make that happen.'
Fitzmaurice landed her first role in Ontario as a senior financial analyst with a public company called Maple Leaf Foods. It is one of Canada's leading agribusinesses with a long history of selling pork products into the UK and famous for creating the moniker 'Hogtown' for her new home city of Toronto.
As she explains, this first job was anything but secure. 'It was just luck that I landed at one of Canada's oldest and best-known public companies. I got a three-week contract and, fortunately, ended up being there for nearly a year in the IT department, which was a complete cost centre of its own.'
However, Fitzmaurice was still on a one-year visa and it was coming to an end. She needed another sponsor and that came from BioExx Specialty Proteins, a small market cap company manufacturing high-quality proteins from a plant in Saskatoon. As senior corporate accountant and assistant controller, 'that's where my career took off', she says. As a small start-up, BioExx offered Fitzmaurice the opportunity to build things from scratch, she explains, and the company environment satisfied her desire for new challenges and exploring new opportunities to build the business. 'That's where I got my exposure doing management discussion and analysis, and quarterly financial statements, and meeting with shareholders and exchange officials – I just loved it,' she adds.
While at BioExx, Fitzmaurice managed the plant's daily accounting functions and operations, and prepared the period end financial statements under IFRS Standards. She also implemented an advanced Excel model for capital assets, which enabled more comprehensive tracking and reporting of equipment expenditure, disposals, impairment labour capitalised and asset category. In addition she developed an Excel template that simplified the budgeting process for headcount and salaries, and enabled senior management to correlate headcount, full-time equivalent and salary and benefit expenses. Ultimately,
Fitzmaurice went on to build a user-friendly cost production system for the Saskatoon plant to be used by all departments to track raw materials consumed, product produced and overhead costs absorbed for every day and night shift.
But once again, Fitzmaurice found herself on a career cliff edge. BioExx ran out of money within three years and she was in the position of having to find another sponsor. This inspired what, in her view, was a necessary but ultimately less fulfilling jump to a role in the not-for-profit sector. As the manager of financial reporting, she was responsible for budgeting and forecasting for all projects, events and services provided by Harbourfront Centre, a not-for-profit organisation operating Toronto's premier waterfront recreational space. It operates a 10-acre site on Lake Ontario, producing 4,000 events annually and supported by grants and contributions amounting to roughly one third of annual revenue.
Risk-taker's personality
Fitzmaurice says she felt the much slower pace of activity compared to the small cap start-up did not suit her temperament 'Being a former Crown corporation, it still had a government structure, which, in my view, wasn't moving with the times. It simply wasn't motivating for me. Some people were only there because they had a secure job with good holidays and benefits, which is great for some, but certainly didn't suit a risk-taker's personality,' she says.
One year later, Fitzmaurice left to join Deciem, a manufacturer and distributor of cosmetic/skincare products with 30 stores across Canada and interests in both the US and UK. But this wasn't the final answer, she says. 'I was still figuring out what I wanted to do and missed the small cap start-up environment of BioExx. It was like a little family and everyone had a common goal.'
Then the opportunity to move to the mining sector arose as financial controller at Noront Resources, and although this was initially a maternity leave cover position, it would prove the stepping stone to her current role as CFO. Noront is a Canadian-based junior mining company, headquartered in Toronto with mines located in the Ring of Fire area of Northern Ontario. Fitzmaurice was responsible for the preparation of quarterly and annual consolidated financial statements, management discussion and analysis, internal monthly reporting and analysis of corporate and project expenditure, and managing and supervising the daily accounting functions and operations of the company.
'One year later, when the permanent position as controller with Enforcer Gold came up, I jumped on it and within one month they offered me the role as finance chief,' Fitzmaurice says. Enforcer Gold is a junior mining company listed on the Toronto Stock Exchange with exploration projects in Quebec. In hiring Fitzmaurice, it was looking for somebody who knew a lot about flow through in a mining company. Her main function as CFO, in addition to the financial reporting, is managing the day-to-day cash and how to allocate it. 'But what's really exciting for me is going to the markets looking for money, raising money through private placements and always looking for new opportunities, especially in the junior mining sector.'
As to the experience of switching sectors and working under different corporate structures over several years in Canada, says Fitzmaurice: 'I needed to go through those changes and challenges to really understand my sweet spot, where my niche was, where my working life mirrored my personality. When I look back on my career so far, it's really been all about exploration, and that is where I'll stay. It's risky, it's exciting, the market never sleeps and I absolutely love it.'

Ramona Dzinkowski, journalist
"I remember that as a young child when a train went by I would wish I was on that train going to Dublin and then to the airport"