Having beaten the odds to land the top job at KPMG Botswana, Gosego Motsamai FCCA knows that nothing comes easy and you have to fight for the future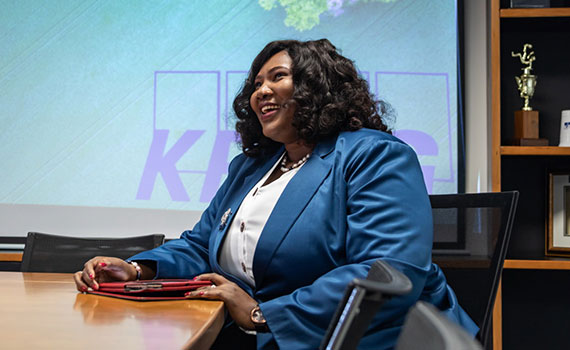 This article was first published in the September 2019 Africa edition of Accounting and Business magazine.
As the first woman to secure the top job at a Big Four firm in the dynamic emerging market of Botswana, Gosego Motsamai FCCA, managing partner at KPMG Botswana, is blazing a trail.
With 23 years' experience, Motsamai is still passionate about the profession. She often works late into the night to ensure deadlines are met and practice matters attended to, a habit she acquired in her earliest days as an accountant. She's also president of the Botswana Institute of Chartered Accountants (BICA), and plays a leading role in developing the scope of the profession.
'I have never been one to shy away from hard work and challenges,' says Motsamai, who was born in Palapye (then a village, now a large town) in central Botswana. She became KPMG Botswana's first female partner in 2014, and her ACCA Qualification has been key to her rise from humble beginnings to a prime position in the profession. 'The qualification has given me a broader appreciation of my profession and its impact on the world economy and growth,' she says.
As you would expect, Motsamai's path to becoming a fully qualified accountant in Botswana was not an easy one, and the role remains challenging, despite the politically stable country's success in attaining sustained development by leveraging its considerable mineral wealth. Botswana's GDP per capita stood at US$8,258 in 2018, which is well above the average income for most sub-Saharan African countries.
The country's growth has generated significant opportunities for the profession, including financial management and reporting, risk management, strategy reviews, business process re-engineering and optimisation projects. However, there is insufficient capacity to deliver some of these services through local professionals; there is a heavy reliance on imported skills and expertise. The number of qualified citizen accountants was just 620 in 2018, according to BICA statistics.
Motsamai says that working in an audit firm environment is tough. 'It takes a lot out of an individual,' she points out. 'It's not easy; you need a strong support system, and that one person who constantly encourages you when it becomes too overwhelming. I am fortunate enough to have had a great mentor over my career at KPMG, who believed in my potential and encouraged me to stay in the firm. This is something that I'm also passionate about and hope those who I mentor will one day have an even better success story to tell.'
It's something that she does beyond her core role at KPMG of providing strategic direction for the local firm within its global and regional strategy. Her other duties include business development and ensuring her practice meets its commitments to clients of providing service at the highest level of quality.
She is also involved in day-to-day practice and stakeholder management, monitoring the firm's financial performance and ensuring adherence to KPMG International's quality and risk management policies.
Tough times
Motsamai accepts that she has become managing partner at KPMG Botswana 'at a difficult time for the firm'. KPMG has attracted censure in neighbouring South Africa and in the local market. Stoically, Motsamai acknowledges that she is 'fully aware that the road ahead will not be without challenges'.
However, she says she will remain steadfast and resilient. 'I am not doing this for me, but for a greater purpose. I am doing this for every girl child, for every young and aspiring professional accountant in this country, for the next generation. I am doing this with dedication and unwavering loyalty to the firm that has so invested in me and many others, and will continue doing so.'
Motsamai believes Botswana's increasingly sophisticated economy needs all the Big Four. As for KPMG's reputation in Southern Africa, she says all KPMG staff have a significant role to play in rebuilding, 'to benefit the firm, the profession and the country'. She adds: 'We have been open and honest about our shortcomings as a firm and have taken and continue to take the necessary steps to rebuild our brand, transform into an even stronger firm, and earn public trust.'

Meeting the need
Botswana currently has 1,341 professional accountants (as at December 2018), and 3,293 accounting technicians (3,090 of whom are citizens). Those are small numbers for a growing economy with an overall population of 2.3 million.
But the number of qualified accountants in the country is growing fast – BICA membership rose 22% during the course of 2018 – but Motsamai says more needs to be done. Botswana simply has too few professional accountants to meet the demands of the economy.
Botswana's accounting profession is not as well developed compared to the regional economic giant South Africa or even troubled Zimbabwe, according to Motsamai. She says the small size of Botswana's economy, which is heavily dependent on diamond mining (it accounts for a third of GDP), can restrict the development of citizen accountants. 'It limits the opportunities that professionals working in the market are exposed to, which in turn limits the extent to which we can develop the accounting profession. For firms such as ours, we usually get around this by sending some of our high performers on secondments so they can gain exposure to more advanced economies.'
However, many citizen accountants are reluctant to move abroad, adds Motsamai, and can forgo the opportunity to gain international or even regional experience and exposure to more advanced markets, methodologies, processes and systems, choosing instead to work in the comfort of their own country.
'Botswana's relatively small population also impacts on our ability to produce sufficient numbers of qualified citizen accountants to meet market needs,' says Motsamai. While she recognises the need to drive up numbers, she believes that the quality of professional accountants in the country is more important than the quantity.
'We should be able to produce world-class qualified citizen accountants who are able to compete in the global market. The competitive local labour market does have an effect on career development. Professional accountants in Botswana are in such demand that they can hop from one job to another. But Motsamai warns: 'We are not giving ourselves sufficient time to learn. We are chasing short-term benefits over our own development.'
Would young people in Botswana be justified in steering clear of the sector for fear that automation may sooner or later replace jobs in the sector, though? Motsamai thinks there is no perfect substitute for the human touch. 'Computers will never replace people completely,' she predicts, pointing out that today's artificial intelligence (AI) applications are designed to make professionals such as accountants more efficient. 'You still need a human being to make sense of whatever data or analytics is generated by AI, and make decisions accordingly.'

Training need
However, the process of computerisation, machine learning and digitisation has thrown up a more prosaic problem: older accountants may struggle to cope with new technological advancements and end up quitting the profession. 'Some of us trained long ago when the use of technology was limited, and therefore require continuous development to adapt to the many changes brought about by technology. We have to invest a lot in our people to keep abreast with changes,' says Motsamai, who thinks few organisations invest sufficiently in training and development.
She is leveraging her position as BICA president and her high profile in the accountancy profession to encourage businesses and other stakeholders to assist the government in moving away from its heavy dependency on minerals to creating a more knowledge-based economy. 'We need to continue putting measures in place to increase not only the number of qualified accountants, but also their quality,' she says.
She gives the government of Botswana credit for its support of the accounting sector, citing its creation of BICA, the Botswana Accountancy Oversight Authority (BAOA – the profession's national regulator) and the Botswana professional accountancy qualification. The government provides financial assistance to BAOA and BICA, and sponsors students taking professional qualification courses in Botswana, including ACCA.
The government has also promulgated that financial statements for companies should comply with IFRS (except for companies with turnover and asset values below P10m (US$945,000) and P5m (US$473,000), respectively). It has also committed to adopting International Public Sector Accounting Standards (IPSAS) and transitioning from cash-based to accrual-based accounting – a move aimed at improving financial management, accountability and transparency.
Motsamai says she is optimistic about sustained growth in Botswana's accountancy profession, given ongoing government support, BICA's work, and the fact that audit firms continue to invest in training and mentoring aspiring professional accountants. However, she adds: 'More needs to be done to ensure sustained growth. More companies should play an active role in developing qualified accountants – it cannot be the responsibility of government and a handful of organisations. They also need to invest in continuous development of those they have hired to perform key functions in order to ensure that quality standards are maintained.'

Andrew Maramwidze, journalist in Gaborone
"I am not doing this for me, but for every girl child, for every aspiring professional accountant in this country, for the next generation"