SMPs must move beyond compliance services and harness their inner entrepreneurs, says Clodagh Hegarty FCCA, Ulster University lecturer and ACCA Ireland chair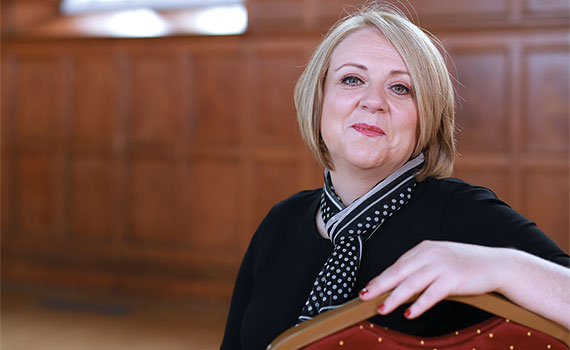 This article was first published in the October 2019 Ireland edition of Accounting and Business magazine.
The technology surf is up and heading the way of the small and medium-sized practices (SMPs) that are common across rural Ireland. For her part, Clodagh Hegarty FCCA is convinced that the impact of fast-evolving modern technologies on SMPs will be massive, and she is spending much of her year as chair of ACCA Ireland spreading the message that SMPs need to change quickly to cope. Reassuringly, she is equally clear that rising to the challenge will have positive outcomes for practices.
'I'm from Inishowen in County Donegal where there are a lot of SMPs, which are preponderantly ACCA accountants,' she says. 'Small practices have a big challenge with emerging technologies, robotics and smart software. All that compliance work SMPs do for clients – by 2020, estimates suggest 40% will be automated. These small practices have to move more towards business advice. We have to make sure they have the skills for that, to provide more than compliance services.
'And then there's the audit exemptions for small firms. A lot of SMEs don't require an audit any more. So that's a whole line of service that's going to be wiped out. And getting an auditing licence for just one or two clients is a burden that for many is not worth it.'

Business in the blood
As the daughter of parents who both ran small businesses – her mother still runs the village shop in Malin, on the Inishowen peninsula – Hegarty knew from an early age just how important SMPs are, especially for rural life. 'If you're from a business background, you understand the importance of your accountant,' she says. 'When I worked in practice I could see how much the SME sector depended on SMPs, not only for compliance and assurance and audit services, but also for advice on all sorts of areas affecting their business – for example, financing, investing, succession planning, employing staff, health and safety, business strategy, etc. SMEs place a lot of trust in SMPs to help them succeed in their business endeavours.
'They are the support for your small business. While I am ACCA chair I want to visit SMPs and talk to them about skills and capabilities. It is all about entrepreneurial skills, and getting proactive, innovative and taking risks – something that accountants should be well capable of. It's a great opportunity if you're a young person or anyone looking for a career change. To be self-employed as an accountant, giving advice – it's a brilliant job. It's just ensuring that they have the skills and capabilities for it.'
SMPs are also the subject of her ongoing PhD research. 'SMPs are the most extensive knowledge providers for SMEs,' she says. 'I intend to investigate SMPs' entrepreneurial orientation and their capabilities to rapidly react to changes in the environment.'
Those capabilities, she says, include SMPs' ability to operate more flexibly, working with people from different backgrounds and disciplines, not all of whom will be employees, and engaging in close alliances, benefiting from referrals. That involves a strong commitment by accountants in practice to continuing professional development.
'CPD is very important now,' Hegarty says. 'With ACCA there's so much you can do online. We have to be upskilling all the time. Practices are going to have to take time to attend day conferences as part of their CPD. There's a lot of practices so busy that all the heads in the office are down, getting from one deadline to another. But networking is important too, as practices need to talk to each other to know what other practices are doing.'
Hegarty worked for many years in practice as an accountant and tax adviser in SMPs and a Big Four firm in Dublin. 'I had a choice between professional bodies – and chose ACCA because it was flexible and it is a global qualification. I had such a good time in Dublin; I was there for about four years, starting with a small firm, and did my ACCA exams in a year. Then I did my tax exams. After that, I went travelling to Australia, and when I came back I went home to Malin. I just wanted to be near home. I travelled up and down to Dublin for a while, but there is a lot to be said for living at home and working locally.'
Now Hegarty is with Ulster University Business School's Department of Global Business and Enterprise at its Magee campus in Derry, where she lectures in accounting and is director of two courses, BSc Business Information Systems and BSc Business with Computing. Naturally, she is also focused on accounting education. 'ACCA has recently established a schools initiative, to spread awareness of accountancy in schools,' she explains. 'And the ACCA Qualification is brilliant – more and more students now are doing it. At Magee the accounting degree has full exemptions from ACCA and other accounting bodies.'

Professional promotion
She adds: 'I think young people are turned off by accountancy, because they think it's the boringly stereotypical accountants they see on the media. So we need to promote the profession better. I see the apprenticeship model coming in more in Ireland now and it is very successful in the UK in offering an excellent route into the profession. The university experience is different – it lets students talk to different people who are doing different things. Universities give students time to grow personally before they move on to work – they give them the chance to find out who they are and build networks.
'In my experience, working in accountancy practice can be stressful, especially when you are working to what are now year-round deadlines. A huge percentage of accountants are dealing with stress, and accountancy is being recognised now as a stressful occupation. There should be more of a conversation about mental health within the profession. In a university it is great, because there is student support and "mind your mood" campaigns. But then students go out into the workplace and that support is not there – and it needs to be. Accountancy practices need to consider this. I want to start a conversation.'
Hegarty recently returned from a short stint lecturing on accounting at the Dongbei University of Finance and Economics, in the large port city of Dalian, China. 'Some of the students come over and finish their exams at Ulster University,' she says. 'That relationship has been going on for 15 years. It is a really lovely city, with brilliant, lovely students. They are doing the exams in English, their second language. ACCA is massive out there, with the students doing their degrees and qualifying with ACCA at the same time. Globally we are all on the same path.
'It was hard with the language, but it was a good experience. In the business school it wasn't an issue as all the students speak English. Mandarin would be a fantastic language to learn.'
As chair of ACCA Ireland, Hegarty intends to build on the experience she gained two years ago as chair of the Ulster member network. 'I met so many people and learnt from them, meeting different people from different companies, some of whom then came down to speak to my students,' she recalls. 'Networking is a big thing. The ACCA community is really positive. I want to get out around the country as much as possible, to go out and talk to as many members as possible.'
The first few months in the role have already been hectic, including the opening by finance minister Paschal Donohoe in May of the new ACCA Ireland office at La Touche House, Dublin. 'It was a great honour for me to chair that event,' says Hegarty. 'I have had the opportunity to take part in a number of other events too, representing ACCA at a social mobility business partnership event in Belfast and the Getting Ireland Brexit-Ready event in Donegal, and presenting at the ACCA northwest network event in Letterkenny. I am looking forward to having my Ireland chair event on the Magee campus in February. It will be a busy year!'

Paul Gosling, journalist
"To be self-employed as an accountant, giving advice – it's a brilliant job"