With Brexit and environmental concerns front of mind for consumers, it's a tricky time to be in the UK car sector, says Renault Retail Group FD Scott Kilbourne FCCA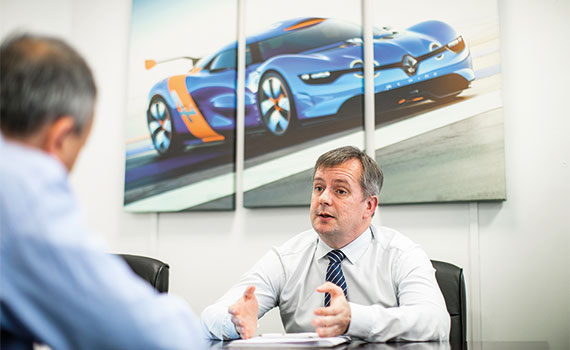 This article was first published in the October 2019 UK edition of Accounting and Business magazine.
On a mid-August Monday lunchtime, all is quiet in Renault's vast showroom of new cars in west London, except for the occasional phone call, the chatter of sales staff and a radio playing in the background.
Scott Kilbourne FCCA, finance director of Renault Retail Group, is not unduly concerned. It is a Monday after all, and the quiet time gives staff the chance to catch up after a busy weekend of sales.
As FD and company secretary of the largest Renault dealership in the UK – the group has 18 sites around the country – Kilbourne presides over a £625m turnover business that last year sold 40,000 new and used cars. Wholly owned by France's Renault group, it is the largest retailer for Renault brands in the UK, with a portfolio of cars ranging from compact city runabouts such as the Clio and new electric Zoe to large four-wheel-drive vehicles such as the Captur and Koleos.
As part of the global Renault-Nissan alliance, it also sells cars produced by Nissan – even though the two brands are effectively competitors – as well as Renault's Romanian subsidiary Dacia. In the showroom are Alpines, a recently resurrected sports car that promises a racier motoring experience. In fact, Kilbourne confesses to have sold an Alpine A110 to The Grand Tour co-presenter James May, who he says proclaimed it the best car he had driven in 2018.
However, Kilbourne does concede that Renault Retail is a business in a sector that faces challenges. Two that currently loom particularly large include Brexit and the environment.
Brexit is having an impact on all UK sectors but is keenly felt in an organisation with its roots firmly on the other side of the English Channel. 'Brexit will hit us at two levels,' Kilbourne explains. 'The impact of a no-deal Brexit could be quite significant to the motor trade, purely because most of our cars are sourced from Europe. There will be an exchange rate impact and the potential for a World Trade Organisation tariff that will be applied. As such, it is a big risk to us.
'We are as prepared as we can be. As a big company, we know the likely impacts on volumes in the new car market. But one of the biggest impacts affecting the industry is the uncertainty.'
To illustrate this, Kilbourne points to the recent ups and downs in his own business. The first Brexit deadline of 31 March made for a tough start to the year. Following the delay to the UK's departure from the EU, the group experienced a good period from March to May. 'But now we have uncertainty again, people shy away from larger purchases,' he says.

Carbon squeeze
And if Brexit was not enough to contend with, the motor industry faces a further challenge – emission standards, introduced ironically enough by the EU. Manufacturers will have to hit a carbon emission average of 95g/km across all new cars by 2021, while the worldwide harmonised light-vehicle test procedure to determine the levels of pollutants, carbon dioxide emissions and fuel consumption will radically alter the look and feel of the motor industry.
'The sector will have to move to hybrid or electric vehicle sales to maintain its efficiency,' Kilbourne says. 'The reality is that every manufacturer has come to the conclusion that the target will not be met with traditional combustion engines. There are also the challenges of consumer awareness and range anxiety over fully electric vehicles, as well as the infrastructure for charging vehicles and the service requirements.'
The concerns seem well founded given what has happened with diesel-powered cars, where sales have fallen off a cliff, even though the engines themselves are considerably cleaner than their predecessors. But the flight from diesel is seeing customers head back towards petrol and hybrid cars rather than all-out electric vehicles. 'Sales of alternatively fuelled cars are up massively in terms of percentages, but still form only a very small part of overall sales,' Kilbourne says.
The return of consumer confidence will be key to growth in the car market, but there is one area that is succeeding – as consumers look for value, they are turning to models such as the Dacia. The Dacia Sandero starting price is £6,995 – about the same as two and a half decent sofas, but with considerably more moving parts.

First gear
Kilbourne began his career in the motor trade shortly after leaving school at 16 when he became a credit controller at a local dealership that was part of Cowie (a company that subsequently morphed into Arriva) in Leicester. After rising to assistant branch accountant, he moved to family-owned Trinity Motors of Hinckley as a management accountant and focused on completing his ACCA Qualification. Within two years, Trinity Motors' finance director left, and Kilbourne took on the position, later moving to Horners Motor as group financial controller, and arrived at Renault in 2008.
Kilbourne says: 'Working for a family business requires a number of skills – they tend to be cash-constrained but bring discipline that can sometimes be forgotten or ignored by larger companies. You don't forget those disciplines.'
His first nine years at Renault was spent developing its network of franchises, by bringing in dealerships, managing the exit of others, and developing those within the network. 'I was like an interim finance director for the franchise partners we were working with,' Kilbourne says.
Then in 2017 the opportunity arose to take on the FD role. 'The current FD was retiring, and I was able to benefit from a structured handover over six months,' Kilbourne explains.
No two days are the same for Kilbourne. His tight financial reporting deadlines require him to work with his finance team two to three days a week. On the other days, he likes to get out and visit the 17 other sites around the country, kicking the business's tyres.
The group was an early adopter of FRS 101, the Reduced Disclosure Framework, for subsidiaries of companies that report under IFRS Standards, and Kilbourne made the transition from old-style UK GAAP. He is now gearing up for reporting under IFRS 16, Leases, from the 2019 year-end.
'IFRS 16 feels strange from a consistency point of view,' he says. The site of Renault Retail's head office in west London, alongside the A40, was originally acquired in 1904 for £40,000. But leasehold properties will be held on the books at much higher values. 'I could see the standard being changed so that freehold properties are accounted for at fair value,' he says.
The head office finance function, based in the same west London office, is a team of three who manage treasury, property accounts and recharges. There is a centralised sales and purchase ledger function in the Midlands, while admin is regionalised, as some functions need day-to-day support on the ground. All the accountants have to work in the business. 'The management accountants are co-pilots of the business; they sit alongside the general managers,' Kilbourne says.
As well as selling cars, the group offers financing options. These are regulated by the Financial Conduct Authority, and Kilbourne points out that there has to be a clear control process in the retail environment, which includes random spot checks and powerful analytical tools that can identify exceptions. 'It is a belt and braces approach,' he says unapologetically, 'and we have a full-time compliance officer.'
Perhaps ironically for someone surrounded by cars all day long, his main leisure pursuit is cycling. He says: 'I used to be very keen and always had the bike in the back of the car. It is a great way to achieve a work/life balance or just to get away from it all for a while.'
His work/life balance benefits greatly from a wife who is very understanding about the long hours he sometimes needs for work. 'I live an hour's drive away from here, so I can use the time to unwind,' he says. For the record, he drives a Koleos, which has more than enough room in the back for the bike.
Kilbourne expects to see rapidly growing interest in electric vehicles. From a standing start five years ago, there has already been significant progress, and as more manufacturers enter the market, the increased competition will lead to even more development. Allied to this, self-driving cars are expected to have a considerable impact on the market. The Clio 5 and all new Capturs will have technology similar to that in the driverless all-electric Tesla, Kilborough says.
But then he poses an existential question. 'If you can summon a car, one that will drive you anywhere, will you still want to own a car, or will cars become a service?' he asks. 'It is a real unknown, but I think cars will remain a passion purchase for many people.'
Talking of passion purchases, there is one final, crucial question that needs an answer: Top Gear or The Grand Tour? Without hesitation but perhaps mindful of who has just bought one of the Alpines in the showroom, he answers: 'It has to be The Grand Tour, all the way.'

Philip Smith, journalist
"Every manufacturer has concluded that emissions targets will not be met with traditional combustion engines"