PAFA CEO Vickson Ncube FCCA doesn't pull his punches: the battle against graft is one that professional accountants – along with all citizens – must not shirk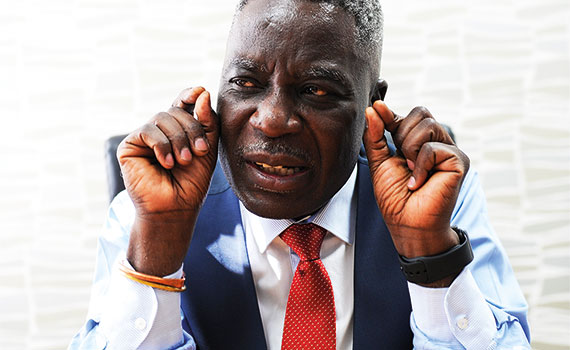 This article was first published in the October 2019 Africa edition of Accounting and Business magazine.
Vickson Ncube FCCA has a steely determination to spread his ethics message across Africa's accountancy profession. The chief executive of the Pan African Federation of Accountants (PAFA) aims to convince accountants across the continent to play their part for the greater good. 'To be ethical you have to suppress personal agendas to allow the bigger national and continental interest to prevail,' he says.
It's a way of thinking that he traces back to his parents and his childhood in Zambia, to a time when his village was gripped by famine and his family was reduced to eating just one meal a day because of the shortage of maize. 'An old associate of my parents came to them and said he and his family had not eaten for a week. My mother took half of the little maize we had left ourselves and gave it to him,' Ncube recalls. 'It taught me a lesson about a greater good versus a narrow agenda.
'Those lessons stay with you for the rest of your life, and you understand that ethics is not just something you read in a book. Therefore, you will not try to get a good thing for yourself and sacrifice what is good for the rest of society.'

Getting behind the blueprint
Ncube has drawn on this belief in his drive to get Africa's finance professionals to buy into the African Union's Agenda 2063 – the organisation's masterplan for transforming the continent into a global powerhouse. Agenda 2063 prioritises social and economic development, the reintegration of the continent and its regions, democracy, good governance, and peace and security.
'It is a very strong vision,' he says. 'What is lacking now is its implementation. At PAFA we have made a deliberate effort to engage with the African Union. We have taken it on ourselves to educate members of our profession and others that we must become relevant to Agenda 2063.'
Ncube is clear that professional accountants in Africa are critical to helping organisations make informed decisions in resource management and value creation, particularly in the public sector. He believes the profession must help to make the continent a better place for all its people and ensure its resources are enjoyed by all.
'We can't just blame the politicians when things go wrong,' he says. 'We as citizens have a role to play. Have you ever seen a payment made by an organisation without an accountant being involved? That is why they call us the gatekeepers. So how come we are not keeping the gates? It's not the politicians who write the cheques and sign them. They are signed by the professionals.
'It is the bankers, the lawyers, the accountants – we are the people who are ruining the economies of African countries. For too long we have come to the party to party, and not to stop the wrong. If we can start playing our part to stop the wrong, corruption will be a story of the past.
'We should also stop calling these things by fancy names such as money laundering, illicit financial outflows, embezzlement, even fraud and corruption. Let us just call it theft.'
Ncube doesn't only blame the professionals, though, but points to a 'society that tolerates greed'. He sees two major impediments to the realisation of Agenda 2063. The first is corruption which, he says, is everyone's business.
'I know when we talk of corruption we think of individual people, but the point is that for a president or a minister to be corrupt, there has to be a private sector person with the money to corrupt them. Corruption is a societal issue. If Africa is going to rise out of this problem and achieve the Africa we want, then we need to kill corruption.'
The second challenge is finding a way to make Africa's resources work for Africa. This, he says, must involve the continent investing in the continent, developing local industries, and stemming capital flight.
African leaders, he says, need to be better negotiators, able to take this a step further and protect the resources of their countries and continent as well. He once urged a group of accountants in Ethiopia to practise 'professionalism with patriotism. Too many people think that as long as their fees are paid, no one else matters.'
On Ncube's reform agenda is an interrogation of corporate tax avoidance. 'Finance professionals structure deals in such a way that their clients pay very little tax in the country they are in – and it's legal. But is it moral? No. It can't be.'

Avoidance robs the people
Accountants who help their companies avoid tax make it impossible for governments to deliver services to the electorate, he points out. 'And here is the problem with the economies of Africa. In America, when those companies save on tax, the money is invested in America. But in Africa there is capital flight. That money goes to another continent because apparently rich Africans don't spend in Africa.
'And to make matters worse, most of the companies that do business in Africa are not African-owned; when they make profits, they're not destined for Africa. If African accountants and companies allow the resources of the continent to fly out of the continent, to me, they are showing a lack of ethics.'
African accountants need a code of ethics designed for Africa, Ncube says, because the existing international code subscribes to Western values and does not take into account phenomena such as capital flight. He points to the illicit financial flows that drain US$50bn a year from Africa, according to the Thabo Mbeki Foundation in 2018.
Ncube blames the Western education system adopted by much of Africa – with its emphasis on 'have more, spend more, and an endless orgy of spend and gain' – for the erosion of African ethics. 'Ethics is killed by greed. The currency of ethics is trust. The moment we lose that currency, we are finished.'
Ncube is pleased to have had ACCA in his life. He says: 'The teaching proved so useful. We learned things like production management, personnel management, sales management – you have to understand how all an organisation's functions work together to produce the results. I've never been the sort of accountant who just looks at financial statements.'
He is also grateful for ACCA's support for PAFA's work – it seconded an employee and has provided financial assistance.
PAFA has partnered with the African Organisation of English-speaking Supreme Audit Institutions (AFROSAI-E), the Conseil Régional de Formation des Institutions Supérieures de Contrôle des Finances Publiques de l'Afrique Francophone sub-Saharienne (CREFIAF), and the Eastern and Southern African Association of Accountants-General (ESAAG) in the African Professionalisation Initiative to increase the number of accountancy professionals in the public sector. 'PAFA is a strong advocate of the concept of public value management as an alternative to public finance management,' he says.
Ncube says the only way PAFA can deliver on its mission is by cultivating 'strong and sustainable' professional accounting organisations across Africa. 'To achieve the strength and sustainability there is a need for capacity building so that they can become an influential voice in their countries. The only thing inhibiting PAFA's capacity building efforts is resources – both human and financial.

Change makers
He admits, though, that bringing about positive changes in attitudes is no easy task. He explains: 'PAFA has no jurisdictional authority over anyone, only persuasive authority. We cannot tell the institutes what to do, we can only persuade them. But we have structured our message so that at every opportunity we bring forward these considerations.
'We have this grand agenda which we are pursuing vigorously. We do not have a big budget for an organisation that is running a continent. You can sit down in a corner and cry, and nothing will happen. But if, with whatever you have, you start to run, you will get somewhere.
'We will not see the results immediately. I believe in what I call "polluting the mind". If you tell someone something's wrong, then you've polluted their mind, and every time they do it they will think about it, even if they first dismiss it. And if you have a thousand, then a million, voices saying the same thing, the message becomes more powerful.'

Nicki Güles, journalist in Johannesburg
"For too long we have come to the party to party and not to stop the wrong. If we can start playing our part, corruption will be history"